Add Light Effects to Digital Photographs with AKVIS LightShop V.2.5
Overview of AKVIS LightShop V.2.5
If you're having trouble getting that perfect lighting effect with your digital camera, you can always edit the effect into the photograph later using photo editing software. AKVIS LightShop is an application developed especially for this purpose, and it includes a huge library of customizable light effects that can be used in a variety of different ways. Along with this library, the software offers the flexibility of letting users build their own light effects either by modifying existing configurations or by starting from a blank slate.
LightShop is available for both Mac and Windows systems. Additionally, it can be purchased as either a standalone program or as a plugin that is compatible with a number of today's popular photo editors, including Paint Shop Pro and Photoshop Elements.
Installation and Setup (5 out of 5)
In this review, we'll be looking at the Windows version of LightShop. The installation and setup of both the plugin and independent application was quick and straightforward. No problems were encountered. It should be noted that plugin users may have to make a few other changes before the host photo editor recognizes the new addition. If you're a Paint Shop Pro user and having trouble, see these instructions for installing third-party plugins.
Ease of Use (5 out of 5)
LightShop's user interface is extremely intuitive and quite easy to use. You can select a predefined lighting effect from a collection of over 70 default settings and modify it to suit your own personal tastes. The drag-and-drop feature makes it simple to place the effect in the desired area of the photograph, and the preview window allows you to see potential results before you actually have to apply them to the photograph.
Even if you have no experience whatsoever with photo editing, you should have no problems using the software. If you do have questions about any of the settings, hovering over that area with your mouse will bring up a brief help message describing its function. However, the best way to see what one of these settings will do may be just to change it and see how the image in the preview window is affected.
Next: Continue to page 2 of this review of AKVIS LightShop to find out more about the software's features and price as well as our overall rating of the product.
Features (4 out of 5)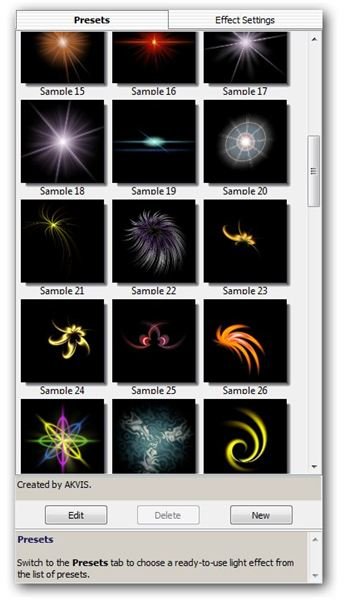 As we mentioned earlier, there are 70 different default presets that you can choose from when starting your editing project. In addition, you can start from scratch and build your own custom effect without using these preset configurations. No matter which method you use, the process is fairly simple and the various tools in the interface make the creation process go quite smoothly.
Whether you choose to create your own effect from ground zero or modify an existing one, you can save the finished results as a new preset configuration that can be accessed in future editing projects. This can be quite handy when creating themes and when you're still undecided on the effect you want to apply to your final result.
Price to Value (2 out of 5)
If you only plan to use the product for personal use, a Home license for either the plugin or independent version of the application can be purchased for $117. A substantial discount is available with the Home Deluxe license which includes both versions of LightShop and is currently priced at $135. Commercial users will need to obtain a Business license for the software. This more inclusive license runs $270, but it does cover both the plugin and the standalone program.
All licenses allow LightShop to be installed and registered on two computers, so this does mitigate the cost of the software quite a bit. Even with that, I still find the price to not be in line with the application's capabilities, especially when there are a number of alternatives on the market. These other options may not be as fun and as easy to use as LightShop, but they do fit better into the budget for most casual users.
Overall (3 out of 5)
LightShop truly is a fun utility that lets you create a number of stunning effects, and I would love to rate it higher, but I can't because of the price. If you're able to get the application as part of a bundle (like the Alchemy Collection), then you should definitely jump at the chance. However, if you're only looking for an application that is capable of producing light effects and you only intend to use it now and then, you should probably keep shopping.
If you are still looking for the best product and want to try out LightShop for yourself, you can download a free 10-day trial from the AKVIS web site.