Sharpen Details in Digital Photographs with AKVIS Enhancer
Overview of AKVIS Enhancer V.9.5
AKVIS Enhancer is an image editing application specifically designed to help correct many of the flaws (such as exposure and focus problems) that crop up in digital photographs. The software is available as both a standalone product and as a plugin that is compatible with many of today's top photo editors, including Photoshop Elements and Paint Shop Pro.
Installation and Setup (5 out of 5)
For this review, we looked at the Windows version of Enhancer. No issues were encountered with the installation of either the plugin or the standalone version of the product. However, if you're using the plugin component, you may need to perform a few additional steps in the host application before the plugin will be recognized. If you're a Paint Shop Pro user, see this article on installing third-party plugins for more details.
Ease of Use (5 out of 5)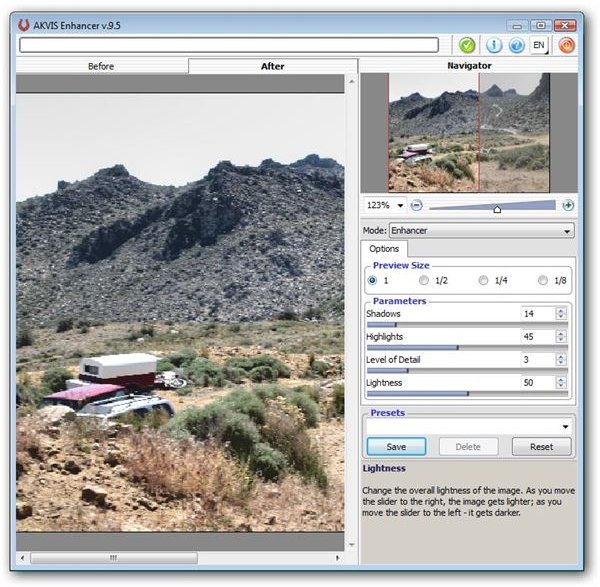 One of the features that makes Enhancer more desirable to use than similar products is its easy-to-understand user interface. The application includes a default settings configuration which, while not always perfect, does allow for one-click correction of many problems. You can also manually alter these settings using simple sliders that show the proposed results instantly in the image preview area.
The Before and After tabs in the interface allow you to quickly compare the original image with the one containing all of your modifications before you have to apply these changes. If you do come across a specific collection of settings that you want to use in several photographs, you can save that configuration so that it can easily be applied in the future.
(Click on any image for a larger view)
Features (4 out of 5)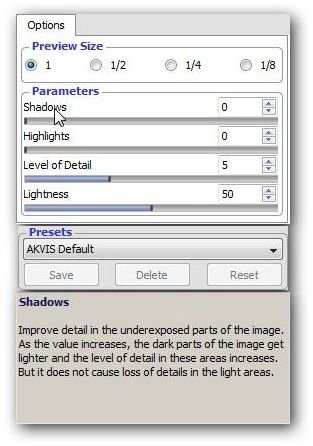 There are two editing modes in the plugin version of Enhancer – the default Enhancer mode and a Focus mode. In the first mode, there are several parameters that can be adjusted for the purpose of bringing out details in an image. While this is a nice feature, it is not that much different than the tools that are found in most other photo editors.
On the other hand, the Focus mode is quite powerful considering how easy it is to use. This aspect of Enhancer allows you to sharpen blurred areas of the digital photograph without introducing the noise that is common with other tools of this nature. Since you can apply these settings to any selected area of the photo, this tool can also be used to easily create very artistic depth of field effects.
In the standalone version, an additional third mode is available that supports HDR. Since this adds a whole new dimension to the application, I recommend against only purchasing the plugin. Instead, it's much more useful to invest in the full independent application or the bundle that includes both versions of the product.
Price to Value (4 out of 5)
For personal use, you can purchase the plugin or independent application separately for $69 and $81, respectively. However, it's a much better deal to go for the Home Deluxe license that includes both versions of the software for $99. A Business License, which includes both the plugin and standalone product, is available for $170. If you plan to use Enhancer for any commercial purposes, you will need to purchase this latter license instead of the Home version.
All licenses allow for two registrations of the software. This is particularly nice if you want to install the product on both your desktop and laptop machines.
Overall (4 out of 5)
The price for the Enhancer plugin alone may be a little on the high side, but the Home Deluxe license that also includes the independent application is a fairly decent deal, especially for those who enjoy creating custom depth of field effects. If you find that you can't quite get the results you want using your basic photo editing software, purchasing Enhancer would be a good investment.
As with other AKVIS products, you can find a free trial available for download from the developer's web site.