Free Online Photo Editing Options - Pixer.us Review
What is Pixer.us?
Pixer.us is a website that allows its users to change and improve their pictures. It is a completely free website, which does not involve any nasty software downloads. It allows its user to rectify their pictures in many different ways, from amateur pictures of friends to professional landscapes and portraits. Once you are happy with the changes that have been made to your picture, downloading is quick and easy and contains many saving options from JPEG right through to BMP.
(Click on any image for a larger view)
Usability (5 out of 5)
One aspect that makes Pixer.us an excellent photo editor is its easy to use interface. You simply browse for the picture you wish to edit or enahnce from your computer and click the 'Upload and Edit' button. This produces a real sized sample of your picture. There is then a selection of buttons that the user can use to improve the quality of their picture. These include simple changes such as rotate, and more complicated options including saturation and blur. Another great aspect that makes Pixer.us easy to use are the previews it supplies. These allow you to view the changes that have been made to your picture, and if you don't like it then the 'Undo' button will undo any unwanted changes. Pixer.us also requires no sign in, which means that users can get to work straight away with no registering or email address required.
Effects (4 out of 5)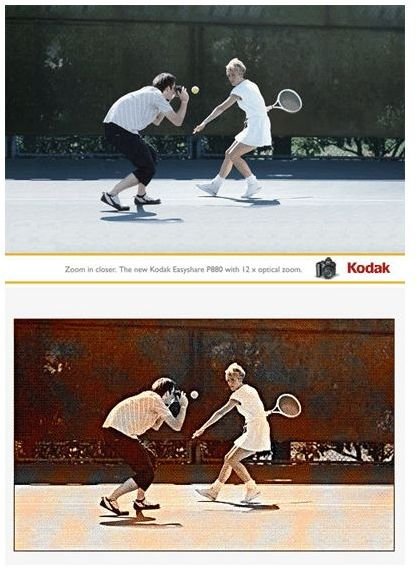 As mentioned above, Pixer.us contains everything from almost unrecognizable touch-ups to extreme and complicated changes. When you upload a picture to the website, you are able to resize, crop, rotate and flip. These effects, as simple as they are, can make much needed differences to any picture, and also act as a means to personalizing photographs. However, for those more technical minded, Pixer.us is also great for miniature touch-ups and for changing normally unchangeable parts of photographs. These options include being able to sharpen/blur the quality of your pictures, brightening them and changing their saturation, which is great for producing artistic changes. Pressing the 'ColorFX' button allows you to change the main color of a picture, and includes up to five different color options. There are many other options that help you change your photographs within the websites interface, yet unfortunately there are some vital ones missing. These include options such as paintbrushes and the addition of text into pictures. Overall, however, it is worth checking out for its effects alone!
Downloading (5 out of 5)
Once you are happy with the changes applied to your picture, you have the option to download it back onto your computer. To do this, simply hit the 'Save' button. You will then be asked to choose a format to save your rectified picture. These include JPEG, GIF, PNG, and BMP. If you are unsure as to which format to choose, then JPEG is the most popular used format on the internet, which will come in useful is you intend to upload your masterpiece onto the internet! This makes Pixer.us a very simple and effect application to use and is perfect for anyone needing a fix a picture, and fast!