Review of Adobe Photoshop Elements 7 – Digital Photography Software Review of PSE7
Overview of Photoshop Elements 7
Although a lot of people still think of Photoshop Elements as the immature kid brother of Photoshop CS4, the software package is actually quite capable of standing on its own two feet in the competitive world of photo editing applications.
In this review, we'll examine some of the new features found in Photoshop Elements 7 (PSE7) – the latest release of the product – as well as some of the older tools found in the product. We'll also take a look at how easy the application is to learn for those with little to no experience with image editing software.
Since the time of this review, Adobe has released a new version of Photoshop Elements. See our review of the new features found in Photoshop Elements 8 here.
Installation and Setup (5 out of 5)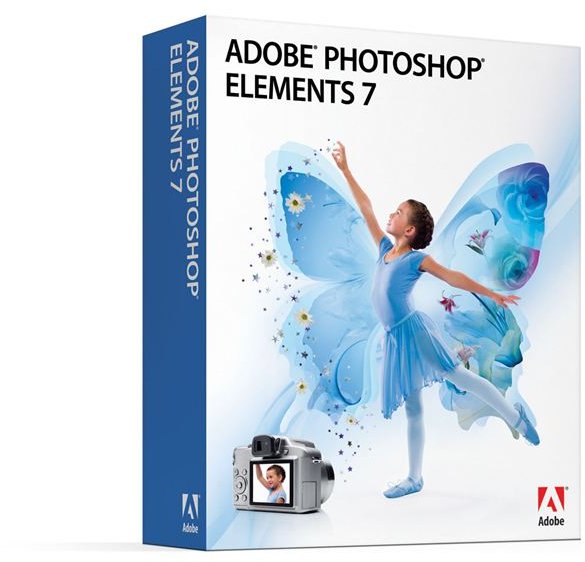 For this review, the software was tested on a Windows PC running a 64-bit version of Vista Ultimate. Installation was typical for a Windows software product, and no problems were encountered.
In order for the software to function properly, your system should meet the following minimum requirements.
2GHz or faster processor
Windows XP (SP2 or higher) or Vista
1GB RAM
1.5 GB hard drive space
Color monitor with 16-bit color video card
1024 x 768 monitor resolution at 96dpi or less
DirectX 9
CD-ROM drive (for software installation)
Just as with any graphic-intensive software, if you plan on working with large or complex image files, you'll probably want more RAM than what is stated in these requirements.
User Interface (4 out of 5)
If you're new to photo editing software in general, you may appreciate the welcome screen for PSE7 that appears each time you open the application. From this screen, you can choose whether you want to organize your digital photo collection, edit an existing work, create a new image, or share your creations with others. If you create an account with Photoshop.com, you can also log into that account at this point.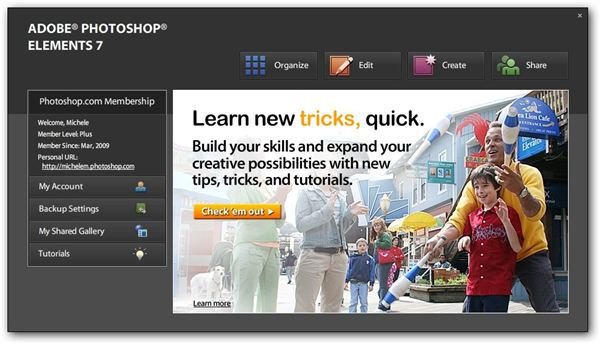 Once you're in the actual editing portion of the user interface, you have several different options from which to choose. If you're already quite familiar with the software and its capabilities, you can jump into full edit mode and manually decide which tools and features you want to access for your photo editing project. However, if you're a beginner or you're still not quite sure where all the different tools are located, you can choose to work in guided edit mode. If you select this latter option, Photoshop Elements 7 will present you with a series of question in the right panel of the interface and then walk you through the steps needed to perform the edits to your photo.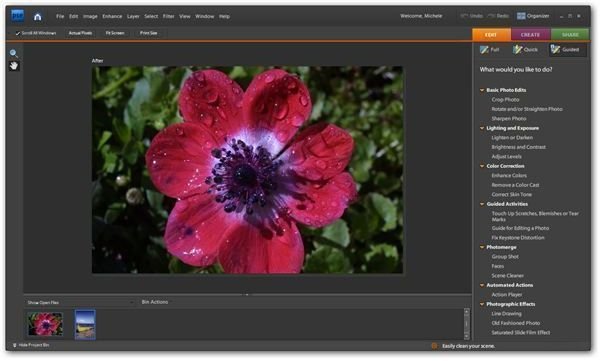 One of the complaints that was echoed by a number of users with the release of Photoshop Elements 6 involved the new, darker interface of the application. It's clear that Adobe listened to and responded to those complaints since PSE7 now allows you to adjust the brightness settings of the interface. With this feature, you can enjoy the new dark gray background (as I do) or switch back to the same lighter background found in older versions of the software.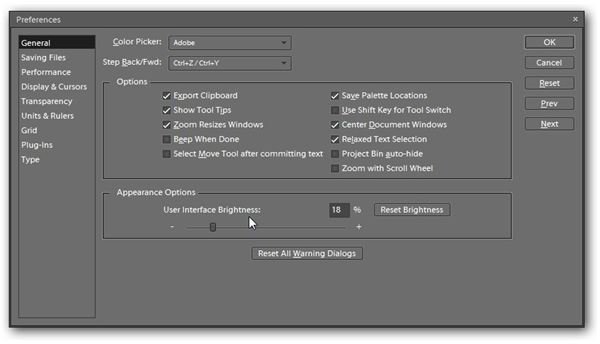 Features (5 out of 5)
As with older versions of the software, Photoshop Elements 7 is a feature-rich photo editing application with full layer support. Like other image editors in its class, PSE7 includes a large variety of tools that can be used to correct flaws in digital photos without losing any of the photograph's "realism" and to spice up an ordinary photo by basically turning it into a work of art.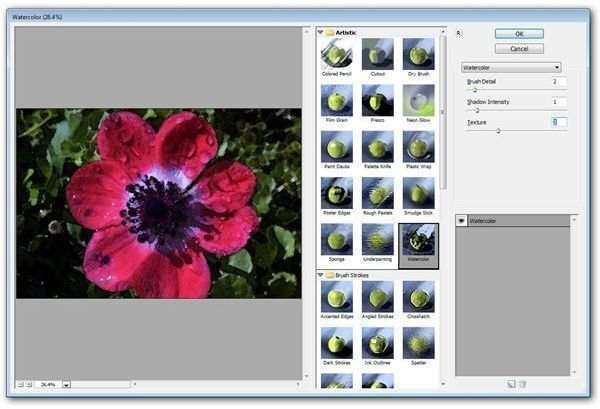 The latest release of the software has added quite a few new features that long-time users should appreciate. Among these is the new smart brush tool that allows you to paint effects onto specific areas in a digital photograph. Not only can this brush let you correct problem areas in photos, but it can also be used to create some pretty amazing special effects.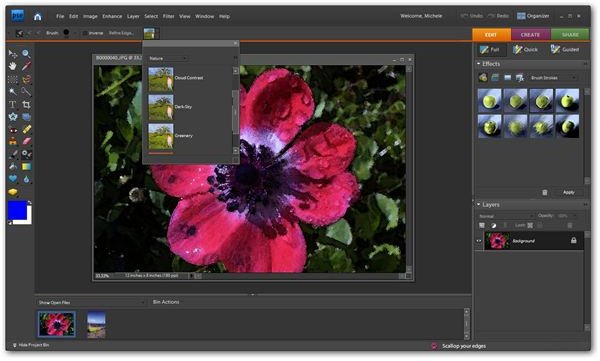 Additionally, as we mentioned before, you can access your Photoshop.com account from within PSE7. This means that you can pass back and forth from the software to the online web site to upload your photos and create albums as well as download templates and tutorials. In fact, Photoshop.com is so diverse in its offerings, we've covered it in a separate review.
User Support (4 out of 5)
Adobe maintains a very active user support web site for most of its products, and Photoshop Elements 7 is no exception. At this site, you can find downloadable help manuals as well as links to a vast library of free video tutorials. In addition, the online site contains a number of troubleshooting guides if you are having any trouble with technical aspects of the software. If you're unable to find the answer to your question on the web site, you can contact Adobe directly.
Price to Value (5 out of 5)
A package deal including Photoshop Elements 7 and a one-year Plus membership to Photoshop.com has a suggested retail price of $139.99. On its own, PSE7 retails for $99.99, but it can usually be found much cheaper online at places like Amazon.com.
Additionally, if you're also looking for a feature-rich video editing application, you can pick up a bundled package containing Photoshop Elements 7, Premiere Elements 7, and a one-year Photoshop.com Plus membership for $179.99. If you truly have no interest in the Plus membership, you can purchase this software duo for $149.99.
This pricing structure puts Photoshop Elements 7 in the same ballpark range as other photo editors with similar capabilities, and those same capabilities coupled with the application's ease of use make it quite worth the cost.
Overall Rating (5 out of 5)
In the past, I would have had a hard time recommending an Adobe product to a non-professional image editor because I generally believed that comparable software could be found at a much cheaper price. But, times are changing, and Adobe now offers some great products that are budget-friendly to casual users.
Photoshop Elements 7 may not be Photoshop CS4, but it does have all the tools and utilities that most amateur photo editors need. In fact, it's probably even enough for many semi-professionals. Whichever the case, it's definitely a program worth checking out, and you can do so for free by downloading a trial version from Adobe's web site.