Review of Serif Digital Photo Suite 2009 – Digital Photograph Organization and Editing Software
Overview of Digital Photo Suite 2009
Digital Photo Suite 2009 is a software bundle that includes two of Serif's digital photo editing applications – AlbumPlus X3 and PanoramaPlus 3. The main program in the suite, AlbumPlus X3, is a photo management and organizational utility that offers some additional features such as basic image editing and slideshow creation. The second program, PanoramaPlus 3, can be used on its own as an independent application or accessed from within AlbumPlus. As its name implies, the main function of PanoramaPlus is to create panoramic images from a collection of overlapping digital photographs.
Currently, Digital Photo Suite 2009 is only compatible with Windows XP and Vista. In addition, your PC should satisfy the following minimum system requirements in order for the software to function properly.
Pentium (or equivalent) CPU or higher
256 MB RAM (512 MB recommended)
659 MB free hard drive space
XGA display (1024 x 768 resolution, 16-bit color) or better
CD drive (if installing software from CD or creating CD from images)
Other components may be necessary, depending on which activities you wish to perform with the software. For a full list of these requirements, check out Serif's web site.
Installation and Setup (4 out of 5)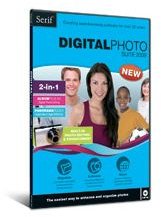 The two components of Digital Photo Suite 2009 – AlbumPlus X3 and PanoramaPlus 3 – do have to be installed separately. Although the accompanying instructions do not specify this, I recommend installing AlbumPlus X3 first as it is the dominant program in the software package.
When installing AlbumPlus X3, I did get a pop-up window that advised me to reboot the computer. As usual, I ignored this warning to see what would happen. Even without rebooting, the software still launched and ran fine. However, it would probably be best to save all of your work in other applications and reboot anyway, just in case.
Ease of Use (4 out of 5)
The very first time you use AlbumPlus X3, you'll need to create an initial album that will be used to organize your digital photographs. (Click any image for a larger view.)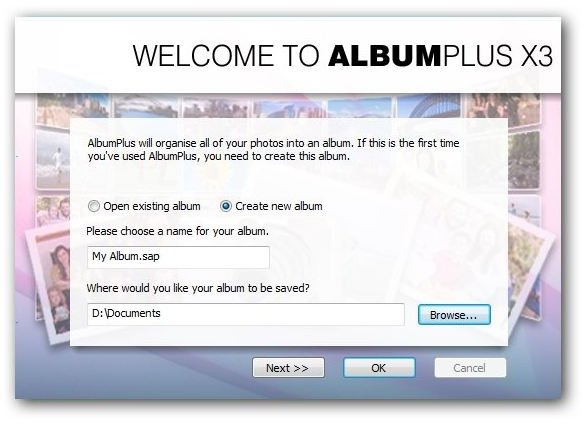 A simple wizard will walk you through the process. You can either let the software scan your computer to find your existing photos, or you can save some time by skipping this step and adding your photos manually later. If you have a few minutes, it's probably a good idea to let the scanning take place. I let the software scan one particular directory that had over 2000 image files, and it only took about five minutes to complete the process.
For the most part, the basic user interface of AlbumPlus X3 is straightforward and easy to navigate. During the initial computer scan, I chose the option to have my current image tags imported along with the photos (which, by the way, is a nice feature!) and AlbumPlus automatically assigned a default icon to each of those tags. The only problem with this is that the default icon is a square that looks a lot like the checkbox used to hide/show images with specific tags. Since the two objects are right next to each other in the tags panel, I found myself clicking the wrong item quite a lot when trying to sort through my photos.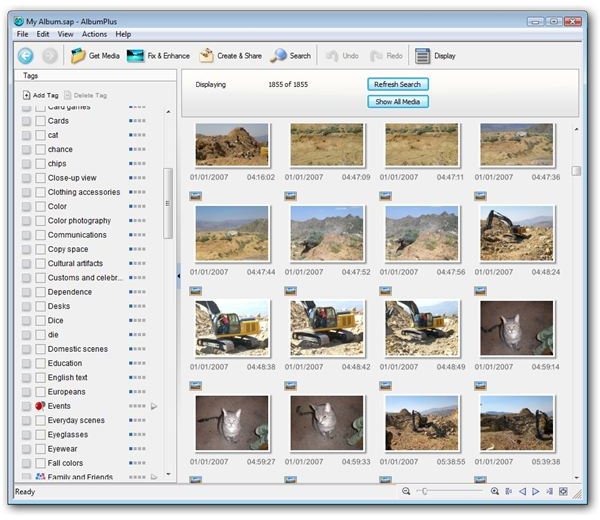 PanoramaPlus 3 also has a simple, but elegant, user interface, and is quite easy to use. This application can also be found as part of the bonus materials in Serif's PhotoPlus X2 software package, which has been reviewed separately here on Bright Hub's Digital Photography Channel. One very nice feature of this program is that it can be used as a standalone application, or it can be accessed from AlbumPlus X3 with just a click of the button.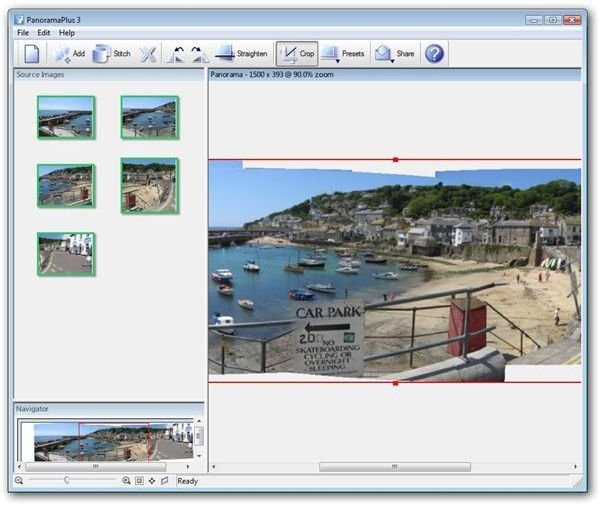 Features (5 out of 5)
In addition to providing several nice tools for photo organizing and management, AlbumPlus X3 also offers basic photo editing capabilities. Simply click on the Quick Fix Studio icon and a new window will open, allowing you to edit your chosen image.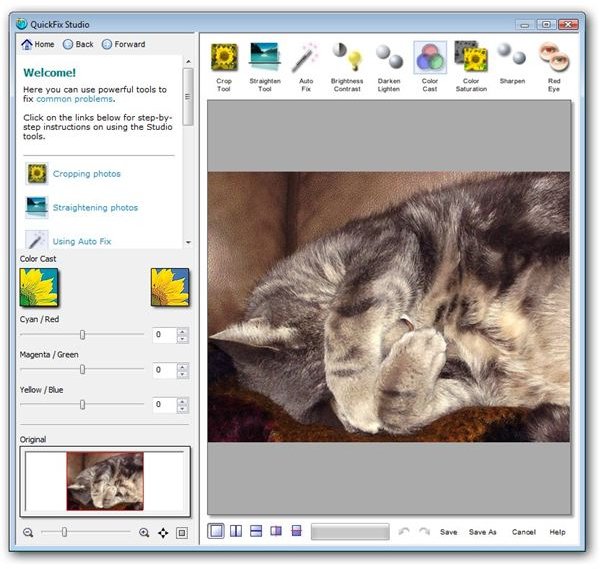 If you also have PhotoPlus X2 installed on your machine, you can take advantage of its editing features from within AlbumPlus. With your photo selected in AlbumPlus, click on the Edit in PhotoPlus icon, and PhotoPlus X2 will open. After making modifications in PhotoPlus, you can save and exit that application, and the photo will be updated in AlbumPlus.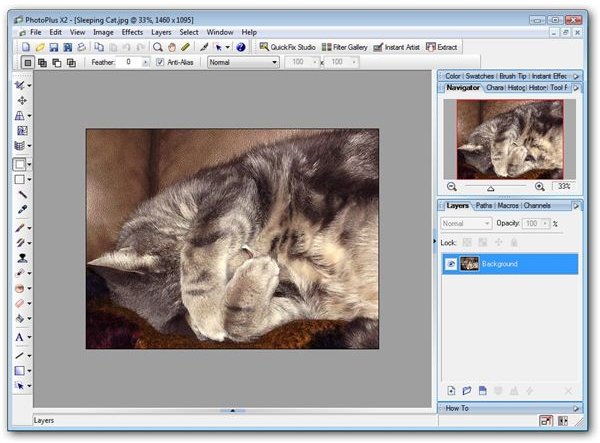 AlbumPlus X3 also allows you to create calendars, greeting cards, and slideshows from your digital photos without having to leave the application. All you have to do is select the photos you wish to use in the project, click on the appropriate icon, and follow the steps outlined by the software.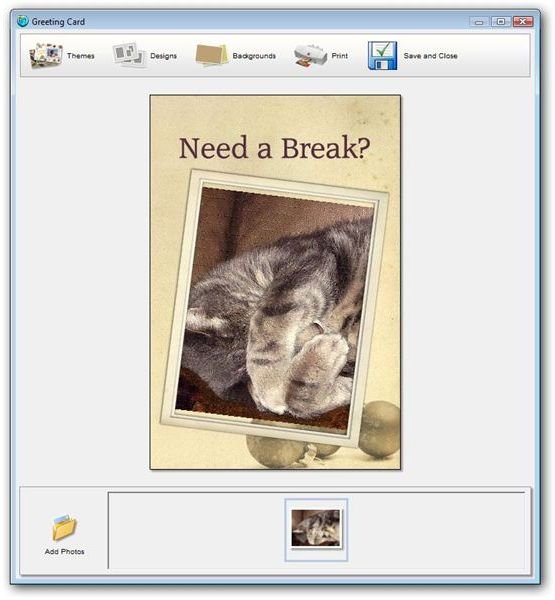 User Support and Documentation (4 out of 5)
Both AlbumPlus X3 and PanoramaPlus 3 come with full color integrated help files that can be accessed from the software's user interface. Additional assistance can be found on Serif's online forums or by contacting Serif directly through its web site.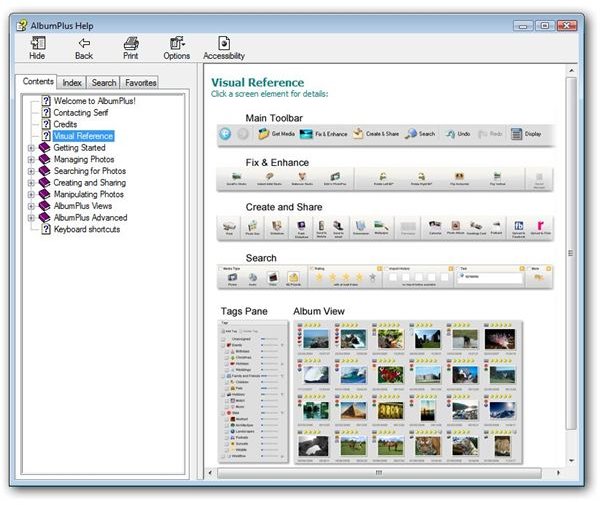 Price to Value (4 out of 5)
The current retail price listed for Digital Photo Suite 2009 is $49.99. This isn't a bad price for all that is included with the bundle, especially if you're looking for an application to serve as an organizational tool. However, if you're in the market for a software package with more robust editing features, you might want to spend the extra money and go with PhotoPlus X2 instead.
Overall Rating (4 out of 5)
Although Digital Photo Suite 2009's real strength lies in the photo management capabilities found in AlbumPlus X3, the software package is also a good budget solution for those looking for a bundle that can do a little bit of everything.
While AlbumPlus is capable of taking care of basic editing needs, I still recommend PhotoPlus X2 or another comparable application for users seeking more advanced editing functionality. That is, the Digital Photo Suite package should be thought of as a complement to your other editing software rather than as a replacement for it.