Bright Hub's Review of PhotoPlus X2 Digital Studio – Advanced Photo Editing Software
Overview of PhotoPlus X2
PhotoPlus X2 Digital Studio is the latest release of Serif's popular photo editing application. The software is packed with many new features that make it quite competitive with other image editors in its class. Additionally, there are several tools and capabilities found in PhotoPlus X2 that you won't see in similar applications – at least, not without searching for additional plugins to install.
At the current time, PhotoPlus X2 is only compatible with Windows XP and Vista operating systems. In order for the software to run properly, your machine will also need to meet the following minimum requirements.
Intel Pentium (or equivalent) or better CPU
128MB RAM
222MB free hard drive space
SVGA display with 800 x 600 resolution, 16-bit color or higher
As with any photo editor, if you plan to work with large or complex image files, the more RAM you have, the better.
Installation and Setup (5 out of 5)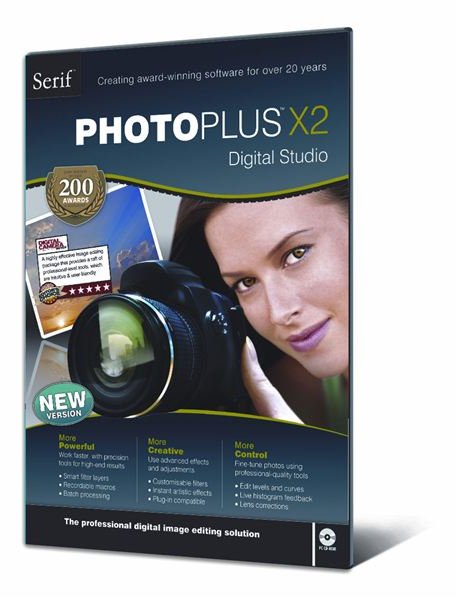 The boxed version of PhotoPlus X2 can be found in most major retail stores that sell software products as well as through online vendors such as Amazon.com. You can also purchase the software directly from Serif as either a boxed product or as an instant download if you're anxious to get started with the application.
The installation process was standard, and I encountered no problems when setting up the application. There are a couple of decisions that you'll need to make during this process, but the default choices for each one are perfect if you're either unsure of which to choose or if you're just in a hurry and want to install the software fast. In other words, you'll be fine if all you want to do is click Next, Next, Next, …, Finish.
One thing that I did appreciate during the software's installation was the chance to decide which file formats, if any, to associate with PhotoPlus X2. Have you ever clicked on a link to a photo in an email and then had to sit and wait for the image editor to open just so you can look at the picture? The reason this happens is because the file extension for that photograph has been associated with that particular program. (Click any image in this article for a larger view.)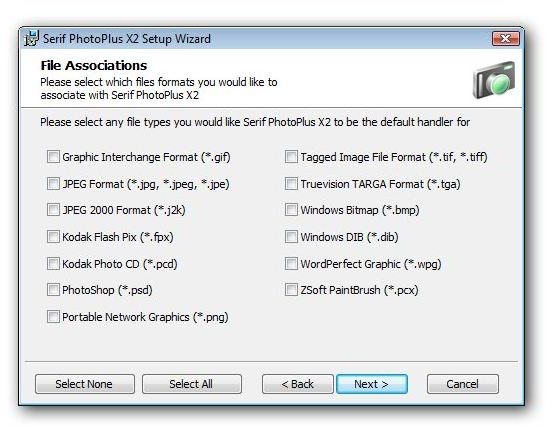 If you choose the default option here, no file format will be associated with PhotoPlus X2. Others may disagree, but this is definitely my preferred choice. I love image editors, but if I only want to look at a photo that someone has shared with me, I'd much rather use a lightweight picture viewer than load a resource-intensive photo editing application. Unfortunately, many other applications will, by default, associate all image files with themselves during installation, and this can be a pain later on if you are not paying attention and just clicking fast through the setup screens. So, this long-winded explanation is just my way of saying thanks to Serif for not doing this.
Next: Continue on to page 2 of this review to find out more about the user interface and features found in PhotoPlus X2.
Ease of Use (4 out of 5)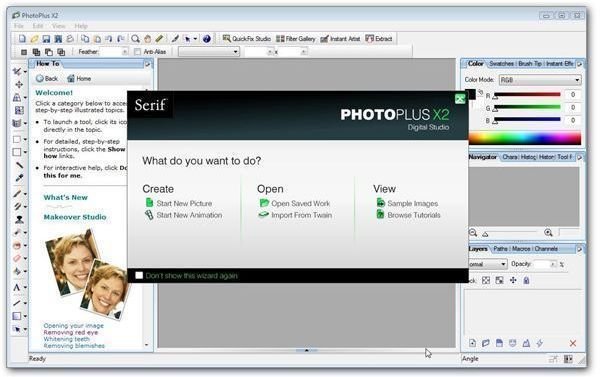 For the most, the user interface of PhotoPlus X2 is intuitive and relatively easy to navigate. If you've used other image editors, the layout and tool panels will look very familiar even if certain brushes and features are located in different positions. Complete beginners, however, will probably need some time before they feel completely comfortable with the application's work area.
To help those who are beginners, either to PhotoPlus X2 or to image editing in general, a handy "How To" side panel can be toggled on. This guide explains the functions of different tools in the application and gives step-by-step instructions for how to use them.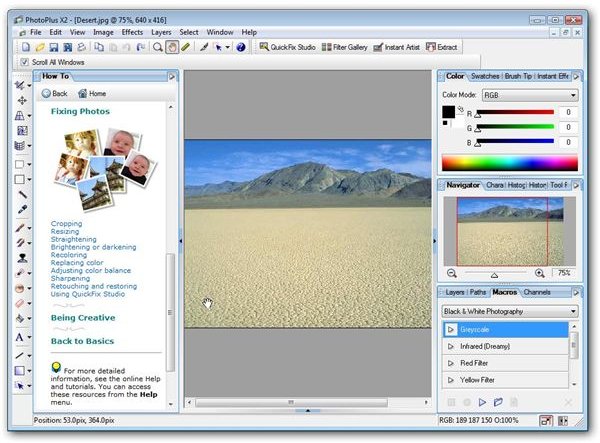 There are also more in-depth tutorials available, but we'll discuss those in the User Support and Documentation section of this review.
Features (5 out of 5)
PhotoPlus X2 includes all of the features you would expect to find in a fully functional image editor, such as support for layers and a wide variety of "bad photo" correction tools. However, the aspect of PhotoPlus X2 that really separates it from the other applications of this sort is the collection of easy-to-use creative filters and special effects found in the software.
I particularly like the Filter Gallery in which you can test out a number of different filters with both default and customized settings. The layout of the interface for this internal tool can be modified to suit your own personal preferences. A screenshot of one possible setup is shown below.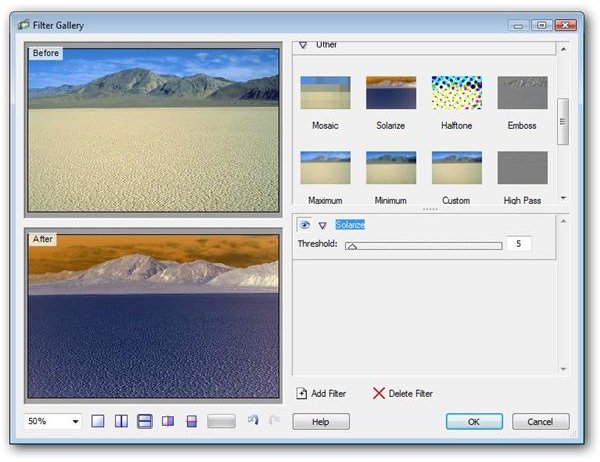 Another nice utility found within PhotoPlus X2 is the Instant Artist function which allows you to turn a digital photograph into a painting or drawing. The interface for this feature is very similar to that of the Filter Gallery, and it is extremely easy to use.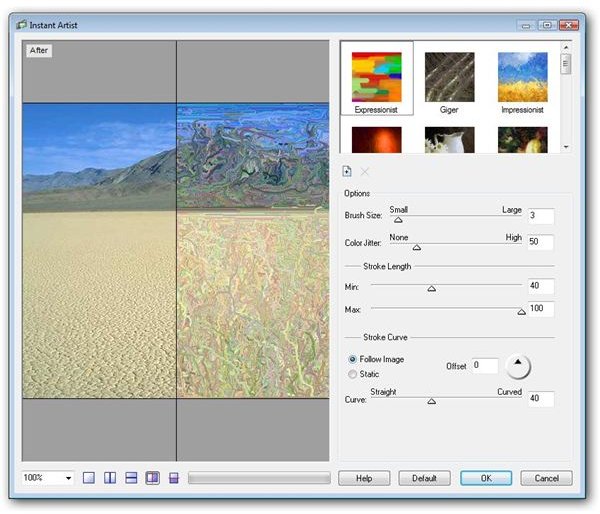 As an added bonus, PhotoPlus X2 comes with a free copy of PanoramaPlus 3, a software application that allows you to overlay and stitch together multiple photographs in order to create a larger photo that encompasses the details from all of the source photos. I didn't test PanoramaPlus 3 extensively, but I did play around with it a bit just to see how seamlessly it could combine individual images. Not only did it perform quite well, but it was a lot of fun, too!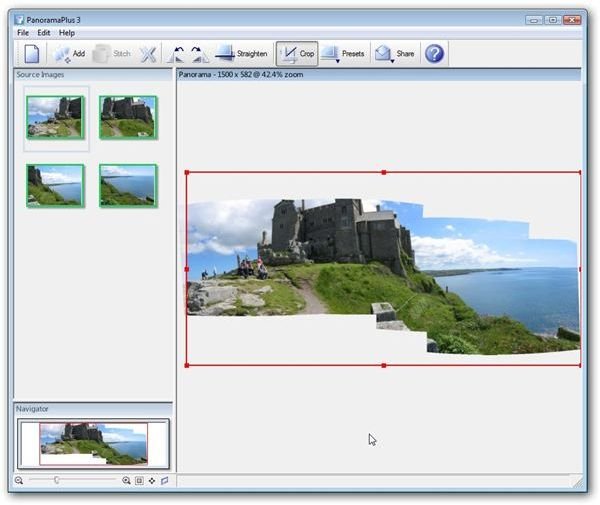 I was also impressed with the collection of vector graphics drawing tools in PhotoPlus X2. Most photo editors in the same price range have very slim offerings in this area because, to be quite fair, that's really not the focus of the software. While PhotoPlus X2 won't serve as a replacement for a true drawing application, it certainly has enough features to keep casual users and beginners interested for awhile.
Next: In the third and final page of this review, we'll take a look at the price and give our overall recommendation for PhotoPlus X2.
User Support and Documentation (4 out of 5)
In addition to the online PDF user manual that you can save to your hard drive and print out, the boxed version of PhotoPlus X2 come with a real paperback user guide – that's something of a rarity in today's world. There are also several specific tutorials that can be accessed from the Help menu from within the application.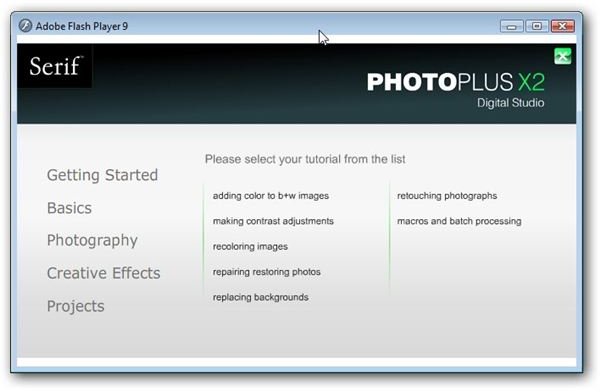 PhotoPlus X2 also comes with an extensive integrated help system that allows you to search for answers to your questions within the framework of the application. If you have further questions or you run into technical issues, you can either visit the Serif forums or contact Serif directly, assuming that you have registered the software.
Price to Value (5 out of 5)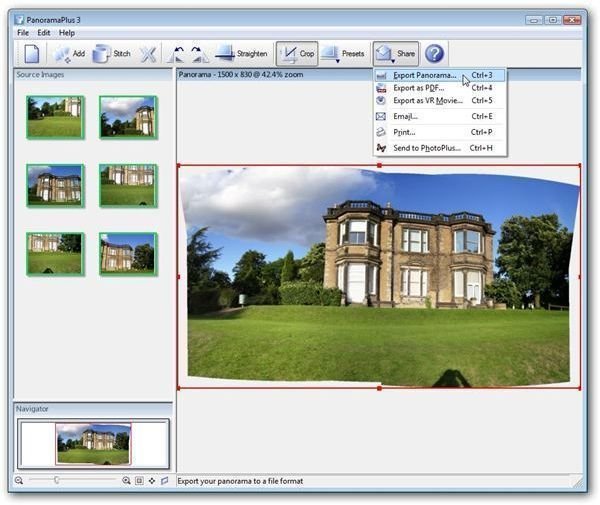 PhotoPlus X2 lists for $79.99, which is right in line with other image editors such as Adobe Photoshop Elements 7 and Corel Paint Shop Pro Photo X2 Ultimate. However, the application is geared more toward the creative user than the technical editor, so many digital photography hobbyists will see this package to be more in line with their actual needs.
The free inclusion of PanoramaPlus 3 makes the price even more attractive since this application lists for $49.99 as a standalone product.
Overall Rating (5 out of 5)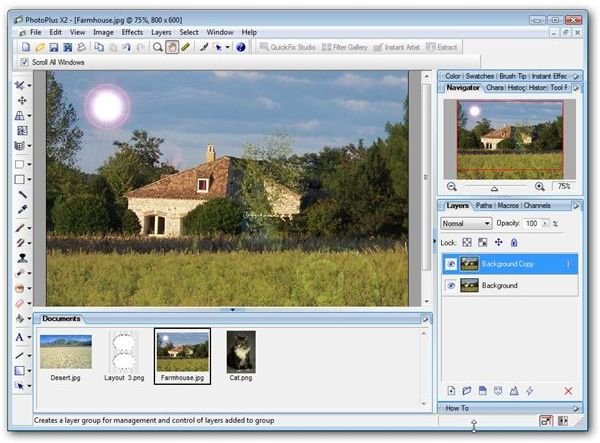 Taking all factors into consideration, PhotoPlus X2 is a solid performer that serves well as a primary photo editing application. The main user interface does seem a little "busy" at first, but it shouldn't take long for most users to get accustomed to the software. Beginners will probably need more time to learn the ins and outs of this application than they would with similar products, but the built-in tutorials should help speed up this process immensely.
If you're mostly interested in creative tools, such as adding special effects and artistic nuances, when editing digital photographs, you should definitely check into PhotoPlus X2. This is especially true if you're new to image manipulation and want to learn the ropes without spending hours reading through help files and third-party tutorials. Some of the more complex tools will take longer to learn, but you should be able to step right in and begin using the basic tools right away.