Topaz Simplify Plugin Review: Transform Digital Photographs into Works of Art
What Does Topaz Simplify Do?
Topaz Simplify is one of several photo editing plugins developed and distributed by Topaz Labs LLC, a privately owned company operating out of Dallas, Texas. This particular application focuses on taking a digital photograph and transforming it into an image that resembles a sketch, watercolor, oil painting, or cartoon.
There are a number of photo editors compatible with Topaz Simplify, including Paint Shop Pro and Photoshop. In this review, I'll focus on how the plugin performs in Paint Shop Pro, but the basic functionality of Topaz Simplify is the same no matter what image editing application is being used with it.
Before moving into the review, here are a couple of examples of the effects that can be obtained using the preset configurations in Topaz Simplify. The first image below is the original photograph of a waterfall that I found at FreeDigitalPhotos.net. The second is an image created using the oil painting preset configuration found in Simplify, and the third was created using the watercolor painting settings.
(Click any image for a larger view.)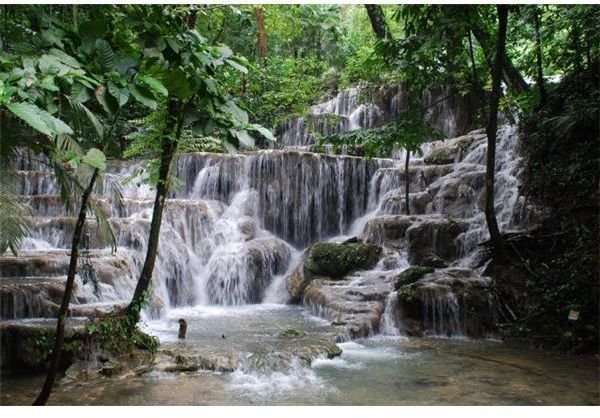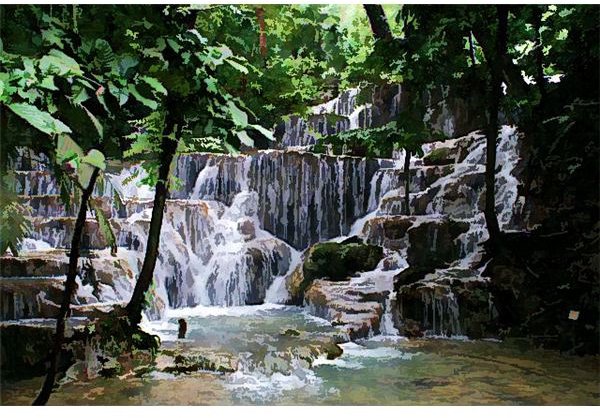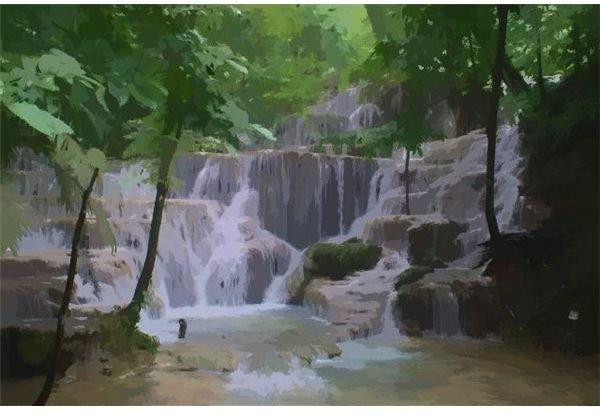 Installation (5 out of 5)
There were no problems with the download, installation, and setup of the Topaz Simplify plugin. Depending on your main photo editing application, you may need to make a couple of adjustments to ensure that the program recognizes the new plugin. Paint Shop Pro users should take a look at these instructions for installing third-party plugins for more information.
Ease of Use (5 out of 5)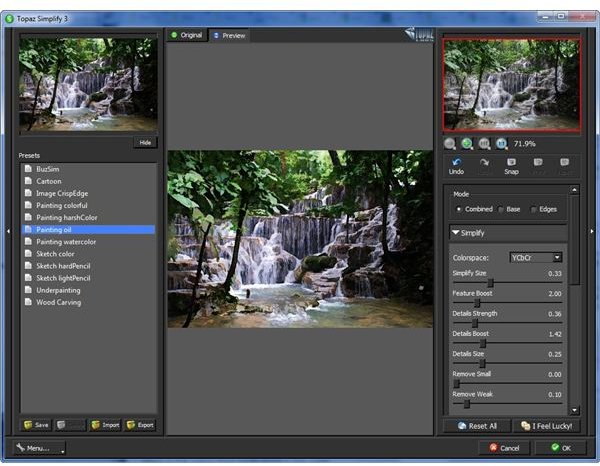 The user interface of Topaz Simplify is extremely easy to learn and use. There are several preset configurations that allow for simple one-click applications of basic styles. Users can also save their own custom settings so that they can be retrieved and applied to other digital photographs.
Each setting has a slider that can be incrementally adjusted while results of those changes are shown in the main preview window of the plugin. If you're unsure about the function of any particular setting you can enable pop-up balloons that will display brief help messages. However, the best way to really see what any setting does is to try it and observe the changes in the preview window. If you don't like them, you can always click the reset button to get rid of them.
Performance (5 out of 5)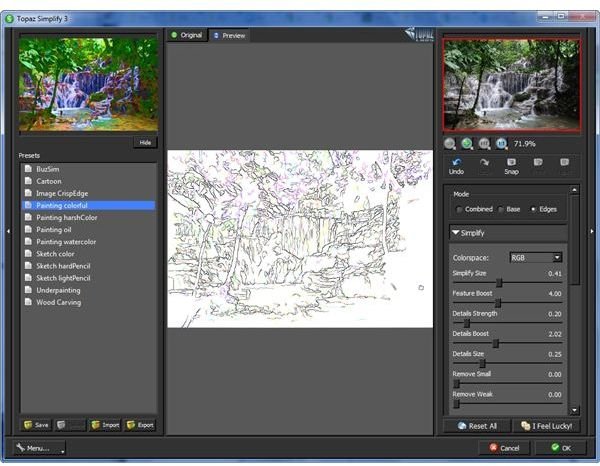 Topaz Simplify comes packaged with several preset configurations so it is possible to create images that simulate oil paintings, watercolor paintings, cartoons, and sketches with just one click. These default settings provide very nice results on their own, but they can also be easily modified to provide more customized results.
One item that I have always been frustrated with in other applications of this nature is the inability to have firm control over the appearance of object edges in the final work. They usually end up looking too thick, too thin, or too dark, and it's normally difficult to make modifications here without affecting the rest of the image. However, Topaz Simplify includes a separate tab where the settings for edges can be adjusted without making any other changes. You can even choose to view the edges separately from the rest of the image so that making these modifications is even easier.
Price to Value (5 out of 5)
Topaz Simplify retails for $39.99, but you can also purchase it in a bundle with other Topaz plugins and receive a substantial discount for the total package. The price for Simplify alone is an excellent value, considering the quality of this plugin. However, I truly recommend looking into picking up the entire bundle since all applications are extremely versatile and work very well in conjunction with one another. If you'd like to test the plugin out yourself, you can download a fully functional 30-day trial from the Topaz Labs web site.
Overall Rating (5 out of 5)
Because of its ease of use, versatility, high quality performance, and very reasonable price, I believe Topaz Simplify to be one of the best plugins available on the market today. It performs at a superior level to other products in its class, some of which cost twice as much. Plus, it's just plain fun to use. Definitely add this one to your wish list.
References and Additional Resources
Topaz Simplify Official Site: https://www.topazlabs.com/simplify/
Waterfall Photo: FreeDigitalPhotos – Juan Gnecco
All screenshots taken by author.