Review of Corel PhotoImpact X3: Editing Software for Digital Photographs
Overview of PhotoImpact X3
Corel PhotoImpact X3 is a relatively inexpensive photo editing application that comes packaged with a surprising number of features and editing tools. While it may not have all the capabilities of its big brother Paint Shop Pro, it does support a wide range of special effects and image enhancements that should be very appealing to beginners, especially those who are more interested in the artistic side of photo editing.
If you're considering trying out PhotoImpact X3, make sure that your PC meets the following system requirements for the software.
Intel Pentium III/AMD Athlon 800 or better processor

Windows XP SP 2, Windows XP Media Center, Windows XP Professional x64, or Windows Vista

750 MB hard drive space for main program (320 MB additional space for bonus software included with the package)

True Color or Hi-Color display adapter with 1024x768 or higher resolution
Installation and Setup (5 out of 5)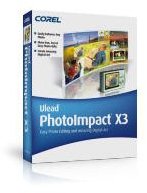 The PhotoImpact X3 package is available for purchase as a boxed version with installation CD or as a digital download from Corel. As most commercial products, the software comes packaged with an installation utility that makes setup quick and easy.
The installation process took only a couple of minutes. No reboot of the PC was required, and the software was immediately available for use.
Ease of Use (4 out of 5)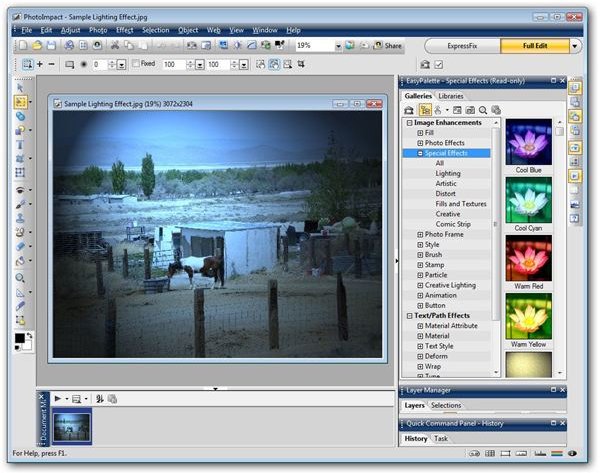 If you're familiar with other popular image editing applications such as Paint Shop Pro or Photoshop, you shouldn't have much of a problem getting started with PhotoImpact X3. The basic tools are relatively easy to find, and the user interface is similar, in terms of layout, to these better known programs.
However, users who are new to this type of software will need some time to get acclimated with its features. Even though the internal help system is quite comprehensive and the welcome screen provides a simple way to step into common tasks, some of the more advanced tools aren't quite so easy to figure out.
Features (4 out of 5)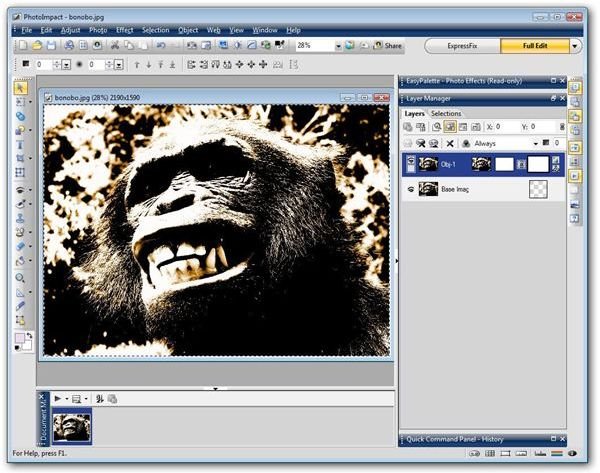 PhotoImpact X3 supports a broad range of photo editing tools in addition to including a number of predesigned brushes and special effects. It also has limited layer functionality that works great if you just want to duplicate the image before applying a change, but not so great if you want to separate the photo editing project into its base components.
One impressive feature about PhotoImpact X3 is that it is compatible with most Photoshop and Paint Shop Pro plugins. This greatly enhances the versatility of the software even though it doesn't quite make up for the lack of advanced layer support.
The software bundle also comes with an impressive amount of bonus material such as MediaOne Plus, Painter Essentials 3, and almost 1,400 royalty-free images that you can "practice" editing.
Price to Value (3 out of 5)
The suggested retail price for PhotoImpact X3 is $69.99 for the full version and $49.99 for the upgrade. If you're willing to purchase online, you can usually find the product much cheaper, even through Corel. Even though this is a fairly reasonable price, with a little more of an investment, you can go ahead and purchase Paint Shop Pro Photo X2 Ultimate which is not only more powerful but also easier to learn and use.
Overall Rating (4 out of 5)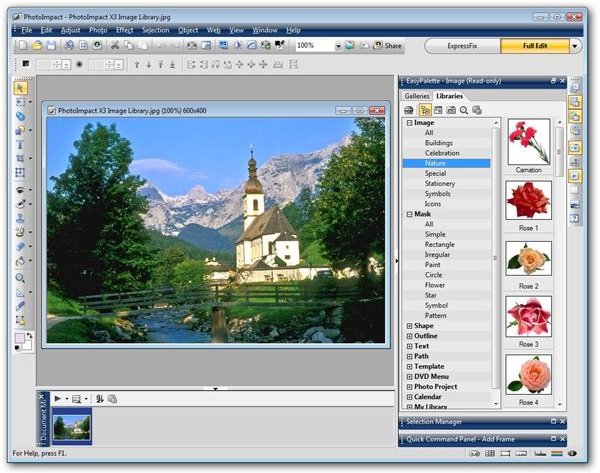 In general, PhotoImpact X3 is a nice photo editing tool, especially for beginners who want to take advantage of all the one-click special effects and photo fixes available in the software. Additionally, all the extras included with the application make the package that much nicer.
However, if you're looking for a photo editor that's a bit more versatile and has full layer support, you may want to spend the extra $20-30 and pick up Paint Shop Pro instead. You can find free 30-day trials of both of these products on the Corel web site, so test them out yourself and see which one you prefer.