Discover Amazing Exposure Effects with Topaz Adjust – Paint Shop Pro Plugin Review
Update: Since the time of this review, there has been a new release of Topaz Adjust - version 3. See the last section of this review on page 2 for more details.
Topaz Adjust v2.6
Topaz Adjust is an image manipulation plugin that allows users to achieve some amazing exposure and color effects through a simple, intuitive interface. Although designed as a Photoshop plugin, the application works with a number of other photo editors including Paint Shop Pro and Photoshop Elements.
Not only does the plugin contain numerous tools that can help fix "bad" photos with just a click of the button, but it also can be used to add a whole new creative and dramatic look to any digital photograph. Take a look at the before and after images below just to get an idea of some of things possible with this plugin.
(Click on images to enlarge.)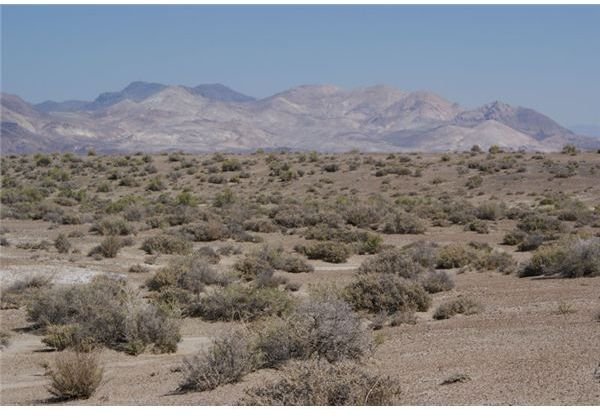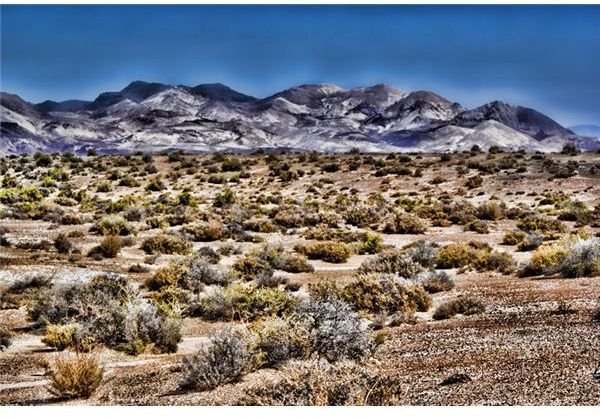 Here's another example where only the brightness was modified so that shaded objects could be seen more clearly.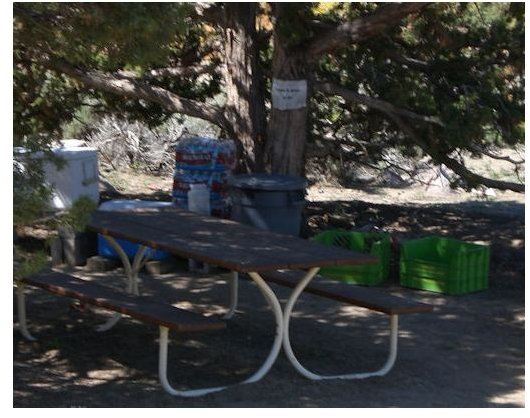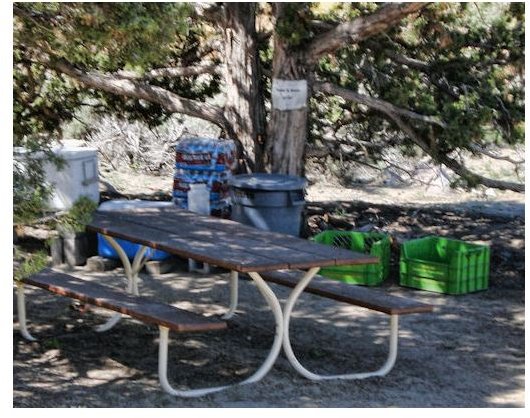 In both of the examples shown above, less than a minute was spent performing the actual modifications with the Topaz Adjust plugin. With a little more work, the results could have been even better. Here, though, I just wanted to illustrate what was possible with this plugin in just a couple of clicks.
Setup and Installation (5 out of 5)
The setup and installation of Topaz Adjust went fine. The package comes with a built-in installer so all you have to do is download the program and run it. If you plan to use Topaz Adjust with Paint Shop Pro, you will need to make sure you install the plugin in a directory that Paint Shop Pro recognizes as a valid plugin folder. For more details on how to do this in general, see Installing Paint Shop Pro Third-Party Plugins.
User Interface (5 out of 5)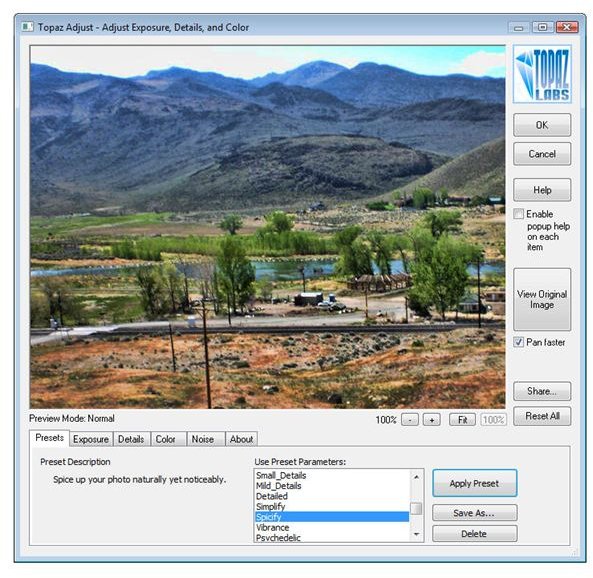 The slick user interface of Topaz Adjust is simply fantastic. I was a little worried at first that a plugin as powerful as this one would have a steep learning curve. It turns out that just the opposite is true. The interface is dominated by a large preview screen that you can resize in order to see the full image at once or zoom in to see more detailed information about the photograph.
At any time during the photo editing process, you can click the View Original Image button to see just how many changes you've made. If you don't like the changes, you can always reset everything at once and return to the original image, or you can choose just to reset the modifications made in one or more of the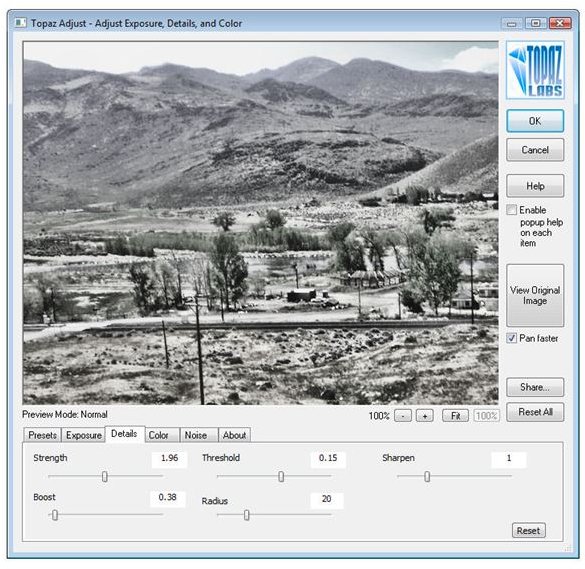 adjustment categories of Exposure, Details, Color, and Noise.
If you're new to photo editing techniques of this type and want some more information about what each tool will do, you can enable pop up messages that will provide additional information on each item. If you're more of a visual person (as most people are), you can simply try the tools to see what they'll do. The reset options and sliders make it easy to undo an action if you don't like the results.
Features (5 out of 5)
Beginning photo editors will appreciate the number of preset parameters that are included with the plugin. These can be used as a starting point in your editing project, or you may even like the results enough that this one click editing is enough. Additionally, if you make a series of adjustments that you want to save and use on future photos, you can easily define a new preset option of your own.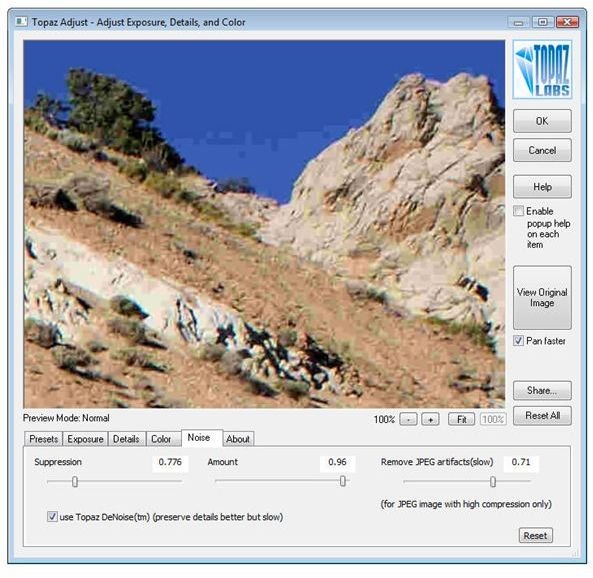 In addition to being able to make adjustments to exposure, color, and detail of digital photographs in Topaz Plus, you can also vastly improve the quality of your images with the noise reduction tool that is included in the plugin. Although this filter is not as powerful as the one found in Topaz DeNoise, another plugin from Topaz Labs, it's still a lot better than many other tools found on the market. It even has a special slider to adjust the noise level caused by JPEG artifacts that appear when a high JPEG compression factor is used.
Price and Overall Rating (5 out of 5)
The retail price of Topaz Adjust is listed as $49.99, which isn't a bad deal at all, considering all the features of the software. However, check out the Topaz Labs web site for the plugin to see what deals they might currently be running. If you're interested in some of their other products as well, you can pick up a nice deal on a bundled package containing Topaz Adjust, Topaz DeNoise, and Topaz Simplify. Additionally, if you want to check the plugin out before making any financial commitment, you can try before you buy by downloading the 30-day fully-functional evaluation copy of Topaz Adjust. Trial versions are also available for other Topaz products.
Product Update: Since the time of this initial review, Topaz Labs has released a new version of this plugin with an enhanced user interface and perfomance improvements. For more details, including how to obtain a free upgrade, see our notes on version 3 of Topaz Adjust. Below is a screenshot of the new interface of this latest version.