Photoshop CS4 Review - Are the New Features of this Photo Editing Software Worth the Upgrade?
Photoshop CS4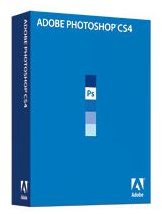 The New Interface of Photoshop CS4 (5 out of 5)
One of the largest and most obvious changes in the 11th version of Adobe Photoshop (CS4) is the new user interface, including a totally redesigned adjustments palette, pictured below (click on images to enlarge).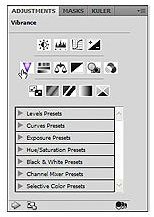 This adjustments palette includes some of the most commonly used photo adjustments tools, which makes for extremely easy access. Although most of us are so used to going to Image and Adjustments, once you get the hang of it, this palette really does save a lot of time.
The other main interface improvement comes into play at the top of the screen with the new redesigned icons near the top of the window and the easy-to-use tabs for managing multiple projects. These tabs alone were enough to make me upgrade, as this was a feature I was really wishing for in Photoshop CS3. No longer do I have to have windows layered on top of one another and be forced to sort through them. The new tab system really does help me organize the different photos that I'm working on at once.
Photoshop CS4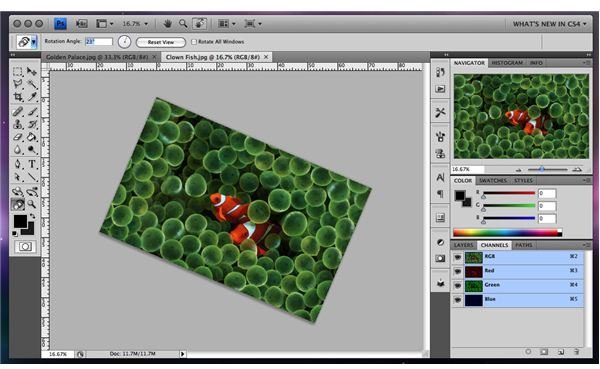 64-bit and OpenGL Integration (4 out of 5)
As Photoshop's first 64-bit version, Adobe has jumped ahead of most PC and Mac users who are still running 32-bit operating systems. For those using the 64-bit version of Windows Vista, they will experience the ability to work on gigantic files with very little or no lag. When editing photos that are 3-6GB, using this version with a ton of RAM really does make a big difference.
For the rest of us, the OpenGL integrated features can come in handy, especially when using a tablet. OpenGL support aids the 2D and 3D graphics across many different platforms. Even in the Standard version of Photoshop CS4, users will be able to experience a new, ultra-smooth zooming function, as long as their graphics cards support OpenGL.
Also, you can now rotate a photo to any desired angle in a nondestructive way, which makes editing on a tablet much easier.
Adobe Camera Raw 5 (5 out of 5)
Based on some of the features in Adobe Lightroom, Photoshop CS4 comes loaded with the newest installment of Adobe's Camera Raw version 5. This new version includes more editing and retouching tools, like that of Lightroom, right in the Raw window, which can be convenient. This still, of course, is made for light editing. If you have major adjustments to do, open up Photoshop and use the tools within.
For those of us that use Lightroom, this integration will really help us in our workflow.
Other Changes in Photoshop CS4 (4 out of 5)
The Healing Brush and Clone Stamp Tool have been given a new preview feature that allows a user to see what the correction will look like even before it is done. That can be useful, but then again, CTRL-Z works well too!
Adobe has boasted of better printing results from Photoshop CS4, as it syncs better with some of the most popular models of printers by companies such as Canon and Epson. Their print layout still needs some work to make it easier to navigate and control.
At a $199 upgrade ($699 for the full version), I think it is a worthwhile upgrade, especially if a lot of your photo editing is done on a tablet.