Looking for Unique Wedding Photography Locations or Ideas? Bright Hub Can Help!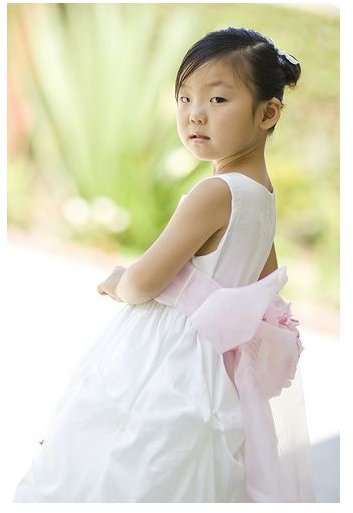 Getting married is a big deal, and many couples choose to remember the day through photographs. Luckily, wedding photography has come a long way from standing inside a crowded, and dimly lit church with a bunch of people in stiff poses. Now, it's not uncommon to see pictures of blushing brides walking down the beach with their husbands at their sides, or a wedding party in a thicket of trees in the spring. What does this mean for the wedding photographer? Couples are likely to ask for suggestions that will help make their wedding day be remembered as something unique, romantic, and fun. This means that you might want to take some time to get acquainted with your local area in hopes of finding unique wedding photography locations. Here, we offer some great tips and techniques to help produce pictures that couples will enjoy for a lifetime.
Do Your Homework and Scope Your Locations
More and more people are venturing out of the chapel and into the world when it comes to wedding photography. If you're looking for a unique wedding photography location, make sure you go out and really look at the spots you may be interested in. Take a day well before the wedding, and spend some time scoping it out. You might even try taking pictures using potential angles you might want to try. Keep in mind that if you're looking at outdoor locations, you should be sure you have a bad weather alternative.
Low Lighting Locale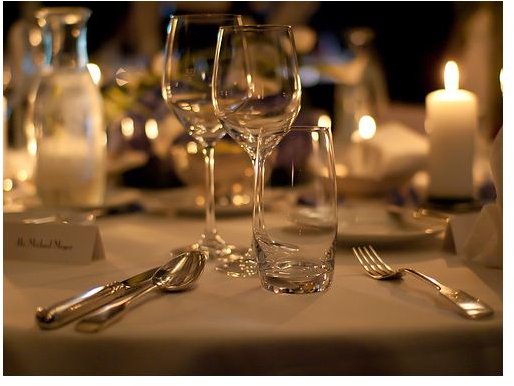 How many wedding photos have you seen taken on a sunny day or in a well-lit church, chapel, or hall? Lots. Sure, bright, well-lit photos showcase the faces and the details of the dresses, but what does bright light do for intimacy? Not much at all. If your couple is looking for something romantic or unique, see about having a photo session in a city park at night, a boardwalk along the beach, or even an amusement park if it's open late enough and your couple seems enthusiastic about it.
Low lighting will mean that you're going to want to grab a tripod and a cable release, if at all possible, to prevent having to use a flash and potentially wash out the subject, or highlight the wrong subject all together. Take some time to learn some night photography and low-light photography techniques so that you can give yourself a better chance of creating something very special. After all, low light photography can be seen as very romantic and intimate - exactly something your couple might desire in their wedding photos.
Unusual Angles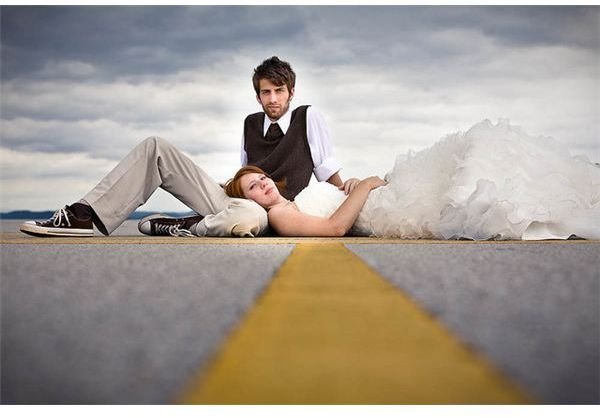 Sometimes you don't have to go out of your way to find a unique location, but rather take a very common location and hit it from an unusual angle. Shooting from below, above, or (as in the photo to the right) ground level, you can create incredibly different effects that make any location truly belong to your couple. If you're comfortable with heights, carting a ladder out to a grassy meadow and taking a picture of your couple laying together, hand-in-hand is another fantastic idea. Remember other great techniques, like forced perspective and depth of field photography, as they're a good way to give your couple that unique edge they're craving.
Young at Heart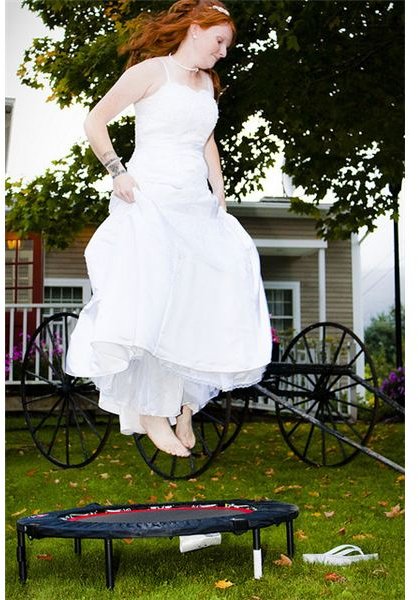 Go ahead and be childish about the pictures! Making some of the wedding photography fun and childlike is a great angle for your fun-loving couples. How do you do this? Take your couple to a playground, a small, local amusement park, to bumper cars, to the trampoline - anything that screams fun! Don't feel like you need to pose and direct your couples either, just tell them to go out and have fun doing whatever it is. In the meantime, you just keep snapping. This is a great way to overcome the "stiff" feeling that traditionally posed wedding photos seem to impart.
Funky Flare
Public art displays can be a great accent to your wedding photography, especially for young couples looking for a great way to help make their photography seem more unique. See if you can find any sculptures, art galleries, or outdoor paintings - yes, even graffiti can be attractive at times - that would fit the couples personalities. Just remember because public art often tends to be in a public area, either expect to ask strangers to stay out of the shots, or see if there is any way you can reserve the spot for a little while in order to take some uninterrupted shots.
Get Goofy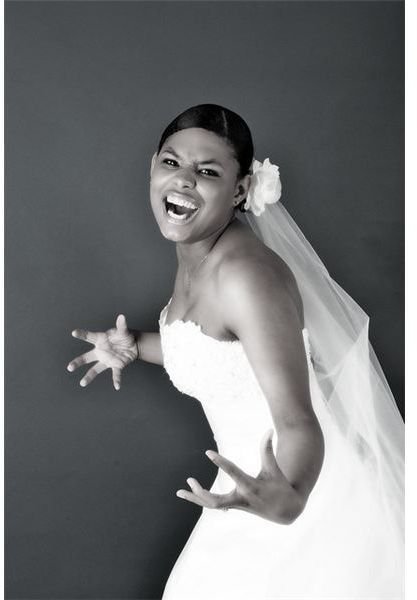 Weddings are elaborate things involving big flowy dresses, tuxedos, and bouquets of flowers. They tend to lend the feeling of having to be prim and proper - a potential turn-off for a fun-loving bride and groom. So go ahead and let them get goofy by striking silly poses in silly places or situations. Example? Sit them down in front of an elegant table setting and put a big plate of burgers and fries in front of them - the contrast between what is expected and what is actually happening is sure to produce a few smiles.
Artistic Archetectual Elements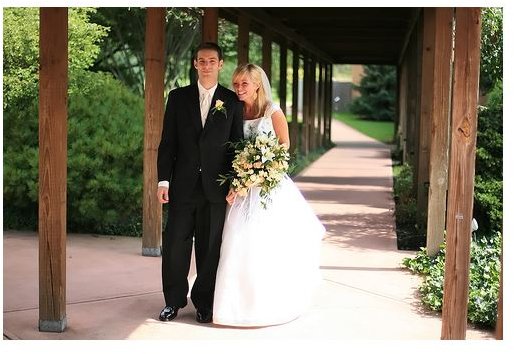 If you're lucky enough to live in an area that has a lot of interesting architectural elements around, this can create a great feel for your image. Urban photography lends itself to interesting angles, gritty textures, and some attractive repetition, but you can find these elements in parks, towns, and more. The image to the left showcases a fantastic use of repetition and a nice mix of organic and inorganic elements. Look for places like old run-down buildings, stone and concrete constructs, or even local historic ruins if you're going for a grungy feel. Check out modern buildings of metal and glass if you're going for a clean, minimalistic feel. Structures like gazebos and pavilions in botanical gardens and parks often can give you a very natural or culturally specific feel that your couple may desire architecture has the bonus of being both a great backdrop as well as fun props for your pictures, so do a bit of research with your couple when thinking about places you'd like to go.
References