Review of Xara Photo & Graphic Designer
Xara Photo & Graphic Designer 7 is a suite of tools that mainly focuses on vector graphics creation and photo editing. This marriage of features is usually found in separate pieces of software dedicated to either photo editing or vector graphics creation. Since it has two software applications' worth of features, we will concentrate on its photo editing side for this review.
User Interface (4 out of 5)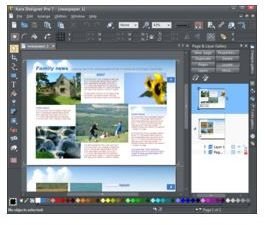 Because of the number of features crammed into this single piece of software, it is natural to have a lot of tools and control buttons on its interface. It can get quite cluttered on your work space, which may limit the efficiency of your work flow, but you will still have enough room to work comfortably. Its layout is similar to some of the most popular photo editing applications out there with the most used tools located on the left side of the work area while different tool windows are located on the right. There are also some functions accessible at the top navigation panel and the bottom tool area. Right at the center is your main working area. If you are used to not having tools at the bottom of your work area, this application may require some getting used to. You may even find yourself moving your mouse from one side of the screen to the other when you are using multiple tools. Still, it is a very clean user interface and it gets a good score.
Features (5 out of 5)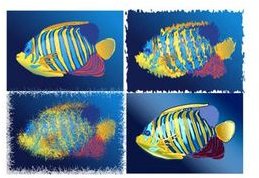 You may think that you will not find an extensive photo editing tool set here because of its price and the range of other features not directly related to photo editing, but you will. It provides everything from the basics like cutting and cropping as to the more advanced features like color correction, intelligent scaling, bitmap tracer and special effects. A cloning tool and a red-eye reduction tool are also present, as well as other more sophisticated tools like Content Aware Zoom and Content Aware Scaling which allows you to focus on a specific part of a bitmap image while removing the unimportant areas. If you want more functions and special effects, you can also use Photoshop plug-ins to expand your effects library.
One of its most useful features is Live Effects which simply means you can apply any of the different special effects included in the program or provided by Photoshop plug-ins and still be able to edit them whenever you wish. This gives you the ability to play around with your images using different effects without losing the original state. This ability is at par with the more popular photo editing applications.
Like most photo editing software applications, you can add text to your photos or images using this application. But it is not your ordinary text tool that is included here. Yes, you can apply all kinds of effects on the text and you can shape and transform it into any way you want, buy it also lets you do some desktop publishing tasks like making text flow around images for magazine layouts. You have the power of desktop publishing in your photo editor and that gives you enough reason to ditch your stand-alone desktop publishing application. Other feature sets involve video editing, animation editing and vector graphics editing. Its extensive features deserve a perfect score.
Performance (4 out of 5)
Some of its photo editing features like the Magic Erase tool do not deliver the same results as more advanced applications like Photoshop. Using this tool will sometimes leave ugly jagged edges that you will have to modify and clean after you have done the erasing bit. As for its responsiveness, you will be happy to know that your work flow will be as fast as you want it to be thanks to its Snap to Objects feature and its onscreen indicators. Everything just snaps into place and gives you more time to move around and do other tasks instead of moving objects and elements around on a precise level. A responsive and fast user interface makes for a very smooth work flow and it gets a good rating for that.
Price to Value (4 out of 5)
With a price tag of $89, Xara Photo & Graphic Designer easily becomes a great buy especially for designers who dabble not just in photo editing but also in animation, vector graphics and desktop publishing. This range of features is simply a bargain for that price. The best part is the fact that you will get powerful features that are easy to use. The user interface may be a but daunting at first, but once you get used to it, you will have all the design tools you need in one neat package. It gets an overall rating of four out of five which is a good score.
References
Xara Official Website: Photo & Graphic Designer 7
Photo courtesy of Xara.com