Topaz Lens Effects Review: Photo Plugin for Creating Several Great Virtual Lenses
Are You a Lens-aholic?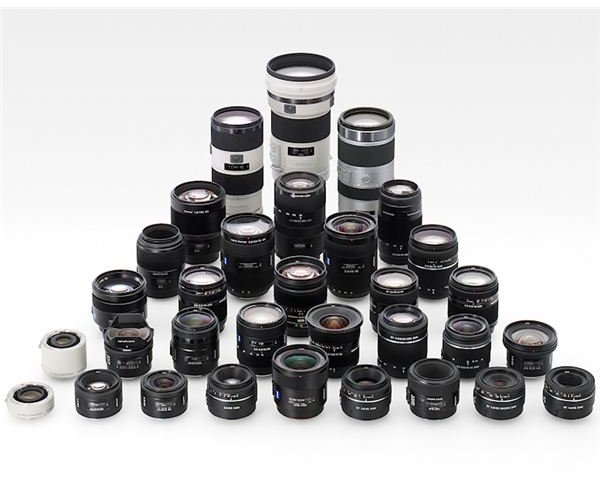 You don't have to be a professional photographer to become addicted to camera lenses. Once you start experimenting with different ones, it's easy to get hooked – but it's a pretty expensive addiction to feed. Although some diehards might frown at this suggestion, one way to experiment with different lens effects without going broke at the camera shop is to use "virtual" lenses – editing software which lets you digitally apply filters that mimic the look of these effects.
There are several Photoshop plugins that focus on this type of image manipulation, with each one giving varying types of results. Topaz Lens Effects is one such plugin, and it's definitely among the best in its class – especially considering its price. In addition to Photoshop, Lens Effects is also compatible with Photoshop Elements, Paint Shop Pro, Photo Impact and Serif PhotoPlus.
Effects and Presets (5 out of 5)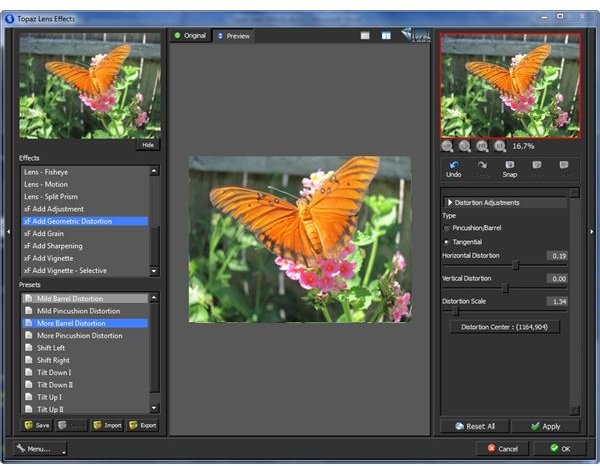 While most plugins of this type concentrate on one or two specific effects and provide a number of tools to customize the final result, Lens Effects actually supports a wider variety of filters – including bokeh, fisheye, pinhole, vignette and even prism effects. All in all, these effects are grouped into 20 categories, each one with customizable settings and well-defined presets.
A really nice feature of the plugin is that it includes the option to save, import and export settings. So, if you create a customized effect you really like, you can save it to use on future projects and even easily share those settings with other users of the software. Likewise, importing presets created by others is a simple and straightforward process.
Just to give an idea of how some of these effects can be applied, here are a few examples. The first image below shows the original photo, the second with a pinhole effect and the third with a fisheye effect.
Click any image for a larger view.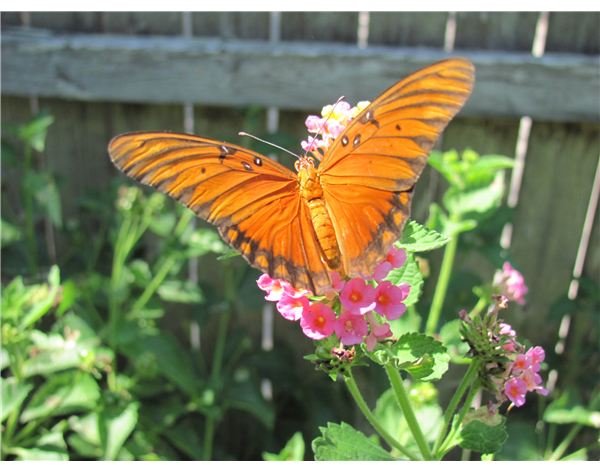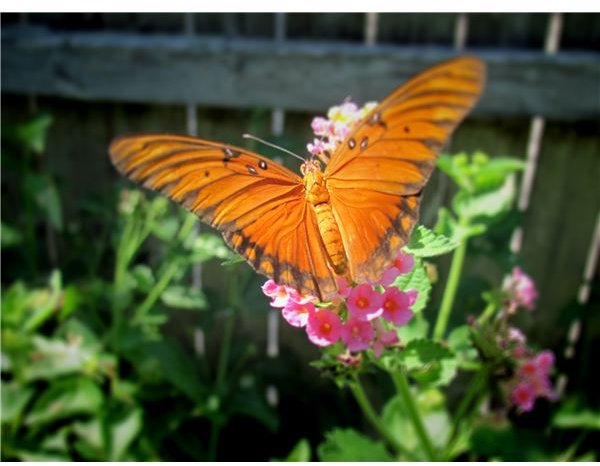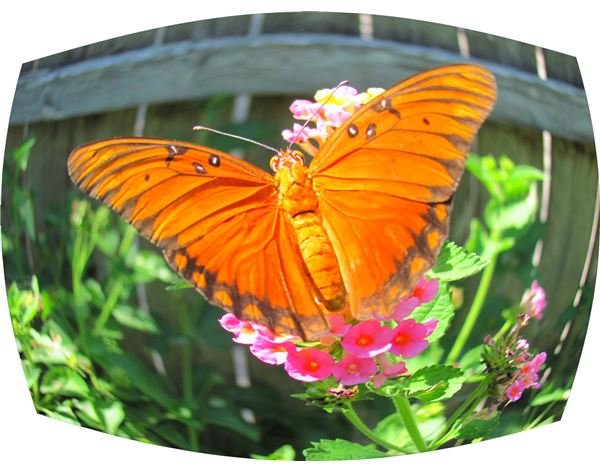 In this next group, the first image has a neutral density filter applied, the second shows off a split prism effect and the last has been modified using a distortion filter.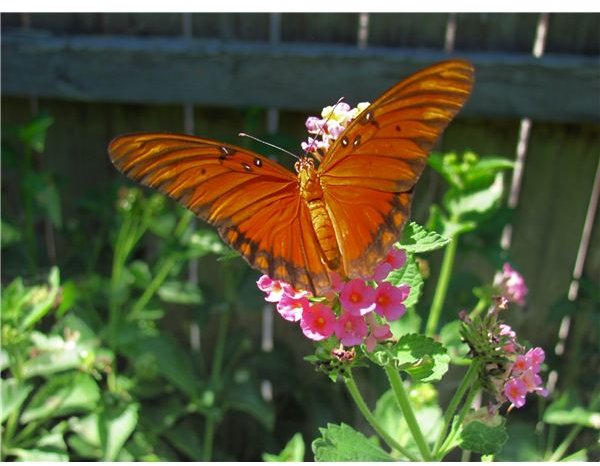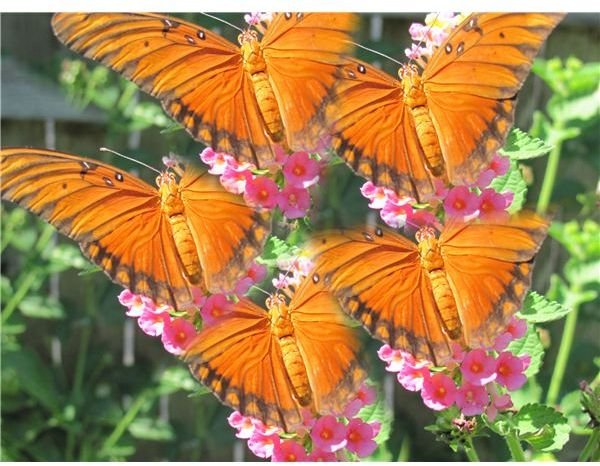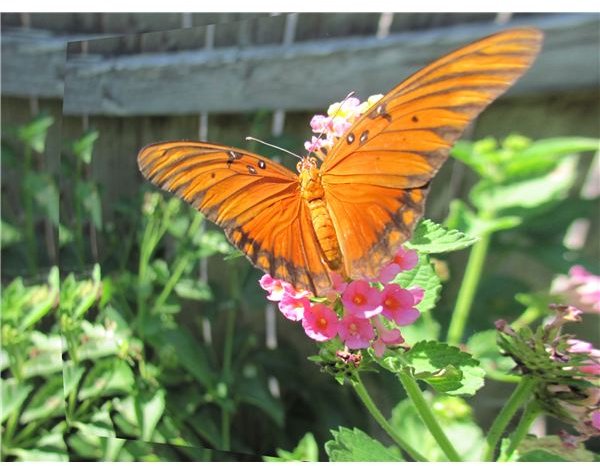 One hugely advantageous feature of this software is the ability to stack filters and effects without having to return to the host editor. After tweaking one effect, you can apply it and then continue with layering another effect on top of that before exiting the plugin.
Ease of Use (4 out of 5)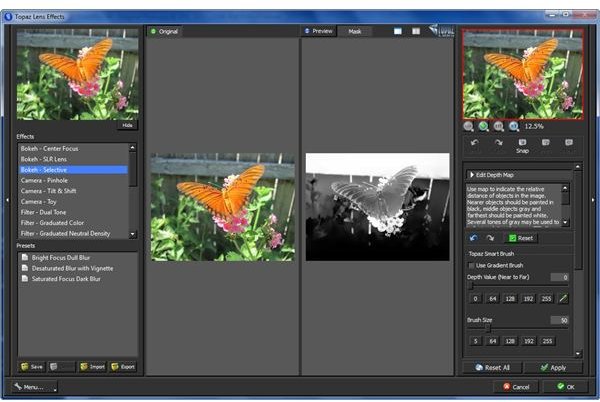 For the most part, Lens Effects is quite user friendly – especially if you start out with one of the preset configurations and make alterations from there. However, to get the most out of some of the filter types, you probably will need to invest a little time and experiment with the different possibilities. This is particularly true with effects like the selective bokeh, which allows you to create a custom depth map. While this tool is extremely powerful, it does take a while to get the hang of using it.
If you want to ease the learning curve a bit or if you just want to pick up a few tips, there are several great video tutorials available on the software's website. Topaz Labs also regularly hosts free webinars with live demonstrations – these events are generally recorded as well, so you can watch them at your leisure.
Price to Value (5 out of 5)
Priced at $79.99, Topaz Lens Effects is a great value for the money. The plugin is extremely versatile and offers a degree of sophistication that isn't found in other tools in this price range. If you'd like to try before you buy, a 30-day fully functional trial is available for download at the product website. If you're interested in other Topaz products, you may also want to check out the bundled package that includes Lens Effects and eight other plugins.
Bottom Line (5 out of 5)
Despite giving Lens Effects a 4/5 in the Ease of Use category, I still think the plugin deserves a solid rating of 5/5 overall. Really, the only reason that category was rated a little lower is because the software is so feature-rich that it will take some time to learn all the ins and outs.
The entire range of Topaz photo editing plugins are well worth checking out, and Lens Effects is a great addition to the line-up. I definitely recommend taking advantage of the free trial and testing it out yourself.
References
Topaz Lens Effects Official Site
Image Credits:
Sony Lenses, Sony Press Room
Butterfly Photo, sxc.hu/Roxanne727
Screenshots taken by author.