Diane Arbus: A Biography and Her Famous Photographs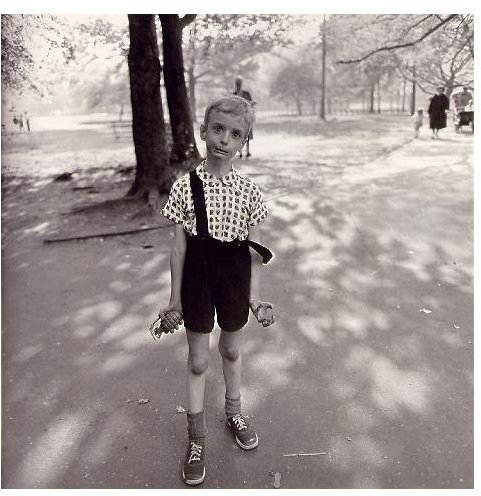 Introduction
Diane Arbus was an American photographer known for her black and white photographs where the main subjects were usually so-called deviant and marginal people, such as dwarfs, twins, and giants. Arbus was also the first American photographer whose photographs were displayed at the Venice Biennale. Here is a brief biography on Diane Arbus, as well as some famous Diane Arbus photographs.
Early Life
Diane Arbus (her birth name was Diane Nemerov) was born on March 14, 1923 into a wealthy Jewish family. Her parents were David Nemerov (son of a Russian immigrant) and Gertrude (whose parents owned the Russek's Fur Store, which eventually became the famous Fifth Avenue department store). The family lived in New York City, where Arbus attended the Fieldston School for Ethical Culture.
Family
Arbus' younger sister became a designer and sculptor, while her older brother was Howard Nemerov (d. 1991), who himself was a poet, appointed twice as a Poet Laureate Consultant in Poetry to the Library of Congress.
When Diane Arbus was 18 years old, she married Allan Arbus (an American actor, best known for his role in the television series M.A.S.H.) in 1941. The couple had two children; daughters Doon (born in 1945) and Amy (born in 1954). Diane and Allan divorced in 1969.
Photography
Diane and her husband were both interested in photography, running "Diane & Allan Arbus," commercial photography business. Diane was a stylist/art director, while Allan was a photographer. Over their published works, they claimed equal credits. Some of their clients were renowned magazines (mostly fashion-oriented magazines) such as Vogue, Glamour, Harper's Bazaar and others, although the quality of their fashion photographs were considered only as average.
Diane Arbus quit the business in 1956, starting her career by photographing for magazines such as The Sunday Times Magazine and Esquire. In the 1960s, Arbus attended photography courses at several schools, such as Parsons School of Design, Rhode Island School of Design in Providence and Cooper Union in New York City. In 1963, she completed a project called "American rites, manners, and customs", for which she was awarded with a Guggenheim Fellowship. In 1967 within The Museum of Modern Art (New York City), her first major exhibition of photographs occurred.
Famous Diane Arbus Photographs
The listing of some famous Diane Arbus photographs follows:
Child with Toy Hand Grenade in Central Park, New York City, USA (1962): the photograph shows Colin Wood (son of former tennis player Sidney Wood). The photograph sold for $408,000 in April 2005 at Christie's New York.
Identical Twins, Roselle, New Jersey, 1967: the photograph shows Cathleen and Colleen Wade, two young twin sisters.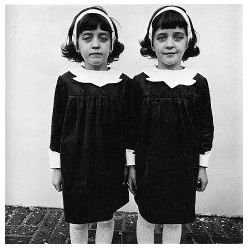 A Jewish Giant at Home with His Parents in The Bronx, N.Y. 1970: the photograph depicts Eddie Carmel, also known as the "Jewish Giant". In 2007, a print of an image was sold for $421,000.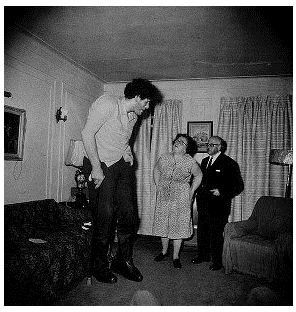 Death
Diane Arbus suffered from depressive episodes, very similar to those which her mother also suffered from. On July 26, 1971, aged 48, she committed suicide by ingesting barbiturates and slashing her wrists with a razor.
References
Patricia Bosworth: Diane Arbus: a biography, W.W. Norton, 2005.
Image Credits
https://en.wikipedia.org/wiki/File:Childwithhandgrenadedianearbus.jpg
https://en.wikipedia.org/wiki/File:528bg.jpg
https://en.wikipedia.org/wiki/File:Identical_Twins,_Roselle,_New_Jersey,_1967.jpg