Aperture Tutorial: How to Use Aperture Keyboard Shortcuts in Your Project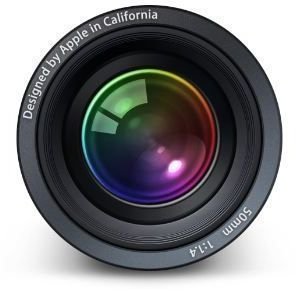 What's in an Aperture Tutorial
Aperture can be considered a complete and full service professional photography software, running applications not just for photo editing as in Adobe Photoshop. Beyond this, Aperture can also organize files, display them, and arrange them for printing. You will find that many of the Aperture tutorials are geared toward functions that are much different than those normally associated with standard photo editing. In this Aperture tutorial you are going to take a look at some of the more basic Aperture keyboard shortcuts that will take you from a new user into a more experienced user of this professional photography software.
Viewer Keyboard Shortcuts
The Aperture keyboard shortcuts can extend to different areas of the Aperture software, and here are some Aperture keyboard shortcuts for the Viewer that you will want to be using right from the beginning of your first project.
Viewer Show Multiple - Option and U
Viewer Three Up - Option and N
Viewer Show One - Option and R
Viewer Stack - Option and T
Viewer Compare - Option and O
Secondary Alternate - Option and A
Secondary Blank - Option and B
Secondary Mirror - Option and M
Secondary Desktop - Option and X
Secondary Span - Option and S
Zoom the Viewer In - Command and ")"
Zoom the Viewer Out - Command and "-"
Play or Pause the Media Content - Spacebar
Inspector Keyboard Shortcuts
The inspector pane is something that is unique in its specific form in that it is what allows you to access your library, metadata, or actual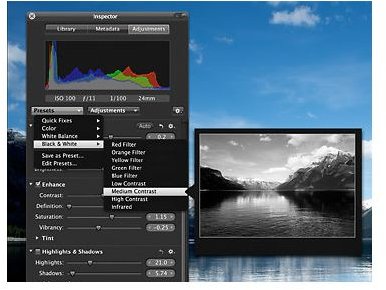 controls. The Aperture keyboard shortcuts for this area are actually specified to the inspector that they apply to.
Show Inspector or Hide Inspector - I
The Adjustments Inspector
Vignette - Control and V
Reduce Nose - Control and N
Black and White - Control and M
Color - Control and C
Sharpen Edges - Control and S
Shadows and Highlights - Control and H
The Library Inspector
Faces View - Shift and F
Places View - Shift and P
New Project - Command and N
New Folder - Command, Shift and N
New Album - Command and L
New Smart Album - Command, Shift and L
Empty Trash - Command, Shift and Delete
Browser Keyboard Shortcuts
The browser in Aperture is going to be a major working area and many of the Aperture keyboard shortcuts address this area very specifically and its wide range of commands.
Filmstrip View - Control and F
List View - Control and L
Grid View - Control and G
Show or Hide the Browser Metadata Overlays - Shift and U
Export Versions - Command, Shift and E
Export Masters - Command, Shift and S
Show or Hide The Query HUD - Command and F
Show Flagged Images - Control and "/"
Show All +1 or Better - Control and 1
Show All +2 or Better - Control and 2
Show All +3 or Better - Control and 3
Show All +4 or Better - Control and 4
Show All 5 Only - Control and 5
Show All - Control and 6
Show Unrated - Control and 7
Show Rejects - Control and 8
Print Images - Command and P