Get Help Managing Your Photography Business With One of These Top Photography Studio Management Software Programs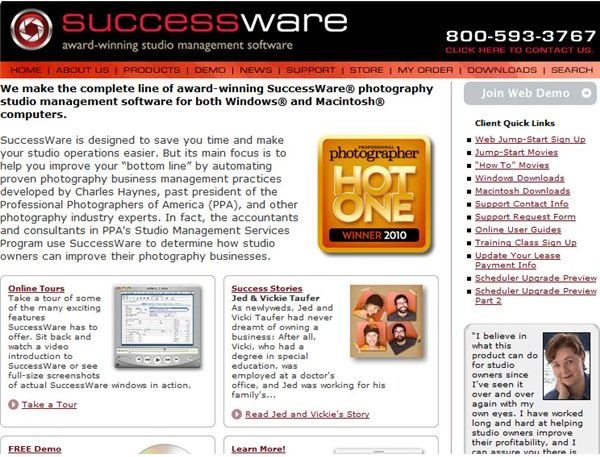 Managing a photographic business without professional photography studio management software is a risk not even a creative business person should take.
Specialist photo management software that can integrate both the business and creative side of studio work is increasingly essential for the serious studio manager. This list of the five top photo studio software solutions is based on the features offered by each title and its popularity with photographers.
1. SuccessWare
This organization presents itself as the 'cream of the crop' in photo management software, with a list of useful features as long as your arm.
Essentially it offers three products - Success Tracking, Success Pricing, and Success Planning. Together they promise a complete management solution. Here are just some of the features mentioned for a professional photography business:
Recording enquiries and bookings with follow-up; calculating profits from promotions; data collection about clients and contacts; direct marketing programs; formatting marketing letters; customizing emails; scheduling appointments; tracking photographers and equipment; order-taking; shipping control; credit card debiting; expenses tracking; bill paying; etc. Package prices range from $1,495 to $3,595. Find out more at successware.net.
2. PhotoOne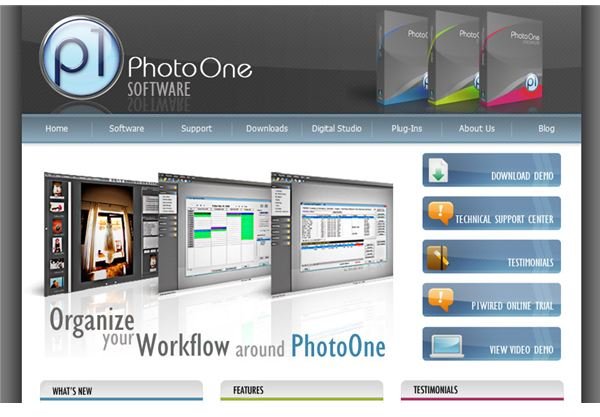 This is another very large software supplier, indeed, it's global. PhotoOne offers three photo studio software packages labeled Lite, Studio and Premium. The basic prices quoted are from $575 to $1497.
This organization seems to offer the "full package" in terms of integrated business management, marketing and financial software. Some commenters have noted that it may offer more than can actually be used by a small studio, but it still offers great value for money. PhotoOne offers on-site training for staff, a payment plan and a 90-day money back guarantee.
3. StudioPlus
StudioPlus claims that it is the only "all-in-one software system that combines total digital workflow with a complete set of business management tools."
This company offers many services including scheduling, order tracking, marketing, invoicing etc. Additionally, there are features to maintain the client database and make sales presentations.
StudioPlus offers six alternative software packages, each focusing on different sizes and types of photographic businesses. The website has a chart comparing the features and pricing of each package. Prices range from $795 to $5,095. Find out more at www.studioplussoftware.com
4. HindSight Ltd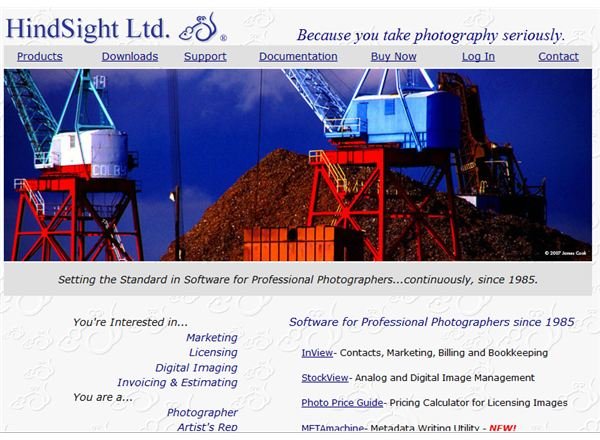 If you're intimidated by the larger full-service power of the organizations above, HindSight might fit your bill better. With an approach that is less of a hard sell than some others, HindSight nevertheless offers a good range of photo studio software. Each package can be purchased individually, and programs are available for both business and image management.
The "In View" business software package includes full features for contacts, correspondence, invoicing, licensing and accounting. Prices range from $199 to $399, so they are certainly one of the more affordable options for photography studio management software programs.
5. Light Blue: Photo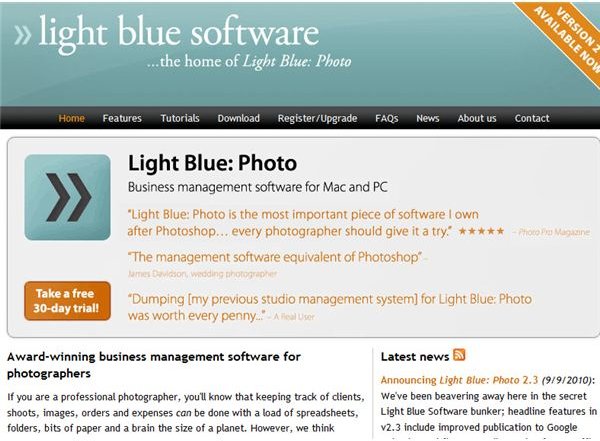 This supplier is another smaller company, but it has an award-wining reputation. It is run by a former professional photographer who grew into a guru for solving photo management software problems. Light Blue: Photo software has been commended for its ease-of-use and slick performance. Capable of adding new orders, tracking payments, finding outstanding debts, recording expenses and providing an overview of current finances, it has been described as innovative, clever and intuitive to use. The package price is $365.