How Do I Link My Website to My Flickr Photostream? Tips & Techniques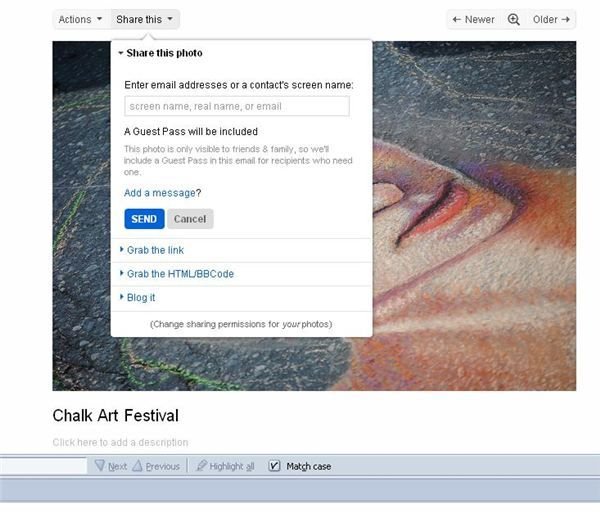 Embedding a Single Photo
If you are a business or even somebody that wants to promote their photos on their website and blog, then you are going to want to link you Flickr photostream to your website. But, how do I link my website to my Flickr photostream? With the new rules on Flickr, it is actually not as easy as it once was, but you can still do it.
First of all, if you want to embed a single photo into a web page, you can do this via the Share This button, which is located above the photo on the left-hand size. When you click on this, a dropdown box will open.
Within this box, you will be able to see the Grab the Link option. This will bring up the URL for the photo, which you can cut and paste into a link. You can just say something like "check out the photo here", and then make that linkable.
You can also grab the embed/BBC code in the Grab the HTML/BBC Code section of the dropdown menu.
Linking a Set
But, this will only bring up a single photo. If you want to bring up an entire set, you may just want to copy and paste the link for the set. To do this, create a set of photos in your photostream. Once the set is created, the set will be given a designated URL.
To obtain the URL for the set, simply go into the set, and copy and paste the URL at the top. But, you will need to create a spot the set on your website. You may want to create a Wiki on your site specifically for your photos.
For example, you could name one of the Wikis photos or events if all the pictures will be related to a single event. Then, name each individual part of the Wiki something that corresponds to the set on Flickr. Finally, link that section to the corresponding set on the Flickr.
Adding Your Photostream to Your Blog
The same thing can be done for your blog as well. But, Flickr does have another way to link your blog to your photostream.
First of all, you will have to configure your blog on Flickr. This can be done here. Just follow the steps to enable your blog. Once the blog is set up, do a test post to ensure that the system is working properly.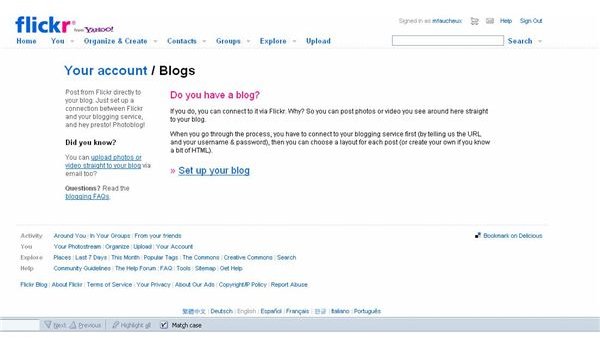 If it is working, then you will be able to send any public photo to your blog. But, in this case, you should only send your own photos. Be sure to tag them and add captions so that your readers know to what the photo refers.
This tool can also be used with your mobile device. When you upload a photo via email, you will have the option to send it to your blog as well.