Wingscapes BirdCam - The Best Digital Camera for Bird Lovers and Wildlife Photographers - The Perfect Christmas Gift for the Photographer!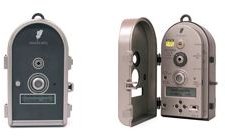 What's It About?
If you love animals and have always wanted to capture them in their natural habitat without sitting with a camera in hand 24/7, this is the camera for you.
All you have to do is set the Wingscapes BirdCam up in your garden, yard, or on your patio, and let it go to work. The camera is motion sensitive so it starts taking photos or video whenever something comes near.
"The BirdCam grew out of my personal interest in birds, photography and gadgets," says Wingscapes BirdCam inventor Bart Stephens in a recent press release. "Once the technology was perfected, my family re-discovered the birds in our own backyard. We rarely have time to watch our feeders and it's amazing how much we miss while we're away. Now we have a closer look than we've ever had before and can share them with our family and friends and other bird enthusiasts."
Features
Wingscapes BirdCam is weatherproof, motion-activated by a built-in laser, and takes JPEG photos and AVI video clips. This allows the photos to be transferred onto a home computer or TV for use in emails and websites.
It also has:
32 MB internal memory
Accepts up to a 4 GB memory card
3.1 Megapixel camera sensor
USB cable, A/V cable and remote control
Photocell that turns camera off at night to save batteries
18 inches to infinity focus
Stretch cords for mounting
Four shooting modes (auto, time-lapse, manual, and remote control)
Examples
Professionals who specialize in wildlife study, such as biologists and professional ornithologists, have used the BirdCam in their research. Users have captured everything from a wild pig to roadrunners.
Here are some links to things that users have done with Wingscapes BirdCam:
https://hk.youtube.com/watch?v=DuXtauLf-U4
https://hk.youtube.com/watch?v=2ovKC7-noaE
https://www.wingscapes.com/photogallery
Where to get it
Wingscapes BirdCam is available at Wingscapes.com, Wild Birds Unlimited, and Amazon.com, and costs around $249. For more information, visit wingscapes.com.