5 Tips on How to Reflect Your Personality in a Photograph: Learn How to Show Your Personality in a Photograph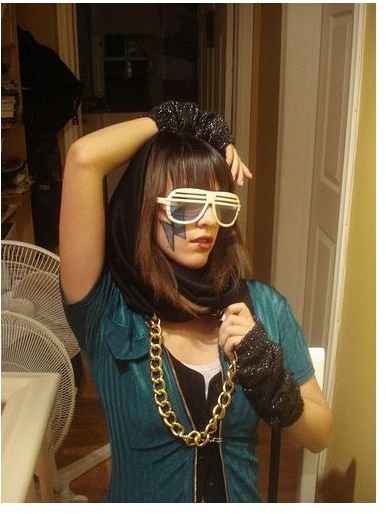 How to Reflect Your Personality in a Photograph
When taking a picture, it can get pretty difficult to portray your true personality. It seems impossible; how can someone get an idea of your true personality through an unmoving photograph? How can they know about your abiding love of cats if they can't actually talk to you? Well, through the clever use of clothing, filters, backgrounds, and props, you can tell them about your fifteen cats and more.
1. Clothing
Everyone knows that first impressions count, and that clothing is a big part of how people perceive you. A photograph is really an everlasting first impression; you don't get to show off your personality with your quick wit, your work ethic, etc., etc. You want to make sure that your clothing says the right thing about you. Don't wear sweats and a hoodie, unless you're trying to say "I'm still living like a broke college student." If you're a bubbly kind of person, wear bright colors with lots of fun accessories. If you're more work-centered, show it! Wear a dress shirt and dress shoes. If you're a cat lover, go ahead, wear a cat costume.
2. Filters
Filters can change the whole feel, the whole message of a picture. Use this to your best advantage; if you're an old-timey, old but gold type person, use a sepia filter. If you're more romantic, use a soft focus. If you're completely out there, go ahead and use a negative filter. To add a little more zing, put in a little text! No LOLcats, plz.
3. Background
Your background is extremely important. If you're trying to portray a businesslike image, you wouldn't go stand next to a pub (unless you're a professional bartender, in which case, this is perfectly acceptable). Make sure your background is relevant to what you're trying to portray. If you're a nature junkie, go take a picture in the forest. If you're completely eccentric, go take a picture in, say, a barn. Anything goes!
4. Props
Just like the background, props matter as well. Make it relevant, make it say something about you that your clothing and background can't. If you love fishing, get a fishing pole. If you love cats, go round up your many cats and take a picture with them.
5. Do Something!
Lastly, but maybe most importantly, is you yourself. The way you hold yourself, your expression, what you're doing, they all speak volumes about you. If you're standing in a corner, barely looking at the camera with your shoulders slumped and a bored expression on your face, will people really believe that you're an outgoing, cheerful person? Do something you love, and most of all, don't forget to smile!
Don't forget…
Don't forget that these aren't the only things you can do when learning how to reflect your personality in a photograph; you can use anything you want to try to give a picture a unique feel. Be creative and have fun!
Examples