Robert Capa Biography - Including Information on the Camera Used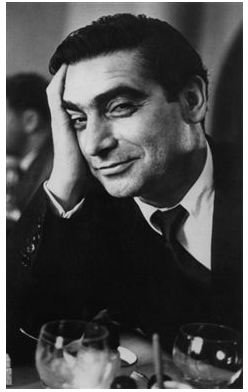 Introduction to Robert Capa
[caption id="attachment_171391" align="aligncenter" width="300"]
Robert Capa During Spanish Civil War[/caption] Robert Capa was born Ernest Andrei Friedmann on in 1913, Budapest. He is remembered as one of the most famous war photographers in history. War photography is a dangerous career of capturing images which display the hardship and emotions of war. Read this war photography article to learn more. Robert died in the field on May 25, 1954. During his career, Capa covered the Spanish civil war, World War II in London, North Africa, and Italy, the Japanese invasion of China, D-Day, and the liberation of Paris.
The Spanish Civil War
[caption id="attachment_171390" align="aligncenter" width="300"]
Refugees Walking on a Beach by Robert Capa, March 1939[/caption] Capa began as a small time photographer in the early 1930's after moving from Germany to France. Around the same time, he changed from his birth name to Robert Capa, believing it was more American sounding and would buy him more opportunity. He first began his life of war photography in 1936, as he was in Spain during the Spanish Civil War. During the next three years, he photographed the pain and destruction of the war on civilians. This work carried him almost directly into the World War on the horizon.
World War II
World War II carried Capa around the world to photograph, working for an American company despite not being a citizen of the nation. In the war, he traveled alongside the troops, armed with camera equipment rather than a gun. As part of the infamous D-Day on Omaha Beach, he swam up onto the beaches with all of the soldiers, capturing some of his most famous photos.
Indochina War and Robert Capa's Death
Following his work during World War II, Capa traveled far to Southeast Asia where he photographed the First Indochina War. This time, he followed a French regiment after accepting a job offered by Life magazine. On May 25th, 1954 he and the regiment passed through the deep forest in a dangerous area and Capa stepped on a landmine immediately killing him.
Robert Capa's Cameras
The most widely known camera used by Capa was his Leica 35mm, and during World War II and after, Capa used a Contax brand camera. On the day he died, the cameras Robert Capa was using were a Contax and a Nikon S 50mm, which is sometimes on display at exhibits of his work with bloodstains and all!
The Years After Robert Capa's Death
A complete Robert Capa biography may be impossible to write, as the man lived a very chaotic life. Robert Capa never married, but did have several loves throughout his life such as Gerda Taro, Elaine Justin, and Ingrid Bergman. His candid action shots and haunting scenery images helped define war photography as we know it today, and he even helped to form Magnum Photos, alongside French photojournalist Henri Cartier-Bresson. He also published several books including This is War. In 1966, the Overseas Press Club created an award in Robert Capa's honor, called the Robert Capa Gold Medal. It is awarded to photojournalists with exceptional courage providing the best published photographic reporting annually. In 1995, three suitcases turned up in Mexico City containing thousands of Robert Capa negatives taken during World War II and presumably lost. It is not clear how the negatives made it to Mexico City, as they were presumed lost in Paris in 1939. They have since been returned to the Capa estate. While the Capa biography may have been cut short at the age of 41, his legacy continues to live on. Magnum Photos and the Robert Capa Gold Medal carry on his name, while professional and amateur photojournalists look to his work for inspiration and motivation. His style and stark pictures brought war into new light, and forced the world out of naivety. The Capa photography collection is visible online through the International Center for Photography.