What Nikon Lens for Wedding Ring Shots?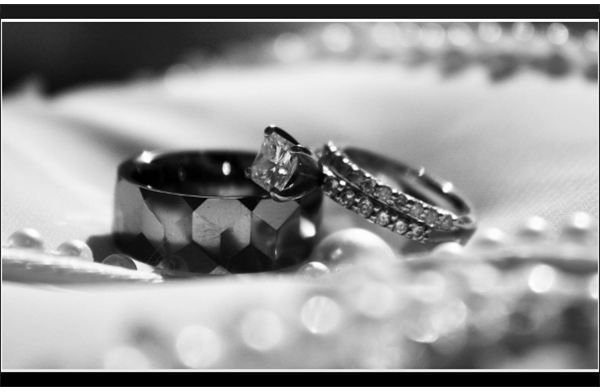 Introduction
One of the iconic wedding photographs that is a must-have for every couple, brides especially, is the photograph of the wedding rings. Let's face it, a lot of time and money was spent picking out the perfect rings and they want to remember them on their wedding day! That is where your job comes in as the wedding photographer to capture this special moment. To get the most detail and best close-up of the rings, I would recommend a macro lens. A macro lens usually has a focal length of 50mm or more and can also be used for portraits as they are sharp and have relatively wide apertures.
Photo by: lel4nd
Lenses
Nikon Micro-Nikkor AF 105mm F/2.8G ED N VR – This lens is the holy grail of Nikon macro lenses. It was the first of its kind to incorporate VR (vibration reduction stabilization) to a macro lens and it works remarkably well, buying you an extra stop at two in low light, perfect for still life and a wedding shot such as this. This would be the sharpest, best macro option and also doubles as a fine focal length for portraits.
Nikon Micro-Nikkor AF-S 60mm F/2.8G ED N (Nikon DX cameras only) - For DX, crop Nikon cameras, this macro lens is solid second for best Nikon macro lens. It is very sharp, but lacks VR, which may be a drawback for some, but is certainly a lens you should consider. It can also double as a portrait lens, but the 105mm focal length will probably work better and give you some more working distance.
Sigma AF 105mm f/2.8 EX macro DG – This sigma is probably one of the best Sigma lenses you can buy. Ideally, I would recommend first-party glass, but this is extremely sharp and has a fast autofocus and is comparable to the Nikkor 105mm F/2.8G above. At less than $500, this third-party option should be on your short list.
Tamron AF 90mm f/2.8 Di SP macro – Here is another solid third-party alternative from Tamron. It is very sharp, but the autofocus is not as fast and accurate as the Sigma and Nikon lenses since it uses a micromotor as opposed to a ultrasonic motor found in the other lenses.
Tamron AF 60mm f/2 Di II LD [IF] SP Macro – This is the newest Tamron lens and has a uniquely wide aperture at F/2.0. This will allow you to potentially use this during the wedding for low-light church or reception party shots. It is not as sharp as the previous lenses, but as a macro, is quite good and will get the job done.
Kit and Other Zoom Lenses – What about other lenses? If they have a "macro" function or focusing range, they will probably work okay. A macro lens will allow you to get as close as you need to capture the fine details and will give you a larger working aperture to get more light and control your depth of field (DOF). A macro lens will also give a pleasing DOF and bokeh (out-of-focus blurs).
Taking It One Step Further With Lighting
Off-camera lighting and lighting modifiers (umbrellas, softboxes, etc.) are optional but can add a nice touch and extra pop to your ring and other photos during the wedding. You may already be using these for formal portraits and as you set up your rings, feel free to add a touch of light! A simple lighting kit, used creatively, can go a long way to making your photos really pop!
Not Just the Ring
With a macro lens at a wedding, you can capture so much more than just the wedding rings and bands. You can use the macro lens to get sharp photos of all of the decorations and hard work that went into preparing the wedding. Your clients will be so impressed that their hard work got noticed and paid off.
Also, with a macro lens, it can shoot flattering portraits. Since macro lens have F/2.8 or wider apertures, they are great for shallow DOF (blurring out the background behind your subjects). With F/2.8 apertures you can also continue shooting in low-light, perfect for receptions or dance floors!