Corel Press Release - Corel Paint Shop Pro Photo X2 Ultimate - What's New and Improved for This Latest Version of Paint Shop Pro Photo X2?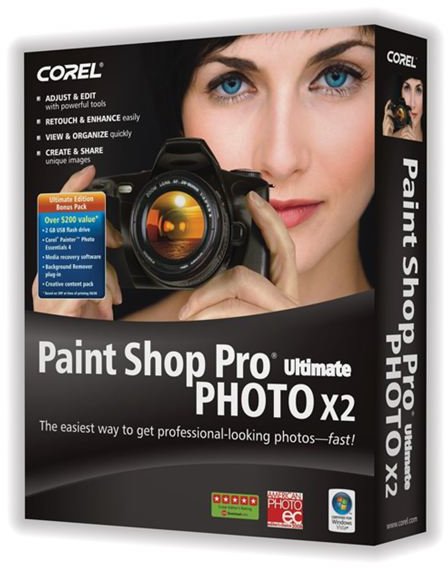 Corel Paint Shop Pro X2 Ultimate
I was excited to learn today that Corel has introduced Paint Shop Pro Photo X2 Ultimate.
I love Paint Shop Pro Photo X2, and so am looking forward to see what the latest version has to offer. Can they really improve an already outstanding product?
The press release below also includes Corel's introduction of Corel VideoStudio Pro X2 and the Photo & Video Bundle.
Press Release
New Corel® VideoStudio® Pro X2 and Corel® Paint Shop Pro® Photo X2 Ultimate Edition Offer Improved Ease of Use, Expanded Format Support, and More Creative Options to Consumers
OTTAWA, Canada – September 9, 2008 – Corel Corporation (NASDAQ:CREL) (TSX:CRE), a leading developer of graphics, productivity and digital media software, today announced Corel® VideoStudio® Pro X2 and Corel® Paint Shop Pro® Photo X2 Ultimate. Corel's significant upgrade of VideoStudio® Pro X2 provides consumers with a complete HD solution for video editing and authoring. Corel's latest release of VideoStudio Pro X2 also includes the all-new Painting Creator to add creative flare to video projects, new sharing tools to upload videos directly to YouTube(TM) and mobile devices, as well as offering improved ease-of-use and performance enhancements. Featuring over $200 worth of free bonus items, Paint Shop Pro® Photo X2 Ultimate edition offers support for more than 250 raw camera formats and includes 150 new creative templates.
Available separately or together as part of the new Photo & Video Bundle, VideoStudio Pro X2 and Paint Shop Pro Photo X2 Ultimate offer users the widest selection of video and photo editing features ranging from automatic tools for quick fixes to precision controls for fine-tuning. Family memory keepers, hobbyists, and video and photo enthusiasts can more quickly organize, personalize and share their home movies and digital photos with family and friends using the latest formats.
"Capturing, enhancing and sharing life's moments with family and friends has become increasingly important in today's global society," said Denise MacDonell, Senior Director of Product Management, Digital Media at Corel. "With VideoStudio Pro X2 and Paint Shop Pro Photo X2 Ultimate, family memory keepers and technology enthusiasts can more easily personalize and share their digital stories with family and friends – across town or across continents. With the learning and sharing tools included with Corel software, it is easy for users to strengthen ties and stay connected using popular networking sites such as Facebook®, My Space® and YouTube as they share their most important moments in more exciting, fun and memorable ways."
New in VideoStudio Pro X2
The Most Complete HD Solution
Offering the most complete HD solution, VideoStudio Pro X2 lets users capture, edit, author and output video in all of the leading HD formats, including HDV(TM) (High-Definition Video), AVCHD(TM) (Advanced Video Codec High Definition), JVC(TM) HD camcorder (TOD) and BDMV.
• New Blu-ray Import and Output – VideoStudio Pro X2 is among the first video editing and authoring software products to offer support for Blu-ray Disc® Movie Video (BDMV) import and output. Users can now import BDMV files directly from Blu-ray camcorders, making it easier to transfer files and get started with video-editing projects. Users can author HD video with motion menus and burn the video to Blu-ray Disc in single- or dual-layer format. Because compliant video is not re-rendered, users can enjoy shorter encoding times and excellent picture quality.
• Enhanced Smart Proxy Editing – With Smart Proxy editing, users can edit HD content as easily as they edit standard definition – even on midrange PCs. By using lower-resolution files for editing and previewing a HD project, VideoStudio Pro X2 requires fewer system resources, which results in faster, smoother editing of HD video. In addition, the final output retains the full resolution of the original HD content. With a 300 percent speed increase, users can now render videos over lunch, rather than overnight.
• New Custom H.264 HD Encoding – VideoStudio Pro X2 uses the H.264 codec, which provides rapid encoding with superior quality. Both 1440 × 1080 and 1920 × 1080 output frame sizes are supported.
More Options for Creativity and Sharing
• New Painting Creator – With the all-new Painting Creator, users can paint, draw and write on their videos while recording their movements, providing users with new opportunities to personalize their video projects and showcase their creativity.
• New Creative Content – VideoStudio Pro X2 includes new overlay objects, frames, Flash animations, and HD-quality menu templates to enhance every video production. The HD templates are designed to match the quality of any HD video.
• New NewBlue® Film Effects – Users can now apply the distinctive look of film from the silent movie era. Included in VideoStudio Pro X2, this dynamic collection of five filters provides 81 presets that recreate the nostalgic effects produced by hand-cranked cameras, dirty projectors, and dusty film vaults.
• New Mobile Device Support – VideoStudio Pro X2 users can now import video from and output video to the Apple® iPhone(TM) and iPod® Touch, making it easier for users to capture and share video projects on the latest mobile devices.
• Enhanced Upload to YouTube – With the new, streamlined uploader, users can more quickly and easily upload video directly to YouTube. VideoStudio Pro X2 also offers several settings, such as the WMV, H.264, and FLV formats to ensure the best possible encoding quality.
Improved Performance Supports Enhanced User Experience
• New Optimization for Intel® Quad-Core Technology – VideoStudio Pro X2 now supports Intel® quad-core technology, enhanced for both dual-core and quad-core CPUs. For users, this means faster response times and less time spent waiting for encoding which is especially useful when working with HD video.
• New Resizable Interface – VideoStudio now enables users to resize any of the panels within the interface according to their preference, placing the focus exactly where the user wants it.
• New Automatic Video Transition and Audio Crossfade – Users can now simply drag video clips so they overlap on the timeline, automatically creating a video transition and audio crossfade for the duration of the overlap. Users can also easily apply transitions in overlay tracks to create sophisticated picture-in-picture and montage effects.
• New Auto Pan & Zoom Feature – Auto Pan & Zoom is now available to automatically detect the faces of subjects or objects in photos, eliminating the need to manually apply Pan & Zoom effects.
• New Single Clip Trim Dialog Box – The new Single Clip Trim dialog box makes it easy to frame and accurately trim single clips. Users can access the dialog box by double clicking any clip in the Library, making it easier than ever to quickly trim clips.
• Faster Rendering Times – While rendering a video production, users can now disable the preview window to maximize rendering resources and render the video more quickly.
• Faster Encoding Performance for Transitions and MPEG-2 Files – VideoStudio Pro X2 ensures the fastest encoding at the highest possible quality. The MPEG Optimizer analyzes the bit rates of all clips on the timeline and suggests MPEG encoding settings that ensure the least re-rendering and re-encoding while maintaining the highest quality for a video project.
Users can also select a target size before encoding MPEGs. This feature is especially helpful to users who share their videos on Web sites that set limits on file size. In addition, when burning MPEGs to DVD, users can easily adjust the size setting to ensure that their files will fit on the DVD.
This post is part of the series: Press Release - Corel Paint Shop Pro X2 Ultimate
New and enhanced features, Paint Shop Pro X2 has now gone Ultimate! Also included in this press release are details on the latest version of Corel VisualStudio Pro X2. Even better, Corel now offers a new Photo & Video Bundle.