Beginner Tips for Creating Digital Scrapbooks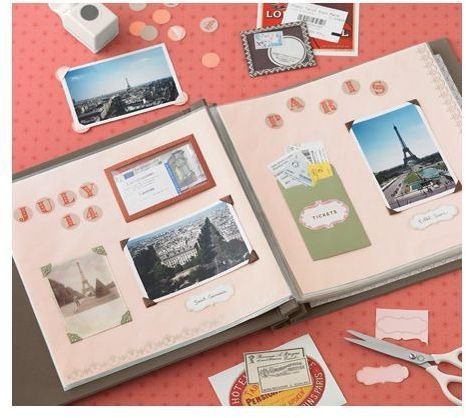 Scrapbooking Tips & Tricks
Often, creating a fluid scrapbook around one theme such as your daughters birthdays from ages 1 to 18, holidays with the family, anniversaries, weddings, vacations, and any other momentous occasion is the overall goal when you start creating scrapbook layouts and pages. However tying all of your pages together is sometimes a challenge especially for beginners. To help you overcome this challenge, here are a few scrapbooking tips and tricks.
It is a very common misconception that every page of your digital scrapbook must be the same layout. This actually creates pretty boring scrapbooks. The better way to do it is to create an overall theme with varying elements to each page. This creates interest while not losing the true focus.
Gather and Get Organized
To get started creating a digital scrapbook with a single event or theme in mind, it generally helps me to write down a couple of ideas for possible colors and embellishments. Then I gather up all of the pictures that I want to include in my scrapbook. Sometimes I even go so far as to put each page worth of pictures in its own folder. Getting myself and my thoughts organized before I even start helps me stay on track and create a scrapbook that is well tied together instead of scattered.
For a beginner this could be a difficult thing to start. I generally suggest that a person collects a few folders worth of backgrounds, textures, clip art, and embellishments for her digital scrapbook before they begin to make one complete scrapbook. This makes creating a scrapbook an easier project and it will take less time.
Start Simple
Obviously creating a digital scrapbook with a more simple theme will be much easier than creating a digital scrapbook with a very complex theme. For example, when creating an entire digital scrapbook around your daughter's first birthday will be much easier and will take much less time than creating the entire scrapbook chronicling all of her school years.
The size and complexity of the project that you create is obviously entirely up to you. But I normally recommend that the first few scrapbooks be fairly easy themes to avoid discouragement. Remember that each scrapbook that you create will most likely add to the collection of elements that you have making each scrapbook afterward that much easier. Once you have a sizable library of scrapbooking elements, creating pages and even entire "books" can be done in moments without the need to search the web.
Digital Scrapbook Example
Consider What You have Already Made
Quite a number of times digital scrapbooks can be created by accident. I've created many digital scrapbook layouts around my godson. In his three years I have created layouts for his first birthday, his first solid foods, his first trip to an amusement park and so on. So for Christmas last year I decided to gather up all of the disjointed pages and layouts that I had created and simply put them all together into one scrapbook for a Christmas gift for his mom. This is very simple to do is if you've got the source files for all of the layouts that you've created in whatever program you have chosen to use and even if your pages don't necessarily go very well together all you need to do is change around some colors, do a little bit of editing and you have yourself a well thought out theme for your scrapbook.
This accidental gift has proven very popular for several other people as well - including friends, family members and my current boyfriend. It also saves quite a bit of money when gift giving. Most of these pages already follow a certain "feel" or theme, such as sweet, trendy, romantic or fun depending on who and what the page is about, making them a no brainer to put together.
You can learn how to create different themes for your individual layouts in this article. Or, to learn how to build a page from the background up, start here.
Share It!
Now once you have created your digital scrapbook you're obviously going to want to print it or share it online. There are several websites which will allow you to do this either for free or a small fee. You can also buy 12 x 12 photo paper to print the scrapbook pages out yourself and put them together in a photo album if you wish to. Here are the best websites that I have found for hosting or printing your digital scrapbook once it is complete.
Scrapblog
If you are making this scrapbook simply to share moments with your friends and family online then you are going to want to use a hosting site. Most of the time they are free and anyone with access to the website will be able to view your book. But if you are making this a digital scrapbook as a gift to someone then you should put it together in an actual photo album. This is a very cheap option for a birthday, wedding, anniversary, or Christmas gift and is very highly appreciated for its creativity and personalization.
This post is part of the series: Digital Scrapbooking Tips
A series of articles to help beginners create digital scrapbooks and layouts from scratch using any graphic software of their choice.