Comparing ACDSee Pro 3 to Photoshop Elements, Paint Shop Pro, PhotoPlus, and Other Photo Editors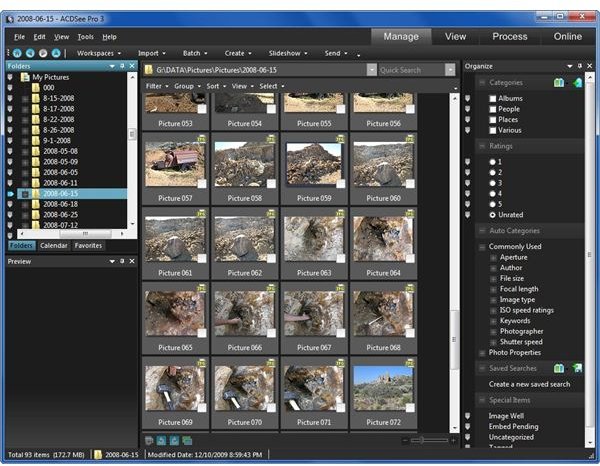 How Well Does ACDSee Pro 3 Measure Up?
With its price and capabilities, ACDSee Pro 3 has settled into that group of software offerings that fall somewhere in between Photoshop CS4 (extremely versatile, but also very expensive) and the splattering of free photo editors that are becoming even more prevalent with time. This "in-between" group of photo editors actually dominate the market as a whole, since these products provide most of the features and functionality that semi-professionals and hobbyists want at a price that is affordable for the average home user. Other applications in this group include Paint Shop Pro, Photoshop Elements, and PhotoPlus – just to name a few.
In another article, we compared the features and capabilities of Paint Shop Pro, Photoshop Elements, and PhotoPlus to see if one stood out above the others. Now, we want to take a look at how ACDSee Pro 3 measures up to these products and determine if it may be a better choice, depending on what you're looking for in a photo management and editing tool.
Digital Photo Management
When it comes to organizational and management capabilities, ACDSee Pro 3 really shines. As opposed to other programs, photo managing tools are included in the same interface as the editor, making it easy to jump back and forth from editing an image to organizing your media library.
Despite Paint Shop Pro's strong capabilities in other areas, its organizational tools are mediocre, at best. Similar remarks can be made about PhotoPlus X3, especially when it comes to trying to locate the tools used for photo management.
One of the enhanced features in Photoshop Elements 8 is the upgraded Organizer that makes it much easier to manage your digital photo (and video) collection. Still, even with its enhancements, the Organizer does not have nearly the same smooth integration in PSE8 as its counterpart in ACDSee Pro 3.
It is important to note here that almost all of the management and organizational features found in ACDSee Pro 3 are also present in ACDSee Photo Manager 2009, which is quite a bit cheaper. So, if you're really just looking for a top of the line organizer, you may want to check into this product instead.
Photo Sharing
Compared to other products in its class, ACDSee Pro 3 may have slightly better than average photo sharing capabilities, but that's mainly due to its integrated organizer. If you take advantage of the ACDSee Online account that comes with ACDSee Pro 3, it's extremely easy to store and share your images online. However, Photoshop Elements 8's integration with Photoshop.com seems to be more robust and offer more features, such as the ability to sync your digital library across multiple computers.
Photo Editing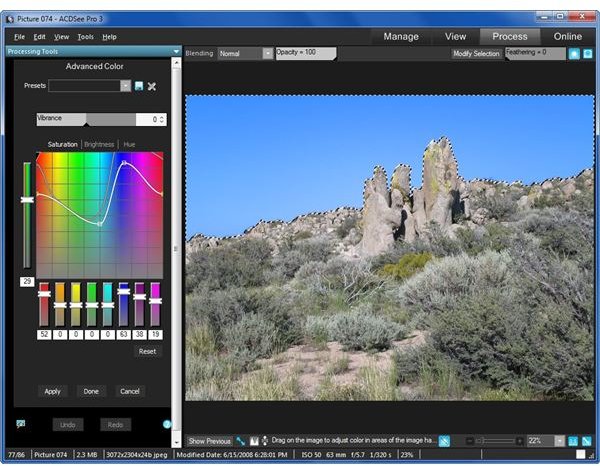 While the other applications in this comparison seem to be photo editing tools that have some management and organizational capabilities, ACDSee Pro 3 is really more of a photo manager that includes some editing functions. Unlike other photo managers, though, the editing tools in ACDSee Pro 3 are not restricted to just basic cropping, resizing and color adjustment. There are a wide range of options that let you tweak the exposure, lighting and other components of individual photos. It may take a bit more work to learn how to use these tools in ACDSee Pro 3, but they're all extremely powerful and should be of particular interest to those who regularly work with RAW images.
The downside is that while ACDSee Pro 3 lets you apply all types of adjustments to individual photos, it doesn't really support functions such as changing backgrounds, image extractions, and the more "creative" types of edits that digital scrapbookers and other photo editing enthusiasts perform on a regular basis. If you fall in this latter group, you're much better off with an application like Paint Shop Pro, Photoshop Elements, or PhotoPlus.
Price to Value
At $169.99, ACDSee Pro 3 is priced considerably higher than the other products in this comparison. Is it worth it?
Because it does not offer the same wide range of editing tools, ACDSee Pro 3 will never be able to completely replace software like Photoshop Elements or Paint Shop Pro. While its superior organizational tools and efficient workflow process make it an excellent application, ACDSee Pro 3 just can't claim to be the all-in-one solution that many people are looking for. With that in mind, $169.99 is more than I feel the software is worth.
On the other hand, I do recommend checking out ACDSee Photo Manager as a supplemental tool to use for digital photo management along with your standard photo editor. While I'd love to find a single solution that handles both the managing and editing of photos with all the capabilities I want, ACDSee Pro 3 isn't quite there yet.
This post is part of the series: ACDSee Pro 3 vs. Other Photo Editors
After reviewing ACDSee Pro 3 and investigating the software's strengths and weaknesses, we'll compare it to other popular photo editing applications, such as Paint Shop Pro, Photoshop Elements, and PhotoPlus.