Equipment List for Sports Photography - What Camera Accessories & Equipment is Needed for Sports Photography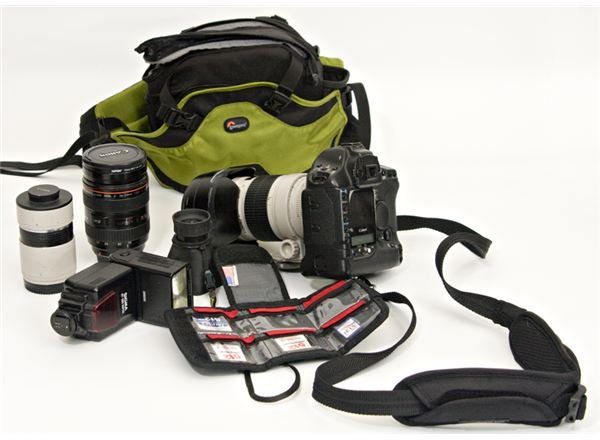 Introduction
Sports photography presents a photographer with a wide variety of challenges. Preparing an equipment list for this speciality is difficult because there are so many different environments and challenges to have to deal with. Since sports photography really does run the gamut from A to Z (archery to zebra racing) or at least A to X (archery to Xtreme sports), creating an all encompassing list of equipment that can actually be carried in a camera bag is hard. This article will provide a basic list and then add some more exotic gear for specialized circumstances. As for any such list, the photographer's budget is the final arbitrator. When possible, a lower cost solution will be suggested as well.
Basic Equipment List
main camera and backup (DSLR and DSLR or point and shoot)
70-200, 70-300 or 100-400 zoom lens (I prefer a 70-200 2.8 pro lens because of its fast autofocus and great light gathering capabilities)
1.5 and/or 2x tele-converter
*300 or 400 mm telephoto lens (preferably the fastest glass you can afford)
24-70 or 24-105 zoom for wide angle shots, group photos and portraits
shoe mount strobe (for fill flash or indoor sports such as basketball) it's better if the flash can be operated off camera wirelessly
*Superclamp or other clamping device for mounting flash or camera monopod for supporting camera or using with off camera flash
lens cleaning kit
extra batteries for camera and flash
sufficient memory cards to get you through a typical event
camera raincoat for shooting in the rain
camera bag or camera vest for carrying equipment
* optional item based on photographer's budget
Nice to Have, but Not Required
This basic list is pretty comprehensive and will cover most "normal" shooting situations. There are sports and situations though were other gear is useful, so here's a "nice to have but not required" list:
extreme wide angle zoom 12-24 (good for Xtreme sports and other circumstances where the photographer can get close enough to use such a lens)
underwater camera housing for surf and other water based sports
remote camera control (for rigging a remote camera on a backboard or some other location)
camera stand or clamp for remote setup
extra flash units and wireless triggers
sports camera strap such as the Black Rapid RS-4 for a second "shoot from the hip" camera
camera raincoat for shooting in bad weather
camera beltpack (useful for traveling light and moving quickly)
Another useful item for sports photography is the camera vest. While this is a bit of a special use item, it makes life a lot easier for the sports photographer because he or she can move faster and more easily than when toting a heavy camera bag. Camera vests also tend to distribute weight more evenly, putting less strain on the shoulders and back.
This post is part of the series: Sports Photography Tips & Techniques
In this series, we'll look at how to photograph various types of sports. Camera settings, lighting and equipment are just a few elements that will vary depending on which sport you are trying to photograph. Learn tips and techniques that will help you capture the best action sports photography!