Sun Photos: Learn Photography Tips for Shooting in the Sun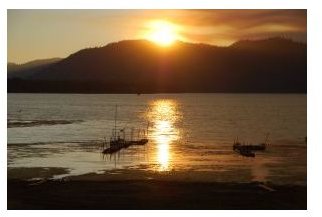 Safety Tips
When doing photography in the sun, especially directly into the sun, it is very important to follow an important safety tip. You must protect your eyes when working in direct sunlight. Looking through a camera lens does not protect your eyes. It can cause severe damage to your eyes if you look at the sun for too long. Wear proper eye protection and take frequent breaks when photographing directly into the sunlight. While working in the sun it is best to avoid working during mid day. This not only produces the best images, but it is also the safest time of day to work.
Direct Sunlight
Camera Settings
Photography tips for shooting in the sun includes using the correct settings on your digital camera. For the best results, use a small aperture. This will reduce the chances of blown out areas or dull images. It will also decrease the chances of the image being underexposed.
Selecting the correct ISO setting is equally as important. Choose the lowest ISO setting possible. Many people use ISO settings of 50, 80, or 100. Adjust the white balance correctly as well. Make sure it is set to daylight.
Equipment
To produce the best images for photography in the sun, it is best to use a tripod. This will reduce the chance of the image becoming blurred. Use a tripod that has a timed shutter release. You can also use a tripod that has a shutter release remote or cable. The slower shutter speeds will reduce the risk of a blurred image as well.
Viewpoints
When shooting directly into the sun, it is very important to choose the correct viewpoint. The correct viewpoint will eliminate the chance of glare. When choosing your viewpoint, pay special attention to lens flares. You may need to make slight adjustments in your position to eliminate the flares.
To produce a great image when shooting directly into the sun, include the horizon and other elements in the foreground into the image. This can create beautiful pictures because it will create wonderful silhouettes. Including these things will add detail and depth to an image; especially when done against a beautiful sunrise or sunset. If you include the horizon in the image, make sure the camera is straight. Many photographers overlook this key detail.
Time of Day
Photography tips for shooting in the sun also includes choosing the right time of day to take the images. It is best to take the images about a half hour before or after sunset. The early morning hours are also a great time to shoot. Photographing during this time of day produces a beautiful after glow in the image.
References:
"How to Shoot in Direct Sunlight" By Darren Rowse Digital Photography School
"Photographing the Sun" Digicamhelp
"Photography Tips: Shooting in Direct Sunlight" AbqStyle
Photo: "Sun Set Over Big Bear Lake 1" By Naneki September 19, 2009 stock.xchng