Photography Lighting Tips for "Old Hollywood" Style Glamour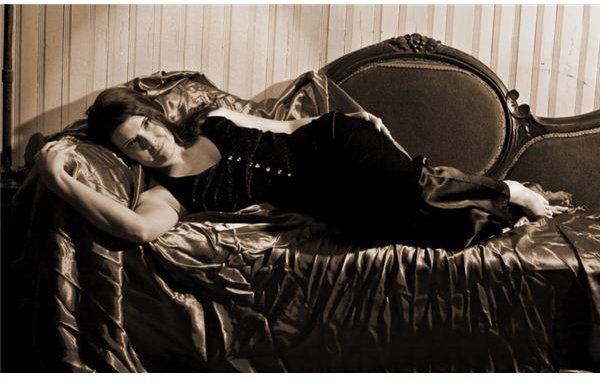 Introduction
There's something romantic about the movie star portraits of the 1940s. These images have become symbolic of the glamour and excitement of Hollywood in its heyday. Stars were magical figures who were admired and loved by their fans. Ironically, as far as lighting quality goes, these were actually technically poor photographs. Studio photographers used the hard Fresnel spotlights of the movie studio to light these images and the resulting harsh light combined with heavy makeup helped produce the characteristic style associated with these images.
Images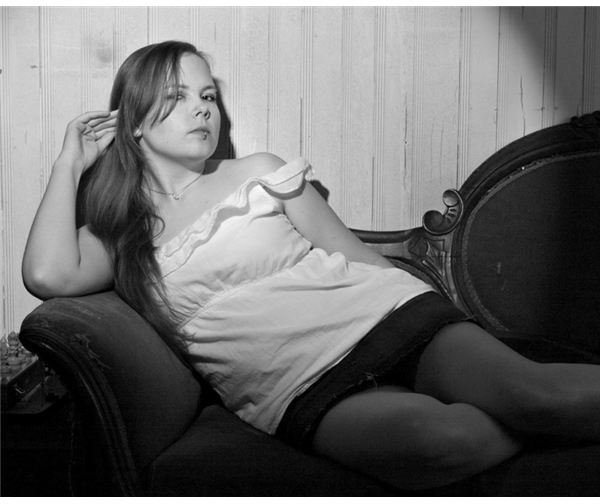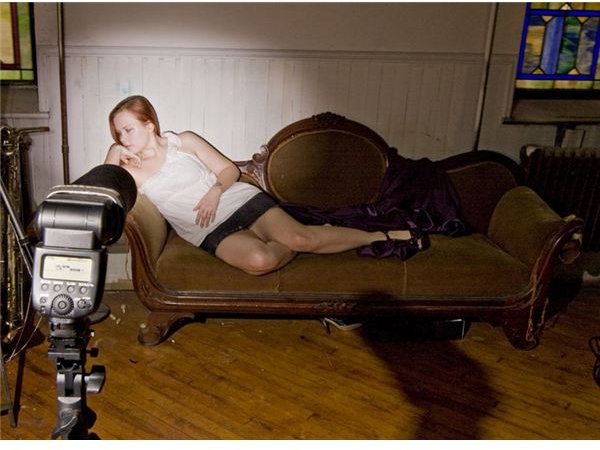 The Technique – Shot 1
Shot 1 Lisa with studio strobes
Image 1 was created with an Alien Bees B400 fired at half power through a snoot straight at Lisa (positioned to the left of the camera) and a B1600 fired at 1/4 power through a Photek Softlighter II (the 60" version) to the camera's right to provide fill from the side (light is at a 90 degree angle to the camera, even with the model and about five feet from the end of the love seat). (Canon EOS 40D, ISO 200 1/250th, f16, 28m focal length). The sepia tone was added through the Photoshop sepia tone action.
The Technique – Shot 2
Shot 2 Samantha with a shoe mount strobe fired off camera
For this shot I used a Canon 580exII mounted on a light stand with a Zoot Snoot mounted on the flash head and controlled wirelessly via a Canon ST-E2. The flash was positioned to the left of the camera and straight at the model and level with her head. (Camera settings: ISO 200, 1/125th, f11, 35mm, flash placed off camera about 2 feet to the left of the camera, see image 3 for setup.)
How the Off Camera Flash Shot was Setup
Wide shot lit by a second off camera flash to show setup.
An off camera flash was triggered via a wireless flash controller. The strobe was mounted on a portable light stand and snooted with a Zoot Snoot.
Post Processing
These shots were processed in Photoshop's RAW converter and then sharpened in Photoshop. I used a Hue/Saturation adjustment layer to desaturate the color. The Sepia tone effect provides a different, but also compelling look.