Holiday Pet Photography Tips & Tricks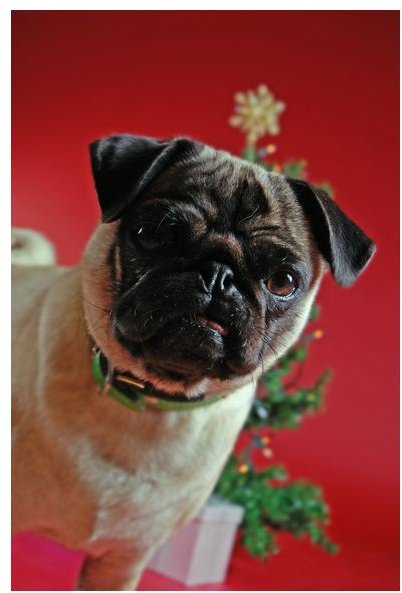 Photographing Your Pet
If you have a pet in the family, chances are you want them in your holiday photos. Depending on your pet this can be very challenging,
but there are some things that will help you along the way to creating beautiful photos. If you have never photographed your pet before, apart from snapshots, then you may want to check out some of the general pet photography tips. There are other things you may want to keep in mind, like what props you want to use and what little changes you can make to the background and foreground of your photos to make then better.
General Pet Photography Tips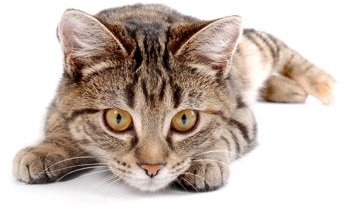 There is one basic rule every photographer should learn about pet photography, and that is to get to the pet's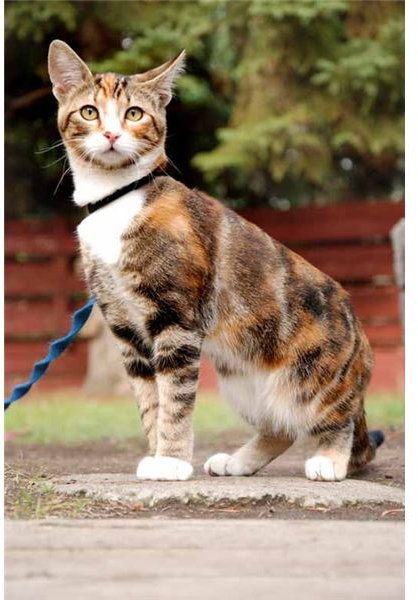 level. Photographing a pet from above will work in some cases, but ninety-five percent of the time the photos won't turn out the way you thought they would. Getting down to their level doesn't always mean that you have to crawl on the ground, using stairs or putting your pet on a bench or chair will always work well. I've seen a wooden patio railing also work extremely well when photographing cats. If you are photographing one person or a couple with their pet, then ensure that the people in the photo also go to the animal's level or bring their pet up to chest height. Again, this is not a rock solid rule, but will create nice pictures more often than not. Check out Bright Hub's Guide to Animal Photography for more animal photography tips.
Holiday Pet Photo Shoots
My first suggestion when trying to take holiday photos of your pet is don't actually take the photos of your pet on the holiday, unless it's Christmas and you want a photo of your pet with their gift. This is particularly important if you are having a large gathering on that day. Your pet may either be spooked, having so many people around, or too hyper for photographs. Posing pets during these situations is near to impossible, unless you have a very well trained animal. There are other things you can do to help ensure you get the photos you want.
Attention to detail: Props
Before grabbing your camera and your beloved family pet, you may want to give some thought to a few things first. When taking photos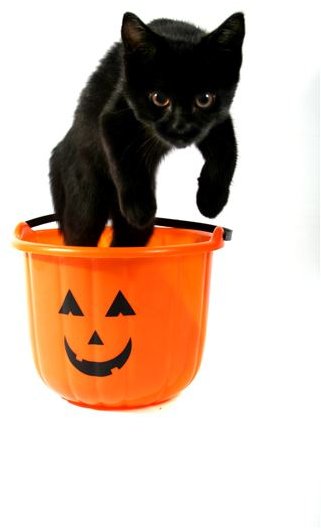 of your pet with a holiday in mind, you are probably going to want to use some props. There are all kinds of props you may want to consider from holiday hats and pet toys to animal clothes. Choosing the right props can make or break your photos. You will also want to consider what is in your background when deciding on accessories. You will want to make sure you are not choosing props that will clash with the colors in other object in the background or foreground of your photos. As an example, you may not want to put a pastel pink sweater on your puppy and lay them down on a bright red blanket under a Christmas tree.
Attention to Detail: Background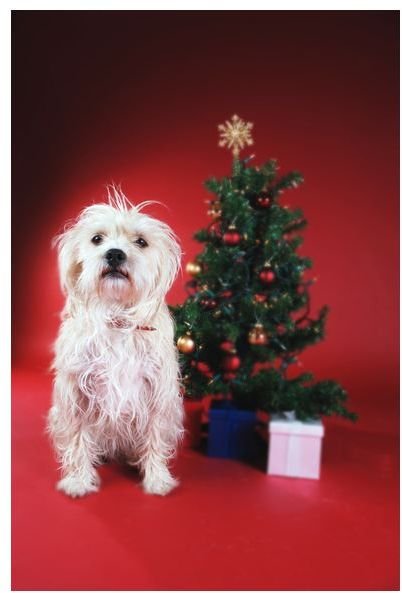 Choosing an appropriate background for your photos is as important as choosing your props. The first thing you will want to decide, is whether the shoot will be indoors or outdoors. You may want shots of your golden lab laying next to the fire near the stockings, or you may want her bounding through the snow in a red Christmas jacket. These are things you will want to think about ahead of time. Once you know where you want to shoot, you will want to think about extras you can add to the background to improve your photos. In the example of shooting the golden lab by a fireplace, you may want to ensure the fire is lit with extra logs piled next to the fireplace. You may also want to think about the colors of your stockings, making sure they all match, or add some extra decorations. Paying attention to small details like this can turn a decent photo into an excellent photo.
Have Fun With It!
No matter what holiday you are shooting, no matter how elaborate or basic you want your photos to be, don't forget to have fun. If you are not having fun then your pet will know it and your pictures will also reflect it. Most importantly, if you had fun while taking the photographs you will treasure them all the more. There is nothing better than looking back and remembering the enjoyment you took in hitting the shutter button while photographing your beloved pet during the holidays. I hope these tips help you when planning your next photo shoot with your family pet.