Learn Photography Tips for Taking Autumn Pictures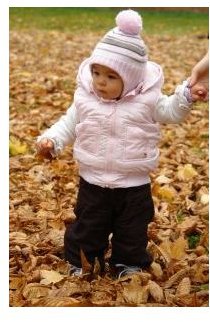 Autumn Pictures
Capturing the essence of autumn on film can be very difficult to do because of the numerous colors. If you are not careful, your autumn scenery pictures can turn out plain and appear messy. There are many photography tips you can use to ensure this does not happen. Following tips for autumn pictures can allow you to capture the numerous vivid colors of fall on film.
Autumn Sensations
The Essence of Autumn
There are many ways you can capture the essence of autumn in a photograph. Many people know fall is often chilly but an image may not always capture this. One way you can instill the sensation of a fall chill into a picture is to take a fall portrait outside. The subject you are shooting should be wearing warm clothing to show they are bundled up to be protected from the fall chill. Many people choose to put their subject on the side of the focal point, usually the left. This is one technique you can use to visually give the sensation of a fall day.
You can also take images of autumn scenery to show if it is early fall or late fall. To show it is early fall; choose a viewpoint that captures the fallen leaves on the ground, and the green leaves that still remain on the trees. This shows it is early fall and many of the leaves still have yet to change.
To capture late fall in a photograph; choose a viewpoint that has many leaves on the ground. You will want to look for a tree that is completely bare or almost bare. A tree that has had all the leaves completely turned to the autumn colors is another way to capture late fall on film.
Vivid Autumn Pictures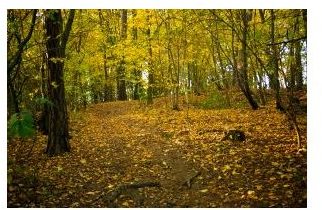 Although the natural colors of autumn are beautiful, it is important to use contrasting colors when taking the photo. If you do not use contrasting colors, the pictures may look dull and messy. To use contrasting colors you can add simple things into the shot. A clear blue sky above is a great way to add contrast to the autumn leaves. Placing big stones in the shot or mixing some soil in with the leaves will add contrast to the pictures.
To capture all of the autumn scenery, you will want to take close up shots. This will make the colors appear more vivid on film. Photographing grand vistas are another way to capture all of the colors of autumn on film.
Autumn Pictures for Digital Cameras
You do not have to have a professional camera to take great autumn pictures. There are photography tips you can use for a simple digital camera to capture autumns beauty in a photo. If your camera has the macro function, you will want to use that, while shooting close up. Be sure to take wide angle shots. Experiment with the ISO setting to see how it affects the colors of the image. Many digital cameras will allow you to adjust the color setting to soft and strong colors. Making simple experiments with these setting will allow you to see which setting will produce the most vivid picture.
Other Tips
There are a few other tips you can use to produce great autumn pictures. When adding objects for contrast into the image, do not over do it and add too many. If you add too many objects into the picture, it will begin to look unnatural and cluttered.
Using a low angle, such as kneeling, when taking the shot will give an interesting angle to the picture. It can also isolate the object of the photo. Tele settings are good to use when isolating objects in an image. When using this setting, it will focus on the object and blur the back ground.
Be careful of strong shadows. If the shot has many dark shadows, they may come out completely black on the photo. You will want to pay special attention to the lighting of the sun to eliminate the shadows.
References:
"Tips for Taking Better Autumn Photos" DPhotoJournal
"Tips for Taking Fall Photos" Two Peas
Photo 2 "Autumn Forest" By Tabery stock.xchng
Photo 1 "Lets Go Walk" By Planetka stock.xchng