Picasa Web Albums Review: Photo Sharing Made Easy with Google's Free Online Photo Management Tool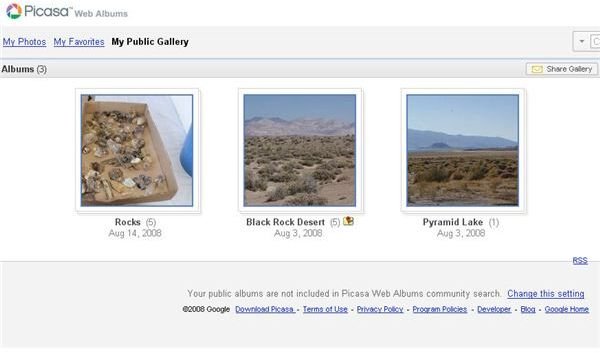 One of the primary reasons that we take photographs is to share our experiences with others. These "others" may simply be our close friends or family, or they may branch out to include anyone we can convince to look at them. Either way, there are a number of photo sharing utilities out there to help us accomplish this, many of which are free.
Two of the most popular free online photo sharing tools are Flickr and Picasa Web Albums. If you're looking for an overview of the features offered by Flickr, check out Rhonda Callow's article Flickr – Photo Sharing Made Easy and Loaded with Options. To learn more about Google's Picasa Web Albums, read on.
What's Offered with Picasa Web Albums?
Here's just a sampling of the features available in Google's Picasa Web Albums.
Lots of Storage Options - Users of Picasa Web Albums receive 1 GB of free storage with their account. If you're an avid photographer and find this isn't enough storage for you, Google does offer the availability of storage upgrades for purchase at rates starting at $20 per year for an extra 10 GB. One nice thing about these storage upgrades is that the additional space can be shared between Gmail and Picasa Web Albums.

Album Creation – You can create as many albums as you want to manage your photos. The albums in Picasa Web work similar to labels or tags rather than directories. This means that you can add a single photograph to as many albums as you want without affecting your storage quota. The photo will only be physically stored once in your account no matter how many albums you decide to place it in.

Privacy Controls – Whenever you create an album in Picasa Web, you get to decide if you want the general public to be able to see it or if you prefer to keep it private and unlisted. Unlisted albums can still be viewed but only by those with whom you decide to share the authorization code. You can change the settings on an album from unlisted to public, and vice versa, at any time.

Works with Blogger – If you have a Blogger account that you've added images to, Picasa Web automatically creates an unlisted album web that includes those photos.

Mapping Photos and Viewing in Google Earth – Picasa Web also offers the option of linking your photos to a specific geographical location. You can enter information such as zip code, city, or even the full address for a photograph – this data can be as general or specific as you like. Users of Google Earth will have the extra option of being able to view their mapped photographs in that environment.
Screenshots for Google's Picasa Web Albums