First Day of Kindergarten: Tips & Ideas on How to Photograph Your Child's First Day of School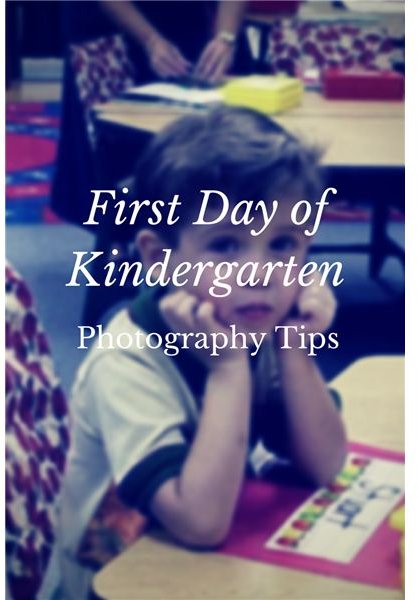 Preparing for the Big Day
Get ready, because even though your thoughts might still be on the beach and summer fun activities, school will be starting soon. You need to prepare for that awe-inspiring, traumatic first day of school. Whether the beginning of kindergarten is a joy or a nightmare will depend on how you prepare and approach your youngster's big day. Either way, here is how to capture it for all posterity.
There is a lot to do in preparation for the child's entry into Kindergarten. Spend a day or two –or more—shopping for clothes and school supplies. If the child is along for the shopping, then so much the better. Snap pictures of the child during the shopping trips picking out different items and trying on clothes, selecting a book bag or perhaps a lunch box or backpack.
The Kindergarten School Tour
If your child's school has a tour for parents and children, take it and get photographs of key locations in the school. Can the child sit at a desk or table? Can the child play in the playground? Can the child chat with his prospective teacher or take a short ride around the parking lot on the school bus? Is the child's name on a storage bin, desk, table or a locker? Be sure to get the child into as many different scenes and photos as practically possible.
All of these locales in the school will make great additions to your "First Day of School" photo book or online album. These pictures can also help reduce the inevitable anxiety and stress. Show the photos to your child, asking, "What is this?" "Did you like doing this?" "What happened when you were here?"
Try not to use flash during these photo sessions to minimize trauma or impact on the child. Use an ISO setting of 400 or 800 to simulate increased film speed or pixel sensitivity. You can also set the shutter speed for 1/125th second and the aperture at f/8 or f/5.6 for a broad range of flash-free, candid photographs during the course of the day's activities. Get a wide variety of digital image types and compositions including:
· Close-ups of the child during periods of activity
· Overall shots of the classroom or activity areas
· Small group shots of the child inter-acting with the teacher, other children or their learning environment
· Signs, labels and the child's name where ever it might appear
· Views of the school areas, cafeteria, playground, music facilities, etc.
The First Day and Beyond
Depending on where you live and school regulations, you may not be able to be physically present during much of your child's first day in school, so take some before and after photos.
Hopefully, with attention to acclimating the child to his first day of kindergarten, you'll minimize the stress and anxiety many children experience. Whatever events unfold on that day or during the first week, capture as many of them as you can. Remember, you will only get the chance to do so once in a lifetime. Immortalize your child's crafts, art and other school-based projects with digital images, as well.
Keep up with regular photographic documentation of the first day, weeks months and year in kindergarten. If your child has younger siblings, the process can even help to ease them into their first day of kindergarten by demonstrating its importance and showing it off as a fun, family-related series of events.
References