Travel Portrait Photography - Tips for Capturing the Best Vacation Photos this Summer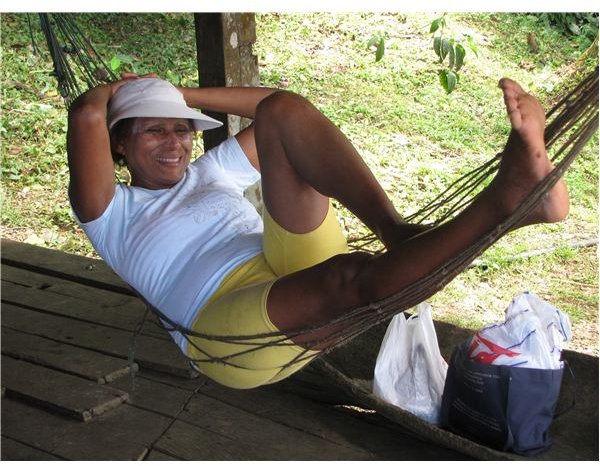 Getting Travel Portrait Photos
No matter where you pass your summer months, you can capture some of your best travel portraits using these simple suggestions to help you break communication and shyness barriers worldwide. Don't speak the local language? Are people too camera shy where you are – or where you're going? Want to get closer to show the interesting, beautiful and memorable images of faces out in the crowd this summer? Try these digital photography tips and techniques to bring home some of your best travel portrait photos this summer.
If you're anything like me, you have tons of "distant" photos of family, friends, faces in the crowd and people you meet while traveling or on vacation, but almost no photos of yourself or good travel portraits of your family. This is all about to change. In this how-to tips and techniques article, we'll look at ways of including your traveling companions for the best travel portrait photos this summer – and beyond.
Travel Portrait Technique 1 – Composing Foreground & Background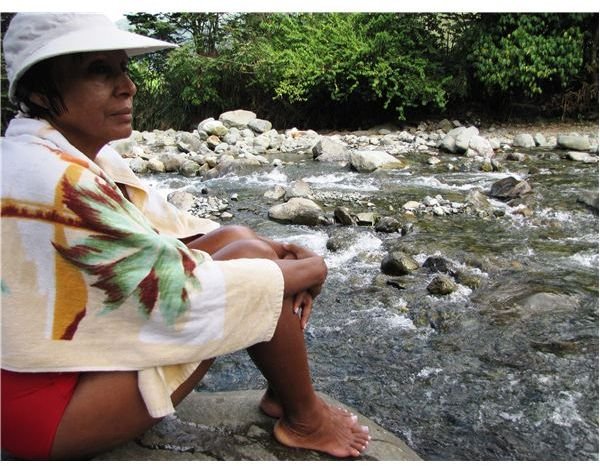 For this technique, your subject is placed in the foreground, preferably in a side third or quarter of the total image. You'll need to stop down for greater depth of field (f/11, f/16 or even f/22 if your camera stops down that far) to keep both your foreground subject and the background location scene in focus. The subject can either be looking at the camera or across the field, but should NOT be looking away from you. Remember, this is an informal style of portrait. For good travel portrait photos we need to be able to see and easily recognize the person.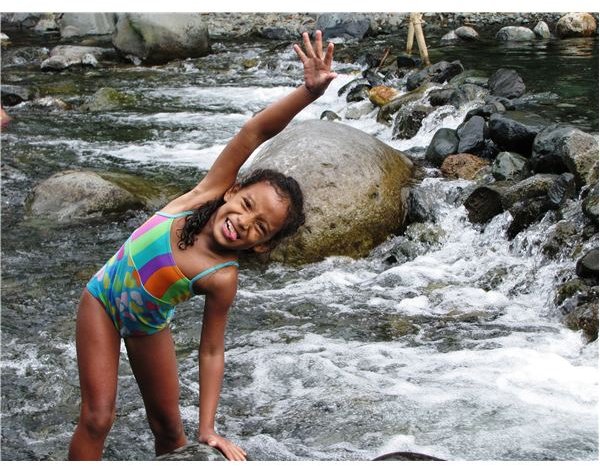 This is yet another example of a subject in the foreground and an "on location" background. If you wanted to include a long shot of the river and had the girl in the background, you'd end up with an image of the river with the girl "looking like an ant" in the water. By having the subject in the foreground, the background is still clear and obvious. Certainly, you don't need to include the entire river to know this photo wasn't taken in the backyard. My granddaughter also threw in the funny face for free.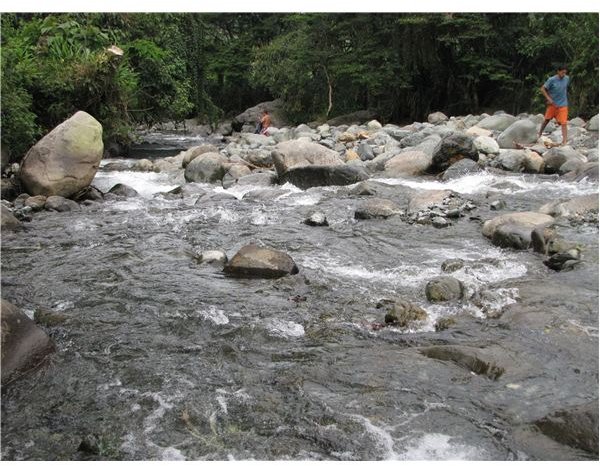 Compare this river-in-the-foreground photograph with its distant, too small, "unrecognizable" subjects to the photo of the girl in the river above.
Note: This is the kind of "vacation photo" error typically made by many.
Travel Portrait Technique 2 – Location Placement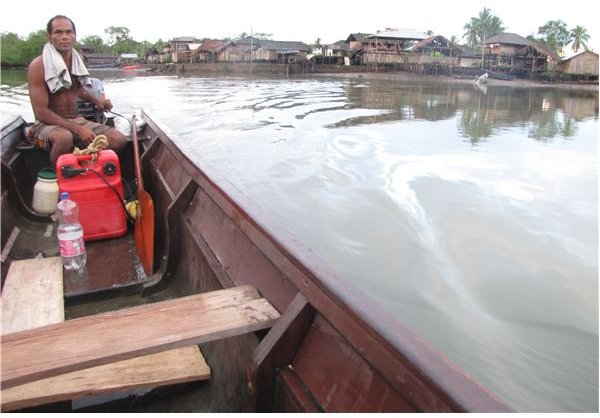 In this technique, the subject again shares image composition space with the background or location to help set the scene. My launch motorman and fishing guide, "Pepe", is pictured here as we leave the coastal fishing village of Jurubida on Colombia's Pacific coast. I placed him in the left quarter of the landscape-type digital image to both include his face and the setting of the scene in one shot.
Travel Portrait Technique 3 – Action Inclusive Location Placement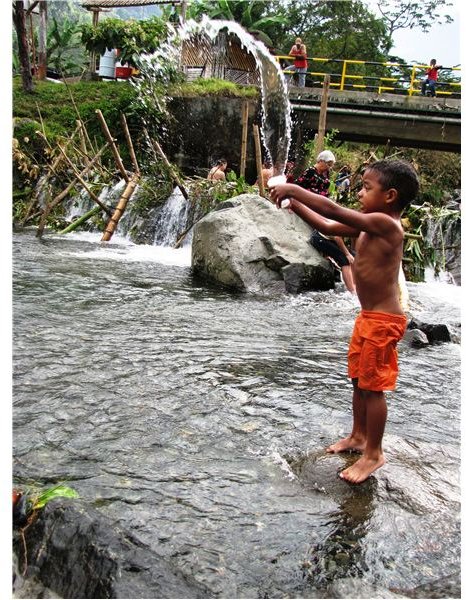 You can have the subject involved in an activity which includes or involves the location for added portrait imaging impact. Here a boy plays in the water of the Pance River during a holiday outing. If you want to lessen the effects of a too busy background, you can open up the aperture to f/5.6 or f/2.8 to help throw it more out-of-focus forcing more attention on the subject. To "freeze" the water, I had to use 1/500th second and shoot at the peak of the water's arc. I watched him do this two times first to get the "timing" of his throw and the arc of the water. This was my second attempt to get this "action" shot.
Photo Shooting Tip: Variations of this shot are common in advertising images. Take a bucket of water and a cup or small container out to the backyard. Throw a cup of water across the yard and you'll notice that the arc of the water "hangs" in the air for just a moment before it drops. It is at that moment you can best "freeze" the water in an image such as the one above.
Almost the same process was followed in getting this informal portrait of the two girls, my granddaughter and niece. It took three attempts to get the shot timing right. If you stay back from the subjects, it often allows much more spontaneous action which makes for better, less "posed" looking digital images. They didn't even know I was shooting them when I took these photographs. I increased the shutter speed to 1/1000th second at _f/_5.6 with a five-to-one zoom in across the river for this shot. By clearly including elements of the location, you can get effective vacation or holiday travel portraits.
Action Travel Portraits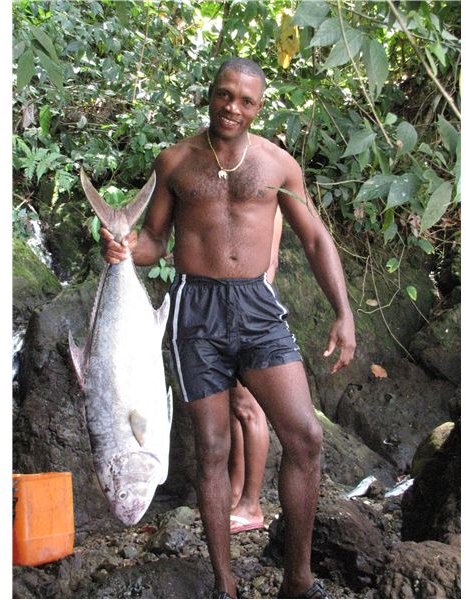 One of the best ways to capture good action travel portraits is to have the subject "doing something". It can either be a family member, someone traveling with you or a travel portrait of someone local. This will allow the subject to focus on something besides you taking their picture and avoid the dreaded "firing squad" types of posed travel photos all too commonly found in albums and portfolios world wide. This image of my local fishing guide, Jose Manuel Mosquera, holding a 24-kilo, meter-long Bravo, is a good example.
Take Your Best Travel Portrait Photos This Summer
So if you'll apply these how-to tips and techniques, you'll look at new ways of including your traveling companions and locals alike for the best travel portrait photos this summer – and beyond.