Apple Aperture 2 - Photo Editing & Photo Management Software Review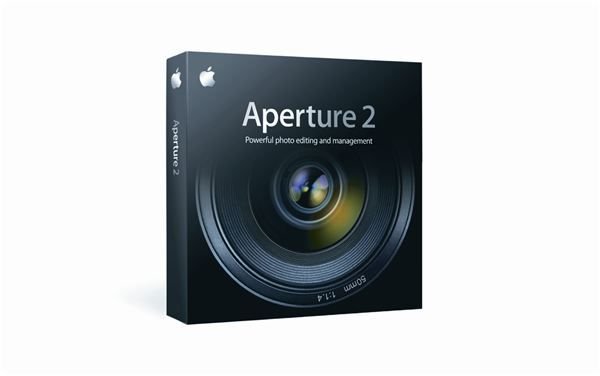 The photo editing software market has in recent years become rather more heated as the field changed from "Adobe Photoshop and everything else" to a number of mid-range options, one of which was Adobe's own Photoshop Elements, and even several free photo editing programs. It was only a matter of time before photo management software sprung up to try to cope with the sheer volume of digital images photographers can generate. Adobe's Lightroom may have gained fame and garnered market share by association, but Apple's Aperture actually beat it to market. Given Apple's reputation in the graphic arts field as well as their iPhoto application, this move just made good sense. Aperture 2 takes the solid formula set down by its predecessor and adds improved RAW file compatibility and the ability to utilize plugins to create a photo management solution that is also an excellent photo editing option, as well.
Capability (5 out of 5)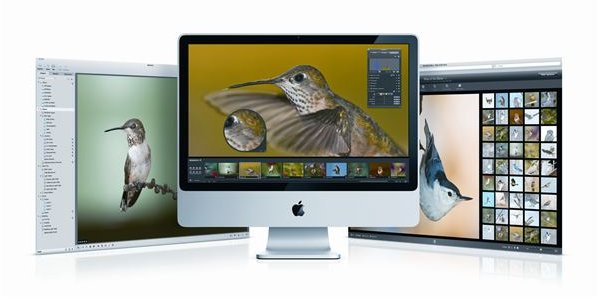 The key word in photo editing is "workflow", and Aperture aims to make your photo editing process as smooth as possible though allowing you to work in RAW format from beginning to end, a move that gives you access to the maximum amount of image data your camera can generate. The Import function allows Aperture users to rename when uploading pictures to your computer as well as adjust the time zone, add captions or keywords, and, most importantly, tell your Mac whether to store images in the Aperture library, the Pictures folder, or a custom location. Aperture 2 is capable of grouping photos by timestamp (for photos shot in burst mode, for example).
Many functions will be familiar to users of iPhoto (or the earlier version of Aperture), but where Aperture 2 really shines is in its plugins - a large number of third party plugins have been produced to date, and these can provide so much capability in photo editing and processing that you may not need to work on your pictures outside of Aperture. Most plugins have a price attached; to find a comprehensive list, visit this site dedicated to Aperture 2 plugins.
Usability (5 out of 5)
Aperture 2 does a commendable job of balancing between usability and complexity, but it is by no means as simple as iPhoto; then again, it isn't in the same market as iPhoto, either. Aperture 2 is targeted at the serious photographer, and it shows. While basic photo organizing functions remain the same, Aperture allows for vastly improved storage of metadata, from EXIF to detailed information about copyright, subjects, location, and much more. The rating and versioning functions can be accessed within the browser or viewer via a ctrl-click, and the Loupe tool lets you magnify part of the image without zooming. The remarkable thing is how the capability "stays under the hood" until you need it, thus keeping less advanced users from becoming overwhelmed and minimizing clutter.
Cost (3 out of 5)
As I mentioned previously in this review, Aperture 2 is targeted at serious photographers, and this fact is reflected in the price. Amazon currently carries the software for $156.49. Contrasted with Lightroom 2's price of $260.99, it is certainly a more attractive, though not necessarily cheap, option, and Apple certainly has the edge in knowing the existing (and future, to some degree) hardware and software that Aperture will be working alongside.
Overall (4 out of 5)
Given the potential cost in both money and storage space, at the very least, of not utilizing a photographic workflow solution, Aperture 2 stands out as an option worth buying to accomplish this goal while also establishing itself (with plugins) as a very credible photo editing package. If you're using other Apple products, then that will almost certainly be a tipping point but, regardless, if you've got the money give Aperture 2 a look.