How to Photograph Baseball, Soccer & Other Outdoor Sports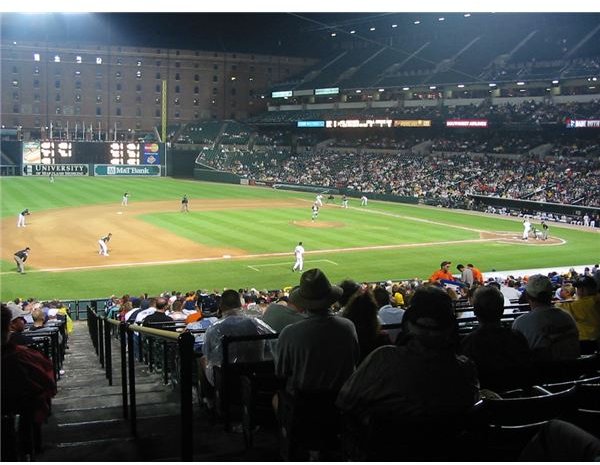 Outdoor Sports Photography
The NBA playoffs are done and won. The Stanley Cup has a home until next year. A new series of pro and amateur sports are now underway – outdoor sports played in the open air, rain or shine in some cases. To get great action images when photographing outdoor sports, the aspects which need to be considered are vastly different from sporting activities conducted under cover. Or are they? Let's look at photographing baseball, soccer and other outdoor sports, especially now that the season is here. We'll start with some essential items of equipment for outdoor sports and action photography.
What Equipment do You Need for Outdoor Sports Photography?
Never think that if you don't have thousands of dollars worth of equipment, remote control devices, telephotos, long-range zoom lenses and ultra-high speed, high-end cameras that you can't get competitive, salable sports action photographs. True, many of these types of equipment and devices will help you to get more action-based images more of the time, but they in themselves are not the do-all and be-all of good sports action photography. You'll be much better served by paying close attention to your position relative to the playing field and action. If you can shoot at 1/500th second or more at an aperture of f5.6 or wider, you can essentially get great sports action shots. Remember that a camera with image stabilization will minimize camera shake, but still cannot "freeze" the motion of a moving subject. The first article in this series, How to Photograph Hockey, provides great information on sports photography camera equipment.
Key Photo Shooting Tips: For better outdoor sports photography, you need to know and understand the game or activity you wish to document. The more knowledge you have of the sport, the better you will be able to anticipate spurts of action and their likely positions on the field. If you're also familiar with the players or teams, this can also aid you in anticipating plays and scoring drives that provide heightened action photographic scenes.
Note: You must also know your camera and equipment capabilities inside and out to be able to make the most of what you're using to photograph sports. Read your camera manual carefully. Now, read it again. Try out all the features and settings your camera equipment has to offer before going to the game or match.
Tips on How to Photograph Baseball
If you are shooting from well up in the stands, you need the longest length lens you can get. Good telephoto lenses though, are not only expensive, they are bulky, unwieldy and heavy. Some can weigh three or more pounds and easily cost upwards of $1000. Not to mention that they can be a problem to use in a tightly-packed stadium. Otherwise, shoot wider angle scenes including the crowds and fans. Don't forget idle players, expressions and the bullpen, depending on your stadium position. From your section railing you can shoot closer to the action. From any shooting height, the best positions are views of home plate, first base and third base. The majority of the intense action in baseball occurs at these three positions. I'd be leery of behind-the-plate shooting positions though. Color temperature settings and white balance are not usually a problem unless you're shooting a night game.
(Click on any image to enlarge)
Photo Shooting Tip: Try to get a position along the stands railing as low and close to the field as you can. Anticipate the action and focus on one zone, say third base or home plate to capture the action there instead of trying to "cover" the whole field. You're often just "wasting your time" trying to shoot action that is simply too far away to get good images. Use the widest aperture you can and a fast shutter speed to help "stop" as much motion as practical. If you shoot at your highest resolution setting too, it will help some when you crop dead space out of your finished sports action images.
Soccer Action Photographs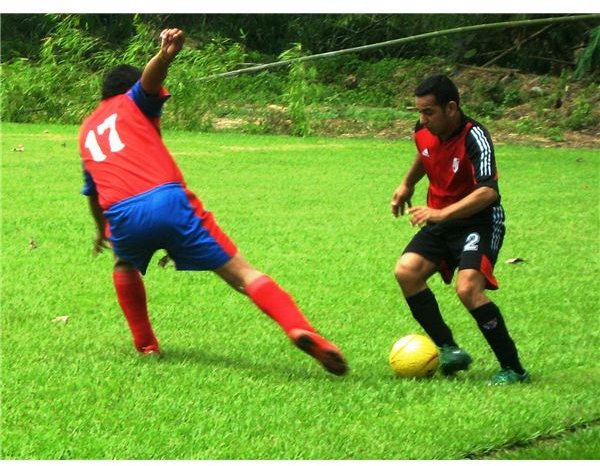 According to British soccer enthusiast Stephen Bradury, for the best soccer action photography you should, "position yourself just ahead of the goal line." That way, "you'll be in a position to catch players jockeying for goal-shooting position, free kicks and the goalie defending the net, all from a fairly stationary spot." In soccer, much of the action centers around the goal. Position yourself as close as possible to one or the other, shooting with wide apertures and fast shutter speeds for tight action. Use smaller apertures (f8 or f11) and slower shutter speeds (1/250th or 1/125th second) for area coverage of more players as they approach the goal or your shooting position. Remember that soccer teams switch goals at halftime, so you'll get coverage of both team`s players staying "fixed" at one goal.
Photo Shooting Tip: If you can shoot from near a sideline, try to focus on the zone nearest to you instead of trying to capture action all over the field. When you see players closing in on your position, move or zoom in to get as tight on the action as you can. You may get fewer shots overall, but those that you do get will be "right on the money" close, frame-filling action photos that will get noticed fast.
Action Sports Photography Photo Opportunities in Your Area
Get familiar with sporting events like baseball, soccer and others held in or near your local area. Plan to attend and photograph as many as practically possible. The more action sports images you shoot, the more practice you get, the better your sports photography will be. Don't just consider professional or major league sports either. Industrial, company league teams, college and young athletes at nearly all school levels can be fiercely competitive too, making for some excellent photo opportunities for you to develop and hone your action sports photography skills. Don't discount amateur or informal games and sporting events either. They allow you to get right up close and personal with your action sports digital photography.
See you shooting photos on the field then, okay?
This post is part of the series: Sports Photography Tips & Techniques
In this series, we'll look at how to photograph various types of sports. Camera settings, lighting and equipment are just a few elements that will vary depending on which sport you are trying to photograph. Learn tips and techniques that will help you capture the best action sports photography!