7 Ways to View Digital Photos on TV - High Definition Photos & HDTV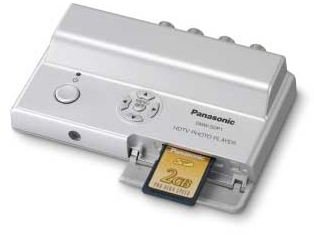 You've recently adorned your living room with a sleek full HD television set, and enjoy all your movies on it. But did you know that your HDTV can not only transform your movie experience, it can totally change the way you see your family or vacation photos too? The large size and amazing picture quality offered by HDTV means you no longer need to huddle cramped around your relatively tiny computer monitor trying to identify faces in your family photographs, the pain of which you'll feel profoundly when you need to show photographs to a group of people. Sink into your sofa, remote in your hand and watch pictures king-size on your HDTV. But uh, wait a minute….how do I get my photos on the TV, in the first place? There are more ways than one, and this article will run you through all of them.

1. Using USB/DLNA
In all probability, your new HDTV has got a USB 2.0 port or two. You can plug in your flash drive or a portable card reader having a USB interface and watch the photos on the HDTV. But you'll have to manually shift through the photos, and you won't have any of the transition effects or background music.
2. Using the built-in memory card slot
Most HDTVs also come with a built-in memory card slot, to which you may insert your camera's memory card and view photos. But such slots are not compatible with all types of memory cards, and you may have to check the compatibility status for your card.
3. Connect your camera directly to HDTV
The newest digital cameras from the likes of Canon, Sony, Panasonic, etc. support full HD videos and come with a cable to directly connect to your HDTV.
4. Connect your computer to HDTV
The latest HDTVs, like the Samsung 7-series LN46A750, support DLNA or 'Digital Living Network Alliance' standard that allows you to hook up your HDTV to your home computer network and play photos, music or videos directly from the computer. Even if your HDTV does not support DLNA, fret not, it would surely have DVI or VGA or HDMI input. Likewise, if your computer is fairly recent, the video card may sport a HDMI port. In either case, you can directly hook up the camera to your PC and use the HDTV as a monitor. Not the most comfortable option, but it optimizes use of available resources as it does not require any additional purchase. Though, I must add, the need for a wireless keyboard and mouse would surely be felt!
5. Dedicated devices
These are dedicated HD photo players, which accept input from cameras, flash drives or commonly used memory cards. They can permanently be connected to your HDTV, and offer features like a variety of playback options, slideshow transition effects, background music, quick-search and direct print facility when connected to a printer. The Panasonic DMW-SDP1, Hama PhotoPlayer 1080i and the Western Digital WD TV HD Media Player are examples of such devices. The advantage of having a dedicated player is that even low resolution images, say from your first 3 MP camera, can be viewed in full HD without quality loss.
6. Using gaming consoles
If you or your child are avid gamers and own an Xbox360 or a Sony PlayStation 3 (PS3), you're in luck. Use these consoles to directly playback HD content on your HDTV.
7. Burn onto discs
One would think that probably the easiest way to watch your photos on your HDTV is to burn them onto DVDs. But that's not so, as most consumer DVDs are not true HD, i.e. support a resolution of only 720x480 instead of 1920x1080. Blu-Ray discs are an option, but both these discs as well as Blu-Ray burners are quite expensive to date. But when they become more popular and prices fall (which is bound to happen sooner rather than later), it'll become the No.1 way of archiving and watching HD images as well as videos. Until then, you may use any popular DVD burning tool but remember to keep your photos at the highest resolution. If you prefer compiling a Slide Show replete with effects which you'd like to burn on disc, remember to uncheck 'fit-to-disc' (or similar) option and choose the highest available settings while burning.
Conclusion
A final point of caution is that even if you own a HDTV, to fully unleash its potential, you should have content in full HD resolution, i.e., 1920x1080 pixels. Watching lower resolution content on a HDTV doesn't make the content high-res. The newer digital cameras launched recently come with full HD support. Images and videos from such cameras would complement your TV's prowess for displaying the highest quality images.