Underwater Photography Tips & Information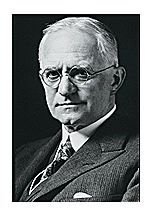 Inexpensive Underwater Digital Photography
Okay, so if you want underwater digital photos of marine life, creatures of the swamp or an eye-to-eye view of that ole Bass you never seem to be able to catch, here are some quick and easy tips and techniques to get your subsurface game going without breaking the bank at Monte Carlo. Not only that, but you might not even have to get wet on some occasions. Want to know more? Okay, here's how:
When George Eastman (pictured) invented the Kodak camera in 1888 his company slogan was, "You push the button, we do the rest". Despite the onslaught of advanced technology and digital imaging, basically, little has changed. Taking fun, interesting, salable, even dramatic underwater photographs need not be a highly expensive nor highly technical undertaking. In the article, "How to Photograph Water Sports without Damaging Your Camera Equipment" it was mentioned that there are three ways of using a digital camera for underwater photography or for photography of water-based activities:
Use a dedicated underwater camera (inexpensive, sealed, disposable)

Use a commercially manufactured underwater housing for your digital camera

Use temporary water-resistant measures (plastic wrap the camera, shoot from inside a sealed clear plastic bag, etc.)
Make More Extensive Use of Your Underwater Digital Camera and Equipment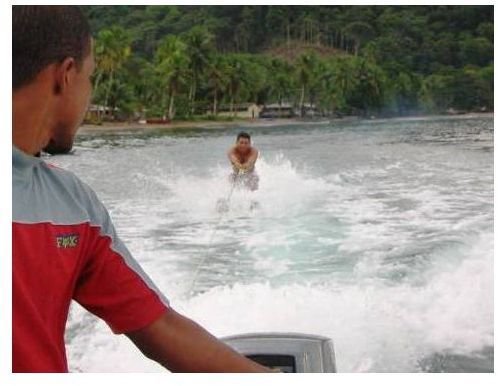 Remember too, that you can use your underwater camera and digital imaging techniques for taking photographs which are not necessarily "underwater". The idea is to keep your digital camera and equipment protected from potential moisture (or dust, debris and dirt) damage so many of the same techniques apply to both underwater photography and photography in:
Foul weather conditions (rain, sleet, snow, dust, blowing sand, storms, etc.)

Humid environments (greenhouses, surf, on boats, at lakes, rivers, etc.)

Salt water, spray and other corrosive liquids environments (waterfalls, surf, white-water rafting, water sports, etc.)

Near geysers, thermals (hot springs, river rapids, fishing scenarios, etc.)

Shallow aquariums and swimming pools
While you can simply hose-off and dry your tripod after an accidental (or intentional) immersion in salt water or pool water, caring for your digital camera underwater is a different matter. Doing so, however, need not "break the bank".
Quick Tips for Underwater and Water Sports Activity Photography
If you don't have or want to get an expensive underwater housing to protect your camera or use a disposable underwater unit, you can quickly "fabricate" one using a "zip-lock" food storage bag. I always stash a few sandwich-size and larger, food storage size clear plastic, zip-lock bags with my photographic gear when traveling. They're cheap, re-usable and a box or two (different sizes) will last for months if recycled carefully.
Here's the Procedure: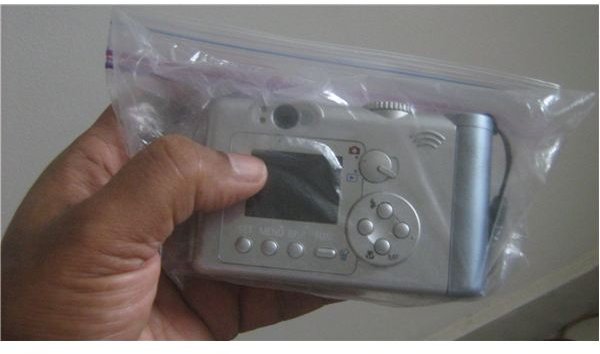 Put your camera into the bag with the lens facing the bag's clear side. Work as much air out of the bag as you can before you zip-lock the bag closed. You should be able to operate the camera controls right through the bag. If it's too tight, use a slightly larger bag. Before sealing, it's better to make all the setting adjustments you can first, like disabling the flash to avoid uncontrolled flare and reflections. If you'd like to have added lighting, consider an additional external flash unit or portable light source, although these are often not needed when shooting on bright days in shallow waters. A good seal will hold up down to nearly ten feet, but to be on the safe side, you had better tape over the bag opening after excluding all the air you can, then zip-lock sealing. You should also carefully test the bag to ensure that you have a good seal before starting your underwater photography session.
"Quick and Dirty" but Effective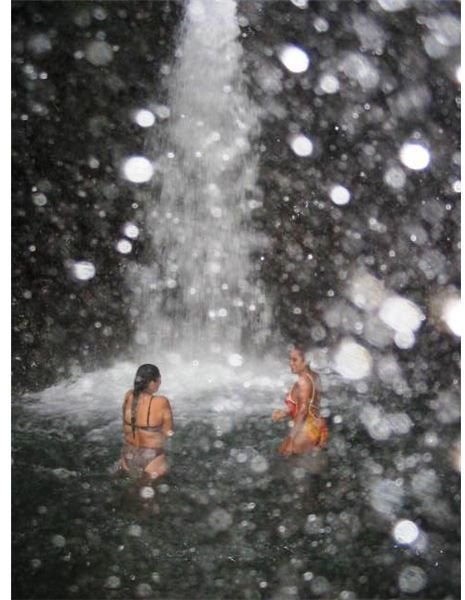 This "quick and dirty" arrangement is surprisingly viable for a variety of digital photography situations, is quick, effective and cheap to use. It has functioned well for me in outdoor aquariums - you know the kind where you are wading or snorkeling in with the fish, in swimming pools for good shots a couple of feet or so beneath the surface. Kids in the pool love to "ham it up" for the camera just below the surface too. Don't forget to get some shots of them blowing bubbles. Those can really be humorous. Other effective uses include when braving difficult weather conditions of rain, sleet or snow and when up-close, personal – and wet with spray on lens while photographing waterfalls. It's handy again when you want real close photos of fountains or other heavy "water splash" or "water spray" situations.
Finally, you can get a good over view of more basic underwater digital photography techniques at, "Underwater Digital Photography - Tips and Techniques for Taking Great Photos Underwater". Now that you know how to make your "underwater" digital photography simple and easy, get out your swim suit, towel and camera bag and go for it.