How to Make Motivational Posters - Tips, Tricks & Ideas!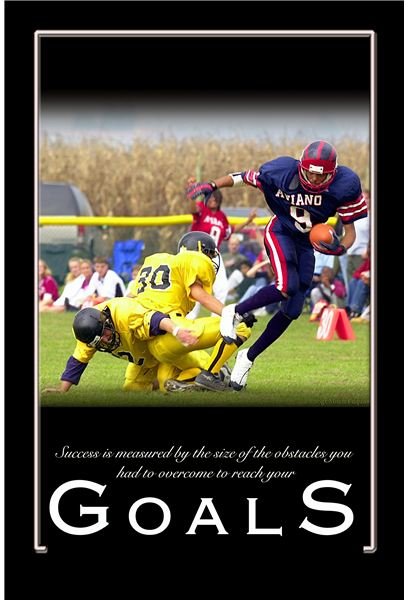 Introduction
Motivational posters don't have to be generic items you buy at the mall. You can personalize motivational posters for a variety of occasions and reasons. First, here are a few creative ideas for making motivational posters, then some notes on how to make motivational posters.
Ideas
• Corporate marketing: I've seen more motivational posters in professional offices than anywhere else. But they rarely connect to the office's industry, or products.
Instead, how about using a photo of your product in a custom motivational poster? A real estate office could use a high-quality photo of a home in the area with a message about quality or a word as simple as "home." A coffee shop could replace the bland countertop statement about its organic, fair-trade coffees with motivational posters using photos of actual coffee farming from their coffee sources.
It could even become a simple, classy corporate brand. Digital images make reproduction at any size very simple. Why not send out small versions of the poster to customers as emails or postcards.
Of course, you want to be classy. A picture of the boss above the word "Hero" might be a little over the top.
• Family keepsake: Grandma expects a photo of the kids every year, right? How about making them the favorite grandkids by turning the image into a poster with the word "family" or "love" underneath. You could also put a favorite bible passage or verse under the image. Or reproduce images at card size and replicate the motivational poster design for the family holiday card.
• Recognition: If your hometown team wins a big game, how about turning a photo from the match into a motivational poster? The Goals poster shown above is a good example (click on image to enlarge). You could give it to players, coaches or fans. To get a really high-quality image, contact your local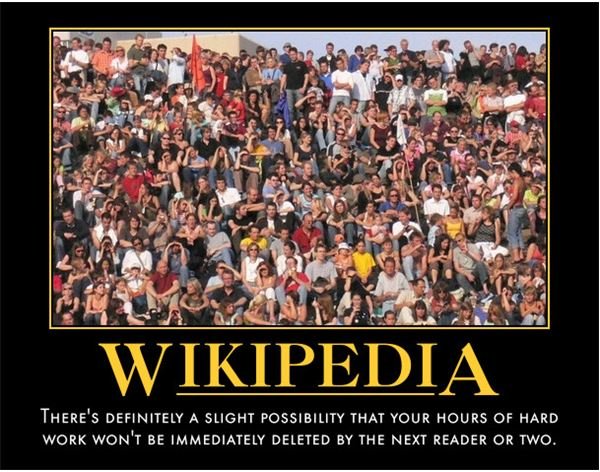 newspaper. Most newspapers sell prints of their photos.
• Gag gifts: If you've been in a college dorm room, you've probably seen a poster mocking the motivational poster style. Some of them are pretty funny. I like the Wikipedia poster (shown on the left), and my favorite is probably one that actually uses the word "motivation" with a quote and image from "Office Space." But I'm getting off-track. You can make an even funnier, wittier and (maybe) meaner "motivational" poster with a personalized photo and message.
You know that embarrassing photo you want to email your friend? You could really stick it to him by taking the extra minute to turn it into a motivational poster. Or if they have a good sense of humor, spend the money to turn it into a real poster.
How to make it your own motivational poster
Take a good, poster-quality photo. Of course, this will take some combination of skill, experience, luck and patience. However, it doesn't need to take a top-of-the-line camera. You can get a $200 camera that takes 6-megapixel images, enough to print pictures at up to 11X14 inches (28X36 cm). That might be all you need for a small poster. A 10-megapixel camera allows for prints up to 24X36 inches (61X91 cm), and remember that buying an expensive camera with 160 megapixels doesn't actually mean your pictures will be any better. It just means you can make prints the size of your house. See this digital photography article for more tips on how to poster-ready digital photography.
Next, you can design your own poster in Microsoft PowerPoint or a design program. I recommend Adobe InDesign. It's versatile and easy to use. Keep in mind that color reproduction on your computer monitor may differ from actual print colors.
You'll probably need to take the poster to a professional shop. They should be able to show you an image very close to the print color and quality on a color-corrected monitor.
The other option is to put your photo in a standard motivational poster template. Recommended sites for making your own motivational posters include Big Huge Labs and AutoMotivator.
This is easier than designing your own poster, but offers less flexibility and no opportunity to check your poster with a professional printer before paying to print.