Beach Photography - Tips on Getting that Great Shot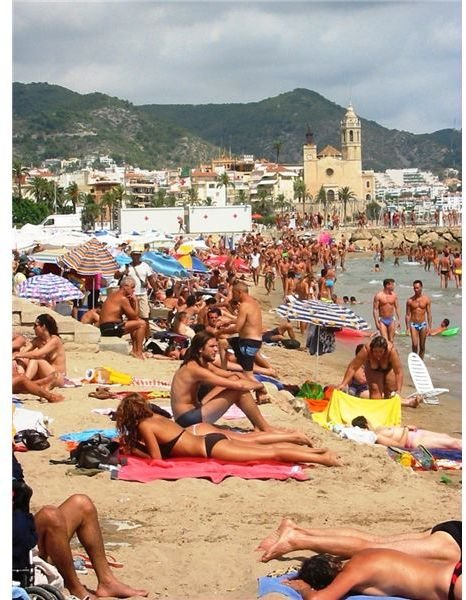 A Day at the Beach
Who doesn't just love a day at the beach? The sun, the sea, the fresh salt water breezes, the swimsuits and even some local wildlife can all contribute to a wide range of photo opportunities just waiting for you. But when you think of digital photographs at the beach, don't confine yourself to the local bathing beauties. Why not expand your horizons to include some of these additional photographic scenarios as well? First though, there are a few potential photographic problems to consider.
Photographic Problems at the Beach
With all the attractions the beach offers to digital and film photographers alike, there are also a number of unique problems. For example, often there is intensely strong sunlight which creates distinct shadow and light to dark contrast. There are usually large crowds in popular beach locations on weekends, vacation periods and holidays which can seriously minimize maneuvering room to compose photos [See Image 1]. There is also the potentially camera-damaging salt water spray, abrasive sand, high humidity and dust constantly in the wind. Not to mention the not-infrequent searing heat with the ever-present possibility of serious sunburn. On numerous beaches even the sand itself can reach mid-day temperatures which can cause severe discomfort. Local vendors and peddlers eager to make a living, will hard-sell their wares almost to the point of harassment, and can be a constant distraction to photographers and other beach-goers alike.
Taking Great Beach Photos
In spite of these potential problems though, let's look at a few starting options for taking great photographs at the beach.
1. Seascapes - There can be some truly lovely natural scenery at the shore, especially at non-commercialized ocean front areas. The waves, sand, rocks and trees can often provide beautiful backdrops for visuals and seascapes that will make for some eye-catching images. Feel free to change your angle of view for shooting seascapes from high to low to virtually ground level. This seascape composition mandated that I move "off the beach" and position myself behind a stand of palm trees to get the shot [See Image 2].
2. Locals and Vendors - "Pain-in-the-rear-end" that they can be on occasion, vendors can also provide some interesting character studies and human-interest photo opportunities. The persons themselves may have a unique look or their wares might offer an unusual shot. For better people photos, try taking your shots with the bright sun behind or to the side of the person. Use your camera flash to fill-in the person's shadowed face and torso. You may need to set your camera for the flash to fire, not using the automatic setting. When this fishmonger stopped me on a Colombian Pacific coast beach to offer his freshly-caught wares, I snapped away [See Image 3]. The chili-pepper-covered mango vendor simply walked past me on a beach in Acapulco and I was able to get photos from in front and behind him. Unfortunately, my camera flash misfired leaving heavy shadow across his face in this image [See Image 4].
3. Animals, Wildlife and Flora - Almost all beaches will sport indigenous animals, creatures and wildlife. They may not be readily apparent in heavily-populated beach locations, but nonetheless you can rest assured that there is an assortment of crustaceans, insects, minnows and birds to be found and photographed. Close up photography and macro imaging techniques might be useful here. In a shady spot, as quietly as possible, compose and shoot close-ups of insects, amphibians, crustaceans, birds and plants or flowers you find for some potentially stunning digital images. In part two of this article, we'll continue looking at a variety of digital photo opportunities at the beach covering sunrises and sunsets, silhouette images and close-up or macro images.
Images