Learn Outdoor Photography Tips from Professional Photographer, Gary Crabbe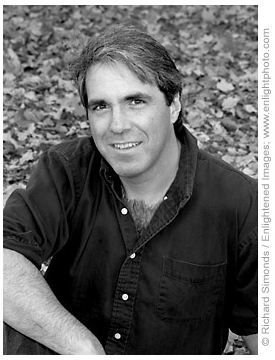 Getting to know outdoor photographer, Gary Crabbe
**
Bright Hub (BH): I like to start my interviews with a warm up question; something unrelated to photography, which can help the readers get a better feel for who you are. So, Gary…if you came across a turtle that didn't have a shell, would you consider him homeless or naked?
Gary Crabbe (GC): I'd probably consider him homeless, naked, and most likely in a bit of danger from predators.
(Click on any image to enlarge - all photos by Gary Crabbe)
BH: Where can we find you when you're not behind the lens?
GC: The boring business answer is behind a computer. My digital memory card is 4GB, which will hold approx 200 RAW images. On a good day, I can fill one of those cards in a morning or afternoon, and it will take me about three days on a computer to process all of the images. Going from film to digital turned me into a photo lab. It's great for having so much control; over how an image will look, but it also costs me a lot in time.
Otherwise, you can find me leaning over a pool table, or fishing with my kids on our boat.
BH: Have you always had a passion for photography, or is it something that came later in life?
GC: It came later in life, relatively speaking; it happened after college. I would have like to have drawn as an artist, but I had trouble even making stick figures.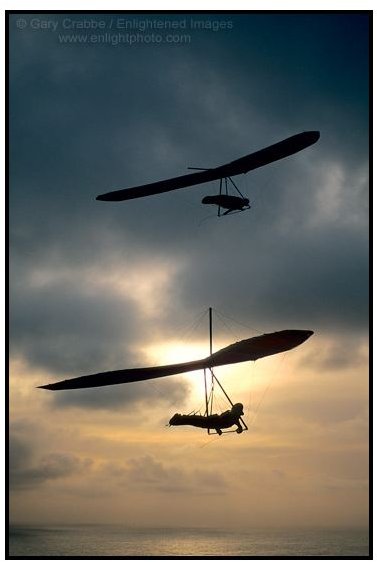 BH: Did you go to school or take any courses to learn photography?
GC: I had taken a B&W Photography 101 course as an undergraduate elective. While working on my Masters Degree for directing in the theatre, I became the department photographer. With my acting and directing experience, I'd be up on stage with the actors during a final dress rehearsal, running around shooting Tmax 3200 speed B&W film, hand held with no flash, using an old, manual Minolta x-370 camera. I'd then race home, process the negatives, and develop a dozen or more prints on RC paper in my bathroom. The next morning I'd drop the prints off with the director, and by that afternoon, they'd be mounted and hanging in the theatre lobby. I called them, "instant exhibits".
My real break in the industry came after working as a breakfast cook. I was so sick if cooking, that I started applying for any job I could find that wasn't in a restaurant. I was lucky enough to get a job – right out of a want ad in the local paper, working for the world famous adventure and nature photographer, Galen Rowell. One of the reasons I was hired was that I had only minimal experience with photography, and no desire to become a photographer. They didn't want to hire photographers, or wannabe photographers. They wanted people who could work at the business side of a desk, rather than a camera. My education came from overseeing his collection of 400,000 images on a daily basis, and being involved with all of the photo workshops that were run out of our office.
BH: You started your business, Enlightened Images, in 1993 as a way to sell your personal photographs. Since then, you've developed a lot of bragging rights; your website has been ranked as one of the most popular individual photographer sites on the internet; you can rattle off huge names as either clients or places you've been given publishing credit, such as The National Geographic Society, TIME Magazine, Forbes Magazine and Victoria's Secret; and you've produced award winning books. Did you ever think your photography would grow the way it has?
GC: Actually I think I've been incredibly lucky, and fortunate. But I'm also of the feeling that I still either haven't done enough, need to do more, or try something different. I've had times when I've been extremely busy, and others when I've been slower-paced. Personally, I try to find a happy medium. It's quite interesting looking backwards, as it is challenging to look forward.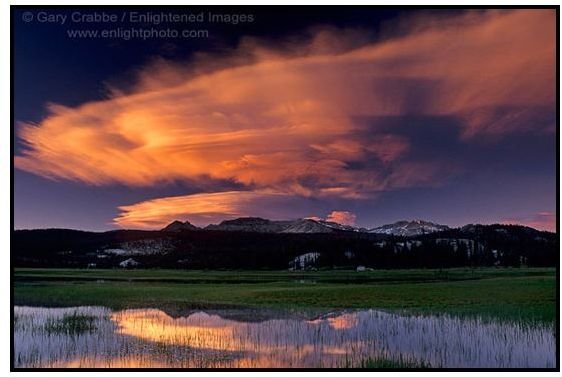 Continue on to the next page to discover what Gary says are the greatest challenges and perks of outdoor photography, what equipment is essential for an outdoor photographer and more…
The challenges & perks of outdoor photography
BH: As an Outdoor Photographer, what are the greatest challenges you face?
GC: Well I guess that depends if you're talking in regard to the challenges of selling outdoor photography, or in the making of images. In the first part I would say the greatest challenge is to make images that will be able to stand out in a crowd, images where the viewer can instantly interpret the scene, and hopefully make some kind of emotional connection with the photo. I try not to get lost in copying the latest visual fad, stylistic trend, or mimic what others are doing. Sometimes I'll make the choice to be lined up at a great icon if I've never been to a place before, or just want to get my own 'postcard' view. But it's always far more rewarding when I am away from the crowds chasing down my own visions of a place, or being somewhere to capture a moment that I know will be unique and special.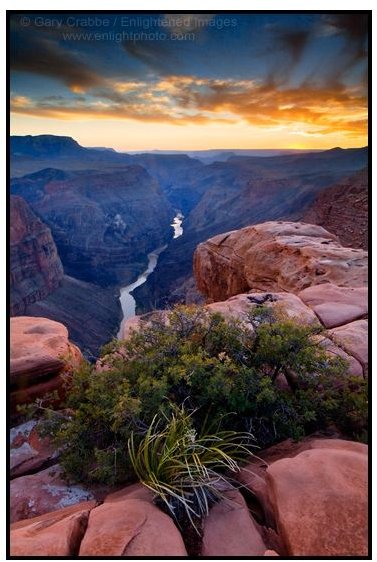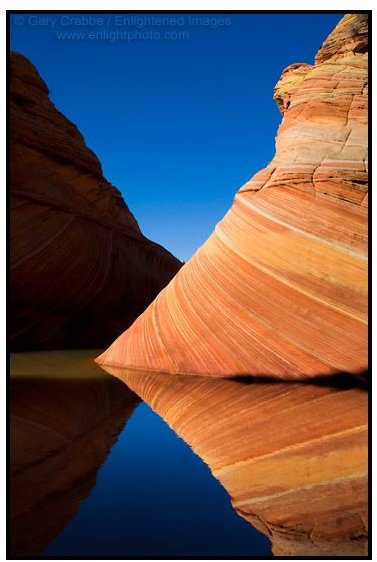 BH: What's the best thing about photographing the great outdoors?
GC: That's where we as a species are born from and of; it is our 'nature'. I love being a spiritual animal. There's a saying I keep with me regarding our consciousness: "We are the Universe trying to understand itself." For me, there is nothing more special than being someplace, alone with nature, getting to play "witness" with my camera; like waking up to a sunrise on the North Rim of the Grand Canyon, looking out, and knowing there probably isn't another person around for miles. For that moment, you get to feel, "How lucky am I?" and in one instance you can feel your complete insignificance and absolute connectedness. My goal is to get a small bit of that feeling into my pictures.
An outdoor photographer's checklist
BH: Okay, I have to ask, what's in your camera bag?
GC: Right now I have a Nikon D2x camera which I love, and is a real beast. I also have a selection of zoom lenses, from a 12-22mm wide angle, up to an 80-400VR. I also carry a Nikon flash, and Circular Polarizer, and a set of Singh-Ray Graduated Neutral Density Filters. I use good lenses, but I don't use the super-huge ultra fast telephotos, since I don't do a lot of wildlife. My most important piece of equipment - that's not in my camera bag - is my tripod, which can often make a huge difference between getting a sharp image or an out of focus image.
BH: For somebody who is just beginning Outdoor Photography, what are 5 things they shouldn't be without?
GC: First would be the tripod. It will slow you down, but it will also slow-you-down. It will teach you to take your time with the equipment, and you'll learn to use your camera like a real tool, as oppose to something you just aim and click.
Believe it or not, the next most important items have nothing to do with photography, but everything to do with safety in the outdoors, especially if you are hiking any distance on trails. Bad things can happen very quickly, and you should always have certain things with you. Good footwear, water, a jacket (or fleece & windbreaker), a headlamp, and a map (knowing how to actually read a map is pretty important, also). People get lost all the time, and if it happens while you're out taking pictures, you should be ready to spend a night outdoors. I also highly recommend good hiking sticks.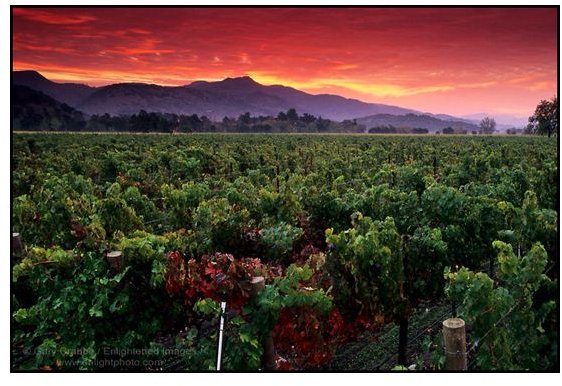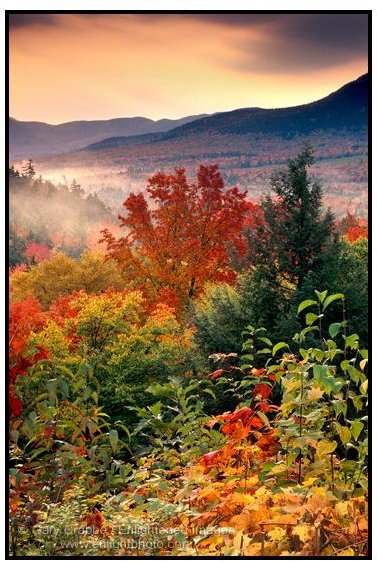 The final page of our interview, we'll hear Gary's tips on outdoor photography. We'll also see what his two favourite portfolio images are; learn where Gary get's his ideas and inspiration from and find out how to contact Gary (and where we can see more of his outdoor photos).
Outdoor photography tips
BH: What advice or photography tips can you give somebody learning Outdoor Photography?
GC: Find your own personal vision. Photograph what you love and are passionate about.
Fill the frame with what you like. If you like something, try and include more of it. If there's something you don't like in a scene, move the camera and get rid of it. Don't feel that every photo needs to be taken from around 5'4" off the ground, and exactly where you are standing. Move right or left, move up or down, look up or down, move closer or back up. Try to draw some connection between the subjects in your photo and between what's in the foreground. Most importantly, learn to see light, all types and qualities. A great subject in boring light will never be as good as a boring subject in great light. Photography is about recording "light". Subjects are what you find 'in' the light.
Favourite portfolio images, ideas & inspiration
BH: From your portfolio, what are your two favourite photos and why are they your favourite?
GC: First and foremost is a recent image of a raven flying in front of El Capitan on a winter morning. I don't do much in the way of cheesy "art –titles", but this one I immediately looked at and thought "Native Spirit". This is as much for the Native Americans that inhabited Yosemite Valley, but also it signified that perfect moment of the universe coming into alignment for one very brief instant.
Another image is one I took many years ago of some cows. I hadn't set out to photograph cows that day, but rather I was hoping to catch sunrise light on a nearby mountain. As I drove past this area, something made me stop my truck, get out, climb a hill, and there I was looking out over the Central Valley with this huge band of dark grey clouds over my head. A storm front was just starting to come through, and the sunrise light was able to sneak under the clouds along the eastern horizon. At the same time, this small herd of dairy cows started walking toward me, like they figured I was bringing them their morning breakfast bale of hay.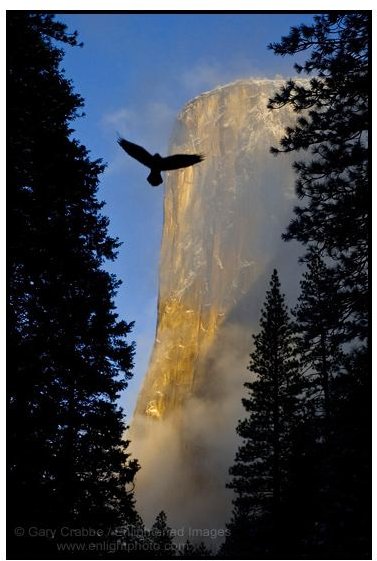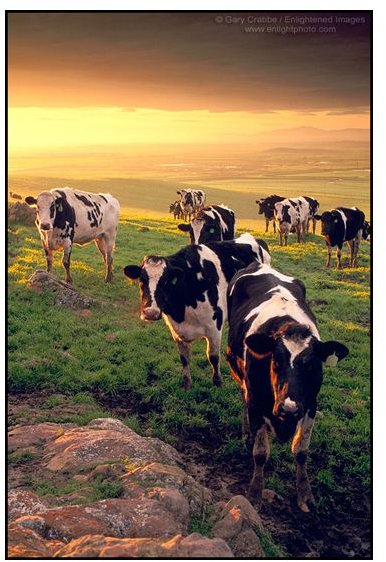 BH: Where do your ideas and inspiration come from?
GC: My inspiration is simply nature, and for me personally, it's that grand landscape; the majesty of our little rocky planet. If I'm working on a book project though, I have to keep my focus on, "What's the story, here?" Photography is a communication-based medium, so I keep very mindful of what I want an image to say or communicate. It may be something from nature that people will want to put on their walls and look at for years to come, or it may just be a travel image designed to show part of an editorial feature in a magazine that will get seen for only a few moments, but either way, it needs to be saying something. I just try and keep my eyes and feelings open, so that when moments or opportunities arise, I'll be there to take note and capture them with my camera.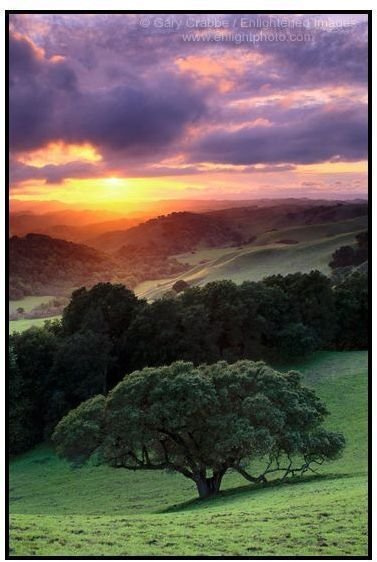 Contact Gary…
BH: Where should people go to see more of your work or to contact you about your services?
GC: The best place to contact me and see my images is to start at my website and my weblog:
https://www.enlightphoto.com/views
People can also sign up for my newsletter and get updates when I add new material. I'm just starting to upgrade the web site from version 2.0 to version 2.5 by putting bigger and better images in the galleries, so there should be a bunch of new images put up this year.
Thank you!
You are an amazing photographer and I'd like to thank you, Gary, for taking the time to answer my questions, for teaching us about outdoor photography and what it means to be a photographer.