How To Improve Your Skills With DP Challenge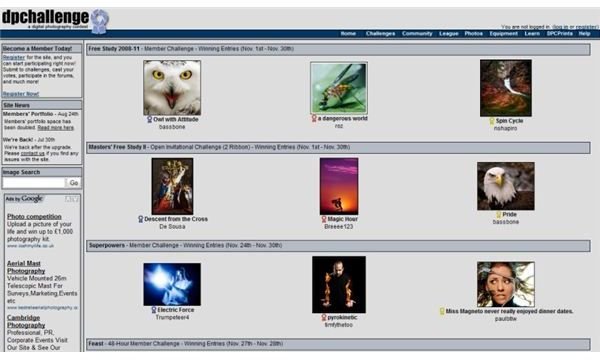 What Is DP Challenge?
DP Challenge is a site that gives you the opportunity to take part in photography contests and enhance your photography skills. The basic registration is free. However, to benefit from extra features, you can upgrade to paid membership ($25 per year or $5 per month). The rules of the competitions are strict and you're not encouraged to do a lot of post-shot editing to your photos.There are four editing modes, each one with its own set of rules. You can only use one for a certain challenge, as specified in the challenge rules.
Advanced Editing
Basic Editing
Expert Editing
Minimal Editing
Read more about Challenge Rules.
How Does It Work
A challenge usually lasts 21 days and is divided into three stages of 7 days each: submission, voting and results. Some challenges are open to paying members only. All photographs must be taken within the period of submission with a camera that stocks information about the date and time of exposure, the camera settings and the camera model. Photographs are then rated on a scale from 1 to 10 during the voting period. At the end of this stage, the photo with the highest average vote is declared the winner.
How Can It Help You?
Although at the present moment, the winners do not get a prize, DP Challenge offers a lot of good learning and improving opportunities for both beginners and professional photographers. Here you have the chance to:
compare your work against other people's
discover your strong and weak points as a photographer
learn how to improve your photography skills
see what people are looking for and what they like to see in a photograph
figure out what works and what doesn't in a photography contest
take part in forums
read and write tutorials
take part in community projects
get involved in team challenges
browse the photo gallery
find information about cameras, lenses and other photography equipment
Learn From Others' Experience
The site has a big gallery of quality photographs grouped in several categories to make navigation easy and pleasant. A good way of improving your skills is the section called How'd do they do that? Here you can read step by step tutorials in which the photographers take you through all the methods and techniques they used in creating their DP Challenge entry. All the tutorials are accompanied by relevant images and explanations. Examples:

Other Useful Tutorials