Interview with David Mejias - Commercial Photographer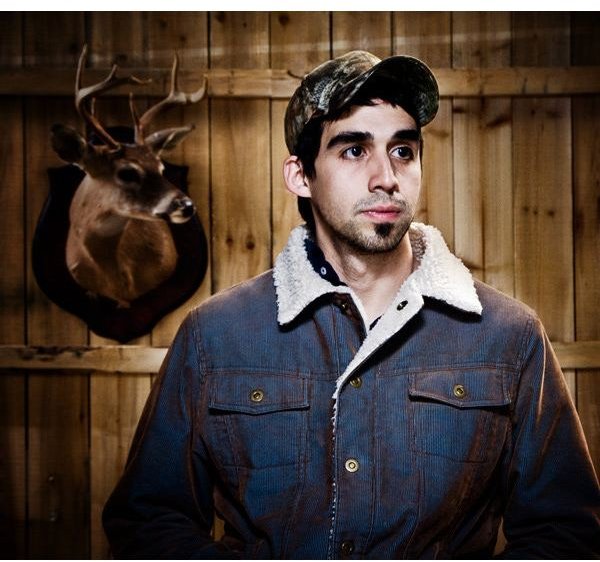 Getting to know commercial photographer, David Mejias
David Mejias was born in 1975, in Perth Amboy, New Jersey. For the trivia buffs, this is also the birth place of Jon Bon Jovi. His father from Puerto Rico and mother from the Dominican Republic, David grew up in a blue collar working class town. When he was 20, David moved to Spain, but returned to the USA a year later and has called Boulder, Colorado his home for the past 10 years. He went to Princeton University to study photography, film and public policy and tells me that he is a frequent but clumsy snowboarder and rock climber.
(Click on images to enlarge)
The Interview
Bright Hub (BH): You find a genie in a bottle who will grant you one wish. What would it be and why?
David Mejias (DM): I'd ask the genie to create five million new jobs in America with a million of those jobs reserved specifically for artists. I see a lot of people hurting for work out there, especially with the 500,000 Americans who were laid off last month due to the current economic challenges.
BH: When you aren't working, what could we find you doing?
DM: I'm an American, I'm always working! When I'm not working, I spend a lot of time reading and writing about my silly ideas on life and photography. I try to make time to snowboard and rock climb. I also spend a lot of time sitting around thinking of reasons why I'm single.
BH: When did you first become interested in photography?
DM: When I was around ten years old, my parents bought me a VHS video camera. Randomly I found the camera last week when I went to visit my parents for Thanksgiving. I would make short movies using rudimentary stop motion or still techniques. I dabbled for a few years with my brother's old Canon AE-1 too. Then in college, I had a roommate that was a fairly accomplished photographer. He suggested I take an intro photo course. From there, I continued to take classes in photography, film and video.
BH: You've already partially answered this question, but did you go to school or take any courses to become a photographer?
DM: I took an intro black and white class and an intro film color class in college. For a while I thought I'd focus on cinematography, so I took a few film and video courses too. My photography courses are where I learned to think about light. Emmet Gowin ran the photography department at Princeton University when I was an undergraduate – amazing photographer.
David Mejias on Commercial Photography
BH: Did you set out to become a commercial photographer, or did it just happen by chance?
DM: I started out doing editorial photography with an emphasis on portraiture. After freelancing for about three years, I landed my staff position at Crispin Porter + Bogusky. While there I continued to do some editorial work for the agency but focused mostly on studio and location commercial imagery. Commercial work is very different from editorial work. You usually have (slightly?) bigger budgets, input from a broad range of stakeholders – including art directors and client representatives - a crew of people that include producers, stylists, assistants, and digital techs, and more defined creative concepts.
I did not explicitly set out to become a commercial photographer, but I found that working with a team of people was very rewarding. Steering a big commercial job with hundreds of moving parts can be nuts. I always manage to have fun though.
BH: You worked for Crispin Porter + Bogusky for two and a half years. In that time, you had some big name clients, such as Nike, Geek Squad, Volkswagen and Burger King. Can you tell me what your typical day on the set consisted of?
DM: There were no typical days at Crispin. I was an über generalist photographer. I managed something like 500 shoot days during my time there. I tackled everything from car interior shots, to tabletop food images, to a two week location lifestyle shoot, to shooting panoramas of a national forest in Louisiana. It was nonstop shooting. I enjoyed my time there and learned a lot. It's hard to accumulate that kind of broad creative and technical experience when you are freelancing and managing 3 or 4 shoots a month.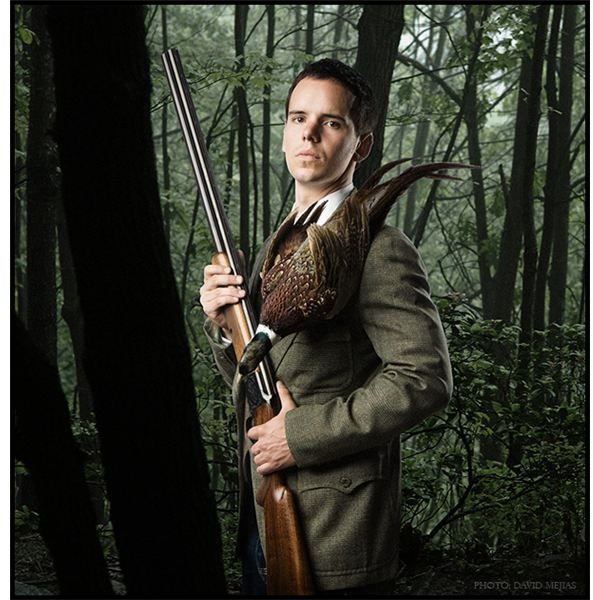 Please continue on to page 2 to learn what David Mejias has to say about the challenges of commercial photography, what he likes most about commercial photography and what advice he has for those who are thinking about entering the world of commercial photography. Also on page 2, we'll find out what camera equipment David uses and how important David feels camera equipment is to succeed as a professional photographer.
BH: What do you like the most about being a commercial photographer?
DM: I like the collaborative process. I also like the pay off. There's great satisfaction in seeing shots that were made possible by a team of passionate people working their butts off.
BH: What are the greatest challenges you've faced as a commercial photographer?
DM: I think the greatest challenges all professional photographers face is that there is a lot of uncertainty with our future as image makers. Pressures on creative and production fees, proposed changes to copyright laws, and a lot more "cheap" competition is changing the way we work. We're a smart bunch though. We'll continue to innovate and support each other.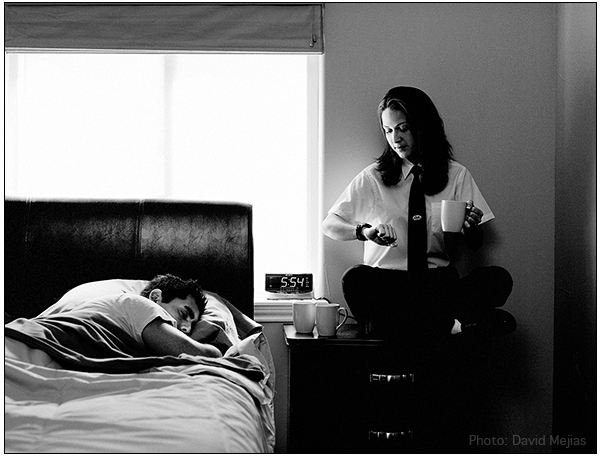 BH: You've recently left Crispin Porter + Bogusky to return to the world of freelance photography. What made you decide to do this?
DM: A little more freedom.
BH: What advice would you give to somebody thinking about entering the world of commercial photography?
DM: Find a good internship. Start assisting. Enter credible photography competitions. Value your work and charge fairly. Join a professional association of photographers like the American Society of Media Photographers or the Advertising Photographers of America.
David Mejias on Camera Equipment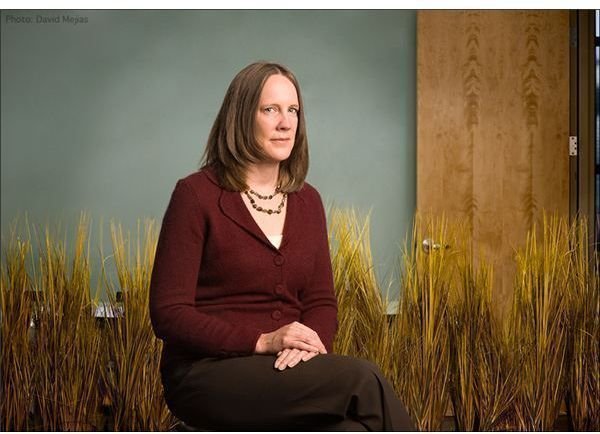 BH: What equipment do you use?
DM: I like to dabble with a broad range of gear, but I'm a big fan of Nikon and PhaseOne cameras. For lighting, I trust ProPhoto and Dyna-lite. Apple computer gear too.
BH: In your opinion, how important is the equipment? What I mean is, do you think somebody needs to spend a fortune on equipment to make it as a professional photographer, or could they succeed with a cheap point-and-shoot?
DM: I always tell aspiring photographers this story; I once shot an editorial job where I used both a $4000 camera and a $15 plastic film camera. The photo editor ran two pictures, one from each camera. I personally liked the image from the $15 camera a bit more.
You don't have to spend a fortune on gear when you are just starting out or even when you are established for that matter. You can always go out and rent whatever it is you need for a job.
On page 3 of this interview, we'll learn what David's goals and dreams are. We'll also discover what type of images David really loves to create, what he's proud of and how to contact David to see more of his work.
BH: Now that you're back to freelancing, what are your goals/dreams for the future?
DM: I really have to update my website and portfolio. I haven't touched either in almost three years! Pretty terrible.
Longer term, I want to stay true to my creative vision and make strong interesting work that continues to evolve with me. I'd also like to do more editorial shooting in addition to the commercial photography.
BH: Apart from commercial photography, what kind of photographs do you really love to create?
DM: I love to make images of people; photos that are a bit odd, fantastical, unguarded, slightly off and maybe even a bit melancholic.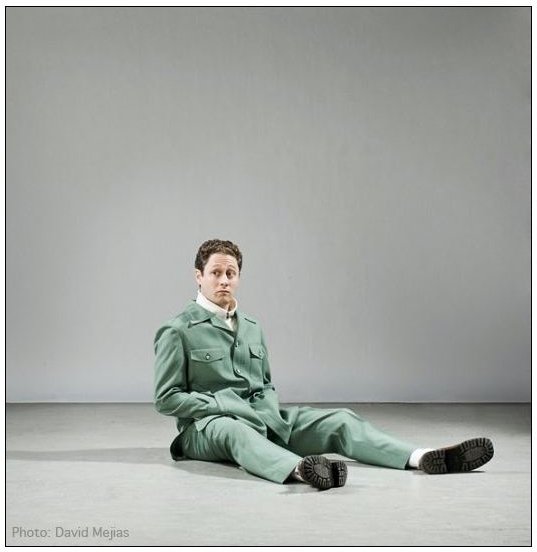 BH: Okay, now for bragging rights. What are some past awards or publications that you're proud of?
DM: Communication Arts Design Annual 2005 and 2008; the Clio Award – Bronze Innovative Advertising 2008; The Kelly Award – Spread Winner 2008 for Geek Squad; and Luerzers Archive, Showcase – Pearl Izumi, 2007.
My images have been published in Photo District News – "Calling The Shots," August 2007; Creativity Magazine, February 2008; The Denver Post, "Image Conscious," January 08, 2006; and in Colorado 24/7 Extraordinary Images from an Extraordinary State, 2003.
Contact Info
I want to thank David for taking the time to answer my questions and for enlightening us on the world of commercial photography. As David mentioned, his website and portfolio are long overdue for touch-ups, but if you want to check him out, please visit https://www.davidmejias.com/. You can easily contact David directly by visiting his Facebook page: David Mejias Photography or by email: [email protected].
Stay Tuned…
If you enjoyed reading this interview and want to see more like it, please stay tuned. In the next month, we'll be interviewing several professional photographers who specialize in various photography styles. We'll find out the advantages and challenges of these specific areas of photography, and also get helpful advice from these professional photographers.