Top 3 Camera Bags for the Urban Photographer - Camera Backpack Reviews of Lowepro, Tamrac and Kata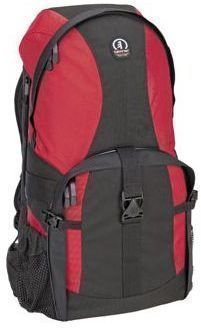 Tamrac Adventure Series
With thirty years behind them, Tamrac have mastered the concept of organized, functional camera bags. Like many of their products, their Adventure Series uses red flags in the pockets to help you tell fresh batteries and memory cards apart from used ones. Additional gear, like a rain jacket and subway reading material are stored separately in the main compartment, which sits above your camera gear. A zipper separates the main compartment from the camera compartment, and you access your camera by opening the bag like a clamshell.
Tamrac Adventure Series bags are available in 4 sizes, and the largest will hold a DSLR with a lens, plus up to 4 additional lenses. A rain flap covers the zipper, but there is no rain cover, so you might want to keep this in mind if you live in a rainy climate. You can strap a tripod to the bottom of the bag with Tamrac's accessory straps (sold separately), but if your sideways-mounted tripod pokes people from the sides of the bag, you may be the least popular person on the morning subway. Tamrac Adventure Series bags are available through Amazon for $75.95 to $189.95. As a tradeoff, Tamrac's Expedition Series bags include vertical tripod straps on the front and have lots of room, but your camera gear will live side by side with everything else you carry.
Kata 3N1 Series
Kata designed their 3N1 Series bags as a unique, adaptable option. A cleverly designed strap and buckle system allows you to wear your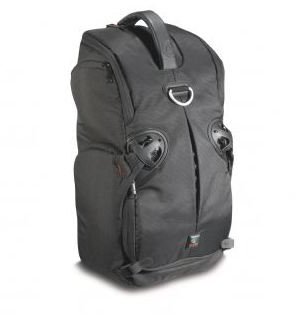 bag as either a backpack or a sling bag. Many people will appreciate the quick-shooting convenience of the sling feature, and the comfort of the backpack carry for longer treks. Zippers on both sides of the camera compartment allow you to easily get to your camera with either hand when using the sling option. If you travel frequently, you can slip the bag over Kata's Insertrolley (available separately) and tote it as wheeled luggage. The main compartment will keep your other belongings separate from your camera gear, and the bag includes a full rain cover to keep everything dry.
The Kata 3N1 bags are available in 3 sizes, and the largest has room for a DSLR with lens, plus up to 6 additional lenses. Other nice features include a mp3 player pocket and a subtle design that doesn't alert everyone on the street to the potentially thousands of dollars of gear inside. Kata 3N1 bags are available from Amazon for $79.90 to $124.90. For all their merits, though, the 3N1 bags have no laptop compartment or any way to carry a tripod. The Kata DR-46x bags don't have the unique carrying configuration options of the 3N1 series, but the larger sizes do feature laptop sleeves and side pockets for monopods.
LowePro CompuRover AW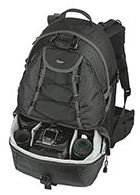 Perhaps the best-equipped bag for the urban photographer is the LowePro CompuRover AW. The CopuRover AW costs about twice as much as the other bags reviewed here, but if you're looking at buying two inexpensive bags to meet all your needs, the CompuRover AW may be worth the investment.
The LowePro safely stores a DSLR and attached lenses, and 2-4 additional lenses, in a padded bottom compartment, with a top compartment for your other essentials. You can slip up to a 17" laptop in the laptop sleeve in the back of the bag, and attach a tripod to the front. The tripod is secured with a shock cord, so you can fit additional clothing or rain gear under the cord if you stuffed the main compartment with a big lunch or other items. When rain clouds start forming, pull out the included rain cover and keep your belongings safe and dry. Perhaps one of the nicest features is the thickly padded hip belt. It will keep you comfortable during a long day with a fully loaded bag, but it's also removable if you want to avoid walking around town looking like a trekking tourist. The LowePro CompuRover AW is available from Amazon for $189.95.
Conclusion
Finding a camera bag that will allow you to simultaneously pursue your passion for photography and carry your everyday necessities is challenging. Generally, you have to make sacrifices for one or the other. Camera bags are usually designed to carry camera gear and little else. The bags reviewed here were chosen because they strike a balance between the duelling needs of photography enthusiasts who commute to work and want to regularly practice their craft.
Of course, choosing the right camera bag for your needs is an entirely personal choice, and nothing beats personally inspecting these bags at a local camera shop. Even if a bag has more bells and whistles than you ever knew were possible, those great features won't do much good if the bag fits you so poorly that you never use it.
This post is part of the series: Camera Bags Built for Multi-Tasking
Most camera bags carry only your camera gear. The problem is, many photographers like to shoot while doing something else, and need to carry more. In this buying guide, we'll review three camera backpacks and focus on how they meet the needs of people juggling photography with their daily life.