Corel AfterShot Pro: In-Depth Review & Image Gallery of Software Features and Tools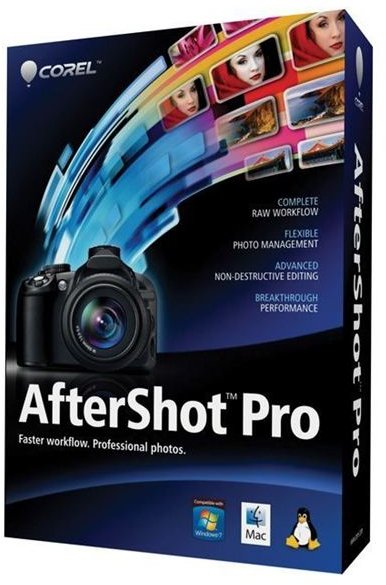 AfterShot Pro - What's That?
AfterShot Pro is the latest addition to Corel's line of digital photography software products – a line that sports other familiar names, such as PaintShop Pro and PhotoImpact. The first thing you may be wondering is, "What makes AfterShot Pro different from Corel's other offerings?" At least, that was the first thing that went through my mind when I initially heard about the new software. The answer, it turns out, is quite a lot.
To begin with, AfterShot Pro was designed with professionals and enthusiasts in mind. This doesn't mean that the casual user or hobbyist won't be able to get a lot of use out of the software. However, it does mean that serious thought was put into trying to figure out what tools and processes photographers need to do their jobs better and more efficiently.
So, what does AfterShot Pro do? Basically, it's a complete workflow management solution that includes organization and management capabilities, correction and selective editing tools, and various integrated options for storing and sharing your final productions. We'll talk more in-depth about each of these areas as we continue our review.
Stages of the Workflow Process
The documentation for AfterShot Pro talks a lot about workflow management, but before we jump into discussing how well it actual performs in that area, let's stop for a moment and briefly think about what types of functions fall under that umbrella.
For most photographers, the workflow process refers to everything you need to do to your photos to take them from the RAW image to the final product – or, in other words, everything between shooting the photos and printing them out to stick in a frame (or saving and uploading to a web site).
Although this process can vary from person to person and from job to job, it generally can be broken down into three categories of functions:
Image organization and management.
Editing – This category includes simple tweaking as well as more detailed editing work.
Saving and/or exporting to appropriate format(s).
Now, let's take these categories, one by one, and see how they're represented in AfterShot Pro.
Asset Management
One of the things I absolutely love about AfterShot Pro is the image organization and management system. Not only is it versatile and comprehensive, but it's extremely fast. In the past, I've always turned to stand-alone apps to use for cataloging my image collection – because even if a more full-featured program had these types of organizational tools built in, they were slow and somewhat clunky. But, I can easily see AfterShot Pro replacing these other applications.
The intuitive browsing and search tools allow you to adjust the size of thumbnails, easily switch between viewing options, filter by keywords as well as camera settings and other metadata, and easily create multiple catalogs to categorize your images.
Even more, you don't have to create a catalog in order to have fast and easy access to your photos. You can browse by file directory – there's no need to import images into the management system unless you absolutely want to do so. This is particularly nice if you just want to take a look at some photos on a media card or USB drive.
Editing Capabilities
A wide array of non-destructive editing tools is available in AfterShot Pro – whether you prefer to work with JPGs or in RAW format. All are easily accessible either through traditional toolbar drop-downs, collapsible side panels or keyboard shortcuts. I particularly like the tabbed side panel setup that allows you to quickly navigate from one type of editing features to another.
You can even pin your most-used tools for a particular project to the panel associated with the first tab so you don't have to keep hopping around from one tab to another. Just as easily, you can unpin a tool from this tab if your next project doesn't require it.
Here's a quick run-down of some of the types of advanced editing functions available.
Crop, straighten, rotate and sharpen capabilities
Exposure and lens correction
Noise reduction
Color and tone modifications
Fill light
Healing and cloning
AfterShot Pro also supports layers and selective editing – we'll take a closer look at that in the next section.
Selective Editing
If you're used to other editing programs, it may take a little bit to become comfortable with the way AfterShot Pro handles layers. To access this feature, click on the Open Layer Manager icon found in the upper right area of the main toolbar. From here, you can choose a selection tool (circle, polygon, brush, etc.), pick the type of layer you'd like to create (adjustment or cloning), and then make your selection. Once the selection is made, you can then make modifications to that area and choose how you want it to blend and feather with the non-selected area.
Again, I'm used to working with PaintShop Pro, so this method of making selections and managing layers didn't seem very intuitive at first. But, after working with it for a while, I found I quite liked it – and it's much more robust than I thought it would be.
Multiple Edits
When talking about making multiple edits, there are really two distinct workflows that come to mind. The first involves taking one photo and editing it in several different ways, and then comparing all the results to find the one you like best. The other relates to applying the same collection of adjustments to multiple photos in a collection.
For the first task, AfterShot Pro offers a Multi-Image View that allows you to select up to six images and see them all in the main viewing area. Within this view, you can select individual photos and apply additional edits – or get more specific information about what was done in the photo from the side panels or layer manager.
Additionally, you can create multiple versions of a file from a single master image and stack those versions so that only the original thumbnail shows when viewing the entire collection containing that photo. At any time, you can select that thumbnail and unstack the photos in order to view the individual members of that set.
AfterShot Pro also makes it extremely easy to apply the same set of edits to multiple photographs. All you have to do is go to the Thumbnail View, copy the images settings from one photo and then apply them to others. You don't have to copy all of the settings either. Instead, you have the option to only copy selected settings. If you choose this latter option, a pop-up dialog box will appear, allowing you to put a check in the box next to all of the new settings you wish to copy.
Output Options
Now, choosing how to save or export your final results may not be the most exciting part of the workflow process, but it is arguably one of the most important parts. To be honest, this is the part of the project that I usually dread because it's generally boring and time-consuming.
AfterShot Pro does help make this process much less tedious by offering batch processing capabilities and the ability to create multiple presets that can be applied to these batches. Of course, you still have the option to save individual files, one by one, but you'll have to choose your settings each time. To be honest, even if you only want to save one image, it's probably quicker to do it as a "batch" and just choose your preferred preset.
Speed and Performance
While I really do like all of the features and the intuitive interface of AfterShot Pro, what really sold me is how fast and efficient the software is. Even when working with RAW files, every edit seemed to be applied instantaneously – no waiting, no hourglass, no thermometer bar measuring percent completion. Performance may vary based on your particular system specifications, but I can most definitely say that AfterShot Pro is by far the fastest RAW processing application I have ever used.
The most time-consuming task I performed was creating a new catalog, and even that went much, much faster in AfterShot Pro than in other applications I have used in the past. For instance, I created one new catalog to import about 1,000 images (around 1 GB in size). After starting the import, I sat back and expected it to take anywhere between five and ten minutes to complete, but the whole process was over in two minutes. I'm still not a big fan of using catalogs that often, but at least they're not a pain in the neck to create any more.
Supported File Types & System Requirements
In addition to JPG and TIF formats, AfterShot Pro also supports most common RAW files, including ARW, CR2, CRW, DCR, DNG, MRW, NEF, NRW, ORF, PEF, RAW, RW2, RWL and SR2. For a complete list of supported cameras, check out the Tech Specs sheet on the Corel website.
Another nice feature about this software package – it's multi-platform with Windows, Mac and Linux versions. All versions require 2 GB RAM, 250 MB hard drive space and a minimum screen resolution of 1024 x 600. Additionally, all Intel Macs are supported, while Windows and Linux users will need a Pentium 4 or later (or AMD Athlon 64 or later) processor.
For this review, I've only tested the Windows 7 version. If anyone has tried out AfterShot Pro on a Mac or Linux system – or on Windows XP or Vista – please leave a note in the Comments section! I'd love to hear how the software runs on your machine.
Pricing & Overall Recommendation
The suggested retail price of $99.99 for AfterShot Pro is an excellent value, but you may be able to get it even cheaper. Even though this is the initial release of the product, Corel is offering an upgrade version of the software for $79.99 for people who own a previously licensed version of PaintShop Pro X2 or higher, Bibble Pro or Lite 5, Adobe Aperture or Adobe Lightroom.
I recommend AfterShot Pro without reservation, but I do still suggest trying it out before you buy to make sure it has all the features you need. You can download a free, fully-functional trial from the Corel website.
To be completely honest, I'm actually a little surprised by how impressed I am with AfterShot Pro. It's no secret that I love Corel products, but I generally appreciate them more for their creative editing capabilities rather than the technical editing ones. Also, I don't work with RAW images that often – but part of the reason for that is due to their large size and tendency to clog up other editing programs. However, because AfterShot Pro handles RAW files so well, I've really gained a new appreciation for working with them over the last week so I'll probably try to step up my game in that area now.
Considering the speed, performance, and wide array of management and editing tools in AfterShot Pro, you sure can't beat the price. But, definitely do try it out yourself first – and please share your experiences with us!
References