Iconic Photographers of the 1960s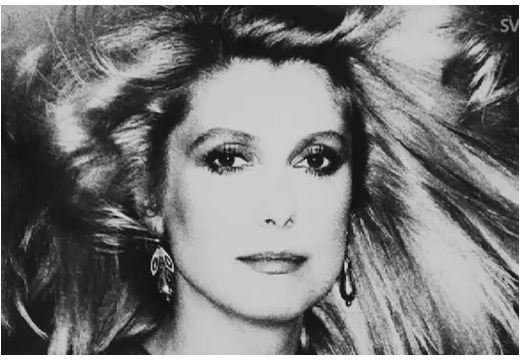 David Bailey
David Bailey was born in the East End of London in 1938. Throughout his youth, he worked in many jobs including shoe salesman, window dresser and carpet salesman. Bailey thought that the answer to escaping the East End was perhaps to become a musician. He has stated "I bought a trumpet and prayed to Chet Baker."
It was not until 1956 when he was posted to Singapore with the British Royal Air Force that Bailey really connected with photography and became interested in how photographs were made. Bailey admired the work of Henri Cartier Bresson and started to devour the images in Life Magazine and American Photo Journals around at that time. After leaving the Air Force in 1958, Bailey went on to get a job with David Olin who supplied photographs for Queen Magazine and worked as an assistant to fashion photographer John French.
At just 22 years old in 1960, Bailey was taking photographs for Vogue, quickly shooting to fame as a photographer. He was sought out by bands such as The Beatles, The Rolling Stones and The Who to take images that pushed the boundaries of rock and roll photography. The swinging sixties meant that photographers of the rock and roll musicians, models and celebrities of the time were in high demand and Bailey himself quickly became a celebrity in his own right. While Baron Wolman was making his name with pictures for "Rolling Stone Magazine" in America, David Bailey was making his name in "Queen" and "British Vogue" magazines.
Bailey's friendship with Mick Jagger began at this time and he created many of the iconic images that are associated with the Rolling Stones. Bailey went to the shows when the Rolling Stones first began, these shows would be tiny halls with poor equipment but they were quickly becoming the outrageous stars of the era. The first image in David Bailey's Rock and Roll Heroes is of Mick Jagger in 1964 with long hair trailing over his collar, which caused such an outrage at the time. Bailey followed the Stones throughout the 60s and created many iconic and stylist challenging images that reflected the times.
David Bailey still works in photography from his studio on Gray's Inn Road in London. Recently he has photographed the last bullfighters and has been doing charity work in Afghanistan.
Terence Donovan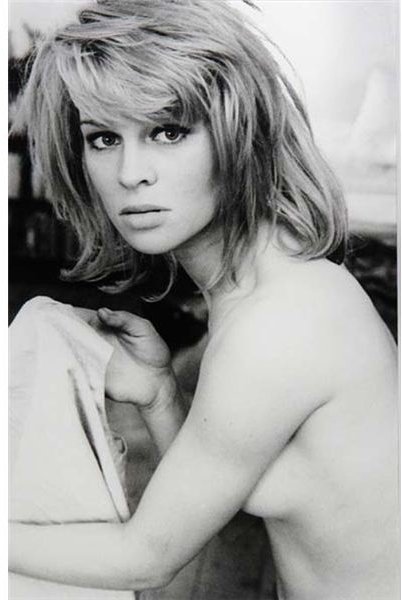 Born in 1936, Terence Donovan also came from the East end of London and had much in common with David Bailey in his upbringing. Donovan went to a secondary modern school and on leaving joined London School of Engraving and Lithography. By the age of 15, Donovan had discovered photography and, like Bailey, worked as an assistant to John French to learn everything he could about photography. While Bailey's style has a slick, polished quality, Donovan chose to use a more gritty realistic style of portraiture for his images. Diane Arbus had begun to push the boundaries of documentary photography with her images of people on the edges of society, and Donovan was pushing the boundaries of fashion photography.
Donovan started taking pictures for "Queen" and "Town" magazines, both publications that wanted to capture the times in a more contemporary way. Donovan photographed models in gasworks, lying on benches in rundown parts of town and walking through the London Streets. Donovan's portraits of the famous were shot in studios as well as with the backdrops of their homes or work location. The images captured something more of the person than just a simple publicity shot. This image of Julie Christie epitomizes his style with Christie looking as if she had been caught unawares by the photographer as she changes. The naturalistic feel gives his stars a personality beyond their public personas.
Donovan also shot photographic essays in documentary style such as "The Lay about Life," which is comprised of images from an ordinary kitchen in Notting Hill Gate with people smoking and eating breakfast round a cramped table, a payphone and Graffiti from the area. This documentary street style of shooting photographs has become the norm in glossy magazines but in the 1960s, this was a new way to shoot fashion. It reflected a move away from an elitist world where style was for the rich. The youth market exploded in the 1960s after the post-war baby boom and the need for photographs that spoke to this new market were in high demand.
Terence Donovan kept working in photography until his death in 1996, photographing royalty such as Princess Diana and stars such as Jimi Hendrix. Donovan committed suicide by hanging after a severe reaction to medication.
Lewis Morely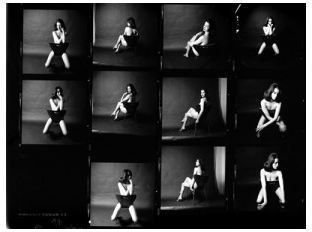 Lewis Morely was born in 1925 in Hong Kong. His father was of English descent and his mother Chinese. Between 1941 and 1945, Morely was interned at a Japanese prisoner of war camp after the occupation. After the war, Morely and his family moved to the United Kingdom and Morely studied at Twickenham Art School followed by a stint in Paris in the early 1950s as a painter. Morely's first images were published in 1957 and by 1961, Morely's photography studio had been established at Peter Cook's London Club. Morely shot images for "Private Eye," "Go" and "Tattler" and began establishing his reputation. Peter Cook's club attracted the famous and rich and therefore was a perfect setting for Morely who could photograph famous faces that wanted to be seen. Morely photographed models, actors and stars such as Michael Caine, Charlotte Rampling, Twiggy and in 1967 took his most memorable image of Christine Keeler naked on a chair.
The Profumo Affair is one of the most famous scandals in British politics. The scandal surrounded John Profumo who was Secretary of State for War at the time. Profumo was a conservative who was married to Valerie Hobson a film actress, he socialized in high society circles and at Lord Astor's country manor, he met Christine Keeler, a showgirl from London. Profumo began a brief and passionate affair with Keeler and rumors started to spread, leading to questions in the House of Commons where he denied any wrongdoing with Keeler. His lie to the House of Commons led to the exposure of the affair and his resignation from his government post. The image of Christine Keeler came about as a planned film was intended to be made about the scandal and Christine Keeler was asked to do a publicity shoot with Morely. The film producers wanted Keeler to be nude in the photograph but as Keeler was reluctant, the chair was used as a prop in order to fulfill her contract but essentially enable her to stay covered up. The Keeler photographs were leaked to the press and Morely's fame rose, with everyone wanting to be photographed by the man who had posed Christine Keeler. Morely went on to photograph Joe Orton was also considered outrageous at the time for his openly gay plays and lifestyle.
Lewis Morely emigrated to Australia in 1971 with his wife and child and officially retired in 1987 although he has been involved in several retrospectives of his work.
References
Image One: Catherine Deneuve by David Bailey from YouTube by MowgliX CC
Image Two: Julie Christie by Terence Donovan CC The Old Photo Album
David Bailey's Rock and Roll Heroes, Text by Neil Spencer, Thames and Hudson, London 1997
Image Three: Christine Keeler Contact Sheet by Lewis Morely CC Gemfish at Wordpress