Francesca Woodman: Performance & Identity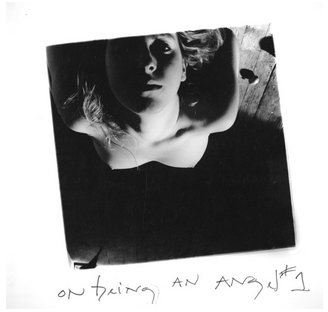 A Visiting Angel
Francesca Woodman was born in 1958 in Denver, Colorado and took her first photographic self-portrait aged thirteen. Woodman lived and worked in New York and studied at the Rhode Island School of Design between 1975 and 1979. During Woodman's time studying she also spent a year in Rome where she created a large body of work that was exhibited in a bookshop that specialized in Futurism and Surrealism. Woodman was a photographer who used performance, surrealism and self-portraiture throughout her body of work of around 800 images. Woodman ended her life in January 1981 by throwing herself of a building after a long period of depression. Woodman's work preceded the work of artists such as Cindy Sherman, Hannah Wilke and Nan Goldin; artists who all used their own bodies and performance in their photographs. Most of Woodman's work has been exhibited post-humously all over the world in galleries such as: The Photographer's Galley in London, The Museum of Modern Art; The Detroit Institute, The Metropolitan Museum of Art, The Guggenheim and Kunsthall in Rotterdam. Woodman's work has also been the focus of critical study in the United States and America.
Photography and Representation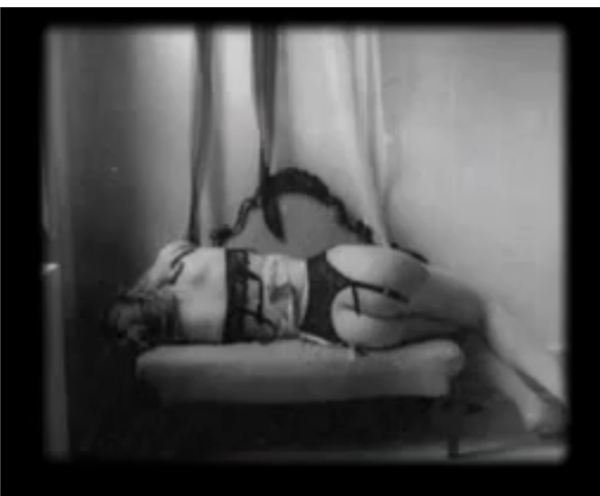 Woodman's photographs were often devoid of specificity of place or time. Woodman may be dressed in vintage clothing or not dressed at all and the spaces in the photographs are often bare, ruined or sparsely furnished. The images almost always include Woodman and her obsessive self-portraiture led to a body of work that was thematically linked by her struggle with her own identity. How Woodman placed herself in the images; blurred, her face covered or with her back to the camera, using masks or literally being devoured by the space – Woodman is always hiding yet by using the camera she is exposing herself. Woodman's images are never (or never appear to be) spontaneous, every image is staged and controlled. Sean O'Hagen wrote in "The Observer" in 2010 that Woodman was; "playing with themes of identity and with the role that photography, and in particular portrait photography, can play in constructing a fixed – and therefore false – identity." All the images that Woodman took were a kind of performance and the camera in the image, although it cannot be physically seen, always has its presence felt. A good example of this is from the series "Three Kinds of Melon in Four Kinds of Light"; in these images one of the melons is real, one is an image of a melon and one is Woodman's breast. The camera's presence is made palpable by the inclusion of the image within the image and by the very intimate nature of the image. There is an intrusion upon Woodman's body and the melons that have their innards pulled out and dripping so that they seem more obscene. By looking at this image the viewer is made to collude with the camera itself – seeing something that feels like it should be hidden
Feminism and Femininity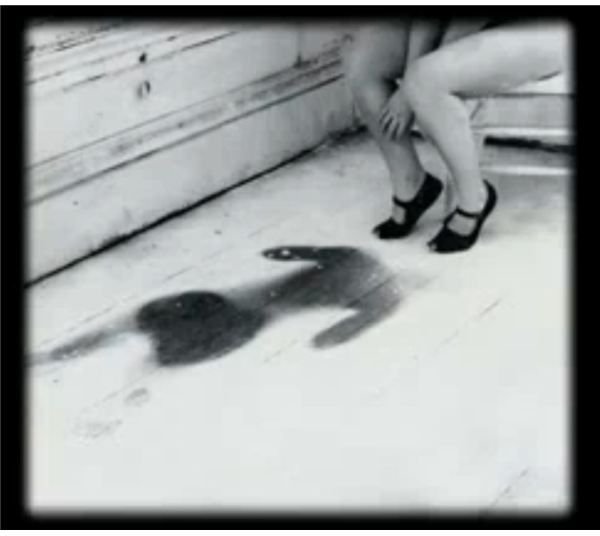 As Francesca Woodman photographed herself as a woman artist and the images dealt with themes of femininity, critical commentary on the concept of women in the image cannot be overlooked. When Woodman photographed herself lying on a chaise longue, back to the camera and dressed in suspender belts, she is commenting on the gaze. In this image above her stockings hang from the wall above her like ghostly apparitions; if there was just one pair of stockings and she was wearing only one suspender belt the image would be a far more usual image of woman. The fact that Woodman plays with the idea of the feminine by dressing in many suspender belts and too many stockings hanging above her shows that she wanted to jar the senses of the viewer. In the many belts she is trapped in the iconography of womanhood. Abigail Solomon-Godeau writes in her essay "Just Like a Woman" that; "Woodman links the psychic objectification she deliberately and literally enacts (self becoming other) with specular objectification (human being becoming image) inherent in photographic representations. Further, in furnishing her image-self, or its surrogate, with the paraphernalia of fetishism (garter belts, boas, stockings, shells, eels, calla lilies, and so forth) Woodman constructs a metonymic chain that ultimately terminates in the images feminine body." Woodman did not ever claim to be politically inclined towards a feminist agenda but her images open up questions in regard to the gaze, the spectator/subject and discussions on fetishism and objectification of the body, particularly a woman's body in the image.
Francesca Woodman in her short life created a body of work that still stands out today as worthy of contemplation. The way that Woodman worked showed an understanding of how photography operated and how performance and the self-portrait could be utilized to explore themes of identity, the gaze and otherness in the image.
References
O'Hagen, Sean, The Observer, Francesca Woodman – Review, 21st November 2010.
Victoria Miro: Artists: Francesca Woodman
Solomon-Godeau, Abigail, Photography in the Dock, University of Minnesota Press, Minneapolis, 1991
Image Credits
Image One: Francesca Woodman On Being an Angel 1975-1978, Screenshot from the Victoria Miro Gallery Online
Image Two: Francesca Woodman, Untitled, New York 1979-80, Screenshot from YouTube Masters of Photography Francesca Woodman (1958-1981)
Image Three: Francesca Woodman Screenshot from YouTube Masters of Photography Francesca Woodman (1958-1981)