Quick Photoshop Express Tutorial: Improve Your Photos in a Snap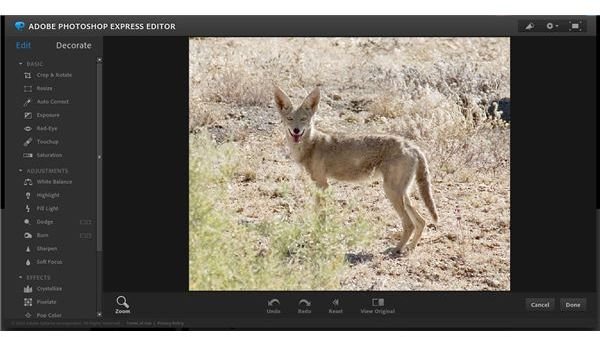 Cloud Photo Editing
Adobe hosts the Photoshop Express app on its website, making image editing online effortless. As of this time, the online program doesn't work on the iPhone, but it is useful because, just as any cloud-based platform, you can access the program from anywhere as long as you have an internet connection. While it doesn't offer the options of professional Photoshop CS programs, it does offer a quick fix to images that you have online.
One caveat of the program is that you can only get your photos from a computer or from ones you've uploaded to Photoshop.com. However you can still tweak the photos you have online, say, at Flickr or Picasa, by downloading them to the computer you are using and then uploading to Photoshop Express.
Accessing Photoshop Express
To access the site, navigate to Photoshop.com>Online Tools>Photoshop Express Editor, then upload an image file when you're prompted.
The tools are divided into "Edit" and "Decorate," the former being the most impressive for an online photo editing platform.
You can upload JPEG images up to 16 MB, which is more than ample for any need from a quick edit of a photo before posting on a social networking site, or a full-size photo that needs editing for a microstock site.
Editing Tools
The editing tools include a host of options that work by clicking the image you want from a series of icons at the top of the window or, in with some options, by clicking and dragging a slider below it to tweak a photo.
Three groups of tools—Basic, Adjustments and Effects– offer selections of tools, many of them similar to Photoshop and Photshop Elements.
No options exist for Layers, but you can return to your original image momentarily by clicking and holding the "View Original" icon, and you can go forward and back steps with the "Undo" and "Redo" icons. Use "Reset" to return to your original image, erasing all the changes you have made. These four icons are located under your displayed image.
The Basic tools are simple if you're a regular Photoshop user. If you're not, here's the skinny on each:
Crop & Rotate turns your cursor into a double arrow, which allows you to hone in a part of the image when you move the cursor on one of the corners, or rotate the image when you move the cursor above a corner. When you're done, hit another option to complete the crop.
For the options Auto Correct, Exposure, and Saturation you have one of a choice of images, which you click on to see a preview of the tweak. If you don't like it, click on another.
Finally, for Touchup you use a green and red circle to move sample parts to a different area of your image.
The next batch of tools, except the Dodge and Burn tools, work by giving you a choice of tweaked images at the top of the Photoshop Express window. Highlight enhances the outlines of your image. Fill light lightens the colors of your photo, actually changing them so that dark areas show up, but at the expense of diminished contrast. The Dodge tool lightens areas of your photo with a brush from which you can choose different sizes. The Burn tool darkens areas in the same way the Dodge tool lightens. The Sharpen and Soft Focus tools do what their name indicates, but not all that well. Make all of these changes sparingly.
The slider on the left side of the window zooms your image up to 800 percent resolution is useful for the fine tweaks you want to make.
The remainder of the program in the "Effects" category offers:
Crystalize
Pixelate
Pop Color
Hue
Black and White
Tint
Sketch
Distort
Each works by giving you a choice of tweaked images at the top of the window except for "Distort." That option gives you five options, or ways you can distort your image. After you click on one of them, you click and drag the circle where you want it on the image and the image distorts.
Saving Your Tweaked Image
When you're finished, you click "Done" and another screen will come up, offering you to Save your photo at about the same resolution that you uploaded it at and automatically Share at Photoshop.com, Facebook, Picasa, Flickr and Photobucket.
Just the Beginning
PhotoshopExpress.com is one of a few online editors. This type of photo editing is in its nascent stages. As the Internet advances, so too, will this and other programs. It's only a matter of time until the entire version of Photoshop will be accessable online. This is just the beginning of photography in the "cloud."
References
Photo credit: Screenshot and image in it by author
Author's own experience