Sophie Calle Images: Making Life into Art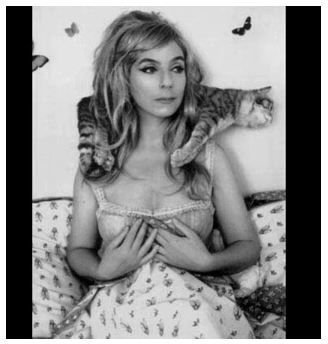 A Short Biography
Sophie Calle is a photographer and artist who uses herself in her work, making stories and images. Calle's work encompasses many mediums; film, photography, books, audio CDs, and performance. Sophie Calle was born on 9th October 1953 in Paris. By the 1970s Calle had already started to work as an artist after she had travelled the world for seven years. Sophie Calle's first photographs on her return to Paris were two graves simply engraved with the words "Mother" and "Father." Her first work was a performative, photographic piece called "The Sleepers" (1979). In this piece Calle allowed people to sleep in her bed for a few hours in return for letting her photograph them. In "M'AS-TU VUE" (Can You See Me?) Calle writes; "28 Sleepers succeeded one another. A few of them crossed each other. Breakfast, lunch, or dinner were served to each depending on the time of day. Clean bed sheets were placed at the disposition of each sleeper." During 1978 to 1979 Calle was also following strangers in the Paris streets "just for the pleasure of following them"; she photographed the people and this became a work entitled "Paris Shadows." Following this work Sophie Calle's images took this idea a little further and followed a man all the way to Venice. This work subsequently became "Suite venitienne" which comprised of a diary of events whilst she followed the man accompanied by photographs. This way of working with text and image, personal recollection, diaries and objects have come to characterize Calle's work throughout her life. As a female photographer and artist Calle's images reflect a woman's perspective on the world. Personal stories like "Exquisite Pain" from 1984 use images and the story of a love affair that ended in a Japanese hotel room. These images are juxtaposed with stories of unhappiness from other people over ninety days. Sophie Calle has created many books throughout over her forty year career including "Take Care of Yourself", "Double Game" and "Appointment with Sigmund Freud." Calle still creates work today and is a professor at the European Graduate School in Switzerland. In 2010 Sophie Calle won the Hasselblad Photography Award.
Narrative & Personal Mythology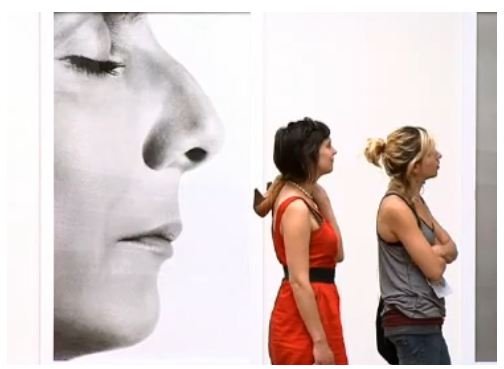 Alfred Pacquement writes in the preface to "M'AS-TU Vue" that "narrative and "personal mythologies" were just two of the various themes that hallmarked the art of the 1970s, and beyond. Sophie Calle has taken two things further, however, by stage-directing herself through words and photographic imagery. Sophie Calle aims at truly experiencing her subject matter even if this means turning personal relationships into artwork as with "Exquisite Pain" and "No Sex Last Night." Calle creates personal mythologies not just through making life into art but also by placing herself in unusual situations where she can make a job into art. In "The Striptease" Calle does not just photograph strippers, she becomes a stripper and has herself photographed. In "The Hotel" she works as a chambermaid so she can photograph people's belonging and write about them through the objects that they leave in their room. Calle has also is willing to live a week eating foods of only one color each day in "The Chromatic Diet." Calle lives her work and her work makes her who she; constantly blurring the lines between fact and fiction. Calle's narratives can be personal, detached, informed by others but always directed and controlled by the artist.
Sophie Calle & Photography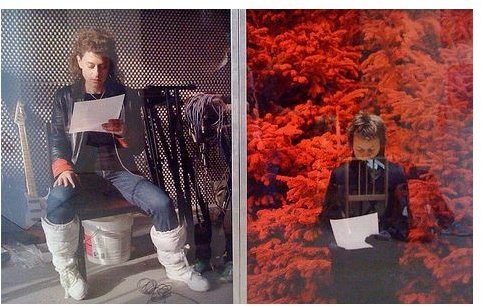 When Sophie Calle began her career as a photographer and artist she was told she should pick something else. Other photographers have been scathing of her work in the past stating that her images; "were only of middling quality and needed help from the text." The problem with Calle in relation to other photographers is that she uses the photograph to document, to prove that she has done something that appears in her books. The photograph's first intention is not to be beautiful or technically brilliant but to record. Using the camera to document is obviously photography's primary function but to call it art is what other photographers' object to. How Calle's work functions is with the right editing between text and image and the right balance of proof and explanation. The aesthetics of Sophie Calle images are not of primary importance. The photographs that she has taken throughout her career have a quality and style that can be called Calle's own. Her use of the camera in her work has been carefully thought out and planned. Using photography, performance, text and image to create a whole is what is important in Calle's work. The joy of her work is that as a viewer you are the detective; examining the documents, checking the crime scene for objects, clues and meaning. Looking for motive in the writing and bringing the whole piece together through deduction. Calle creates beautiful pieces that fit together perfectly and this is why, as a viewer, you want to keep coming back to this work.
References
The Guardian: Sophie Calle: "I asked for the moon and I got it!"
Calle S, M'AS-TU VUE, Prestel, London, 2003
Calle S, Appointment with Sigmund Freud, Thames & Hudson, London, 2005
Calle S, Take Care of Yourself, Actes Sud, France, 2007
Calle S, Exquisite Pain, Thames & Hudson, London, 2004
Calle S, Double Game, Violette Limited, London, 2007
Image Credits
Image One: Screenshot from YouTube Sophie Calle: Double Game
Image Two: Screenshot from YouTube Marc Didden Over Sophie Calle
Image Three: Peaches & Laurie Anderson help Sophie Calle interpret this email CC by Flickr