Portrait Lighting Diagrams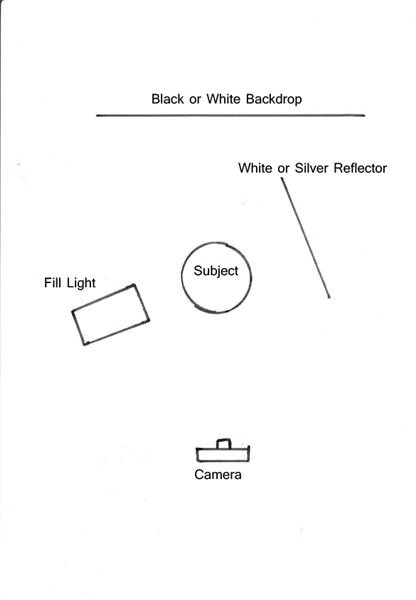 Advantages of the portrait lighting diagram
Before setting up your lighting in a studio setting it is advisable to work out how you are going to light your subject using a portrait lighting diagram. These diagrams can be immensely helpful to you and your staff or assistants in the studio setting. The diagram will tell you exactly what equipment you will need and where it should be placed. This will save you a lot of time and energy when you come into your studio to work and will ensure that everyone knows what they are doing. Portrait lighting diagrams can be drawn by hand or can be created with programs that are free to download. If you are not keen on drawing then this is a much quicker way to create your lighting diagram.
Basic low key lighting diagram
This first portrait lighting diagram is an example of a basic low key lighting set up for a portrait that is easy to create even if you do not have the use of a large studio. The shot that should result from this kind of set up will give you strong contrasts between light and dark. As you are only using one light; the lighting range is narrow so placing your subject at exactly the right angle to get the best shot is essential. The reflector will help to spread the light a little more and reflect light back to your subject. It is important to remember by using one fill light against one side of the face will highlight flaws in the skin more than a high key set up which surrounds the subject with light. If the lighting is too harsh on just the face pull back and take a shot that includes more or all of the subject's body. This kind of set up is not recommended for working with children as the range is too narrow and children are prone to moving around. This set up is great for producing atmospheric moody shots that will really stand out.
Basic high key lighting diagram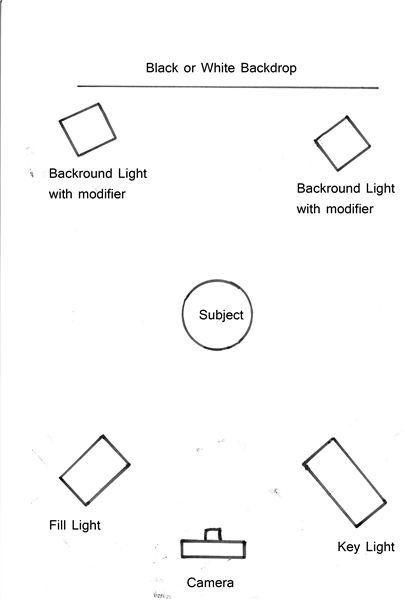 This second portrait lighting diagram is an example of the basic high key set up you can use in the studio. This example portrait diagram will give you a wide lighting range that can be used if you want a strong well-lit portrait that lights your subject equally on all sides. The two background lights, key light and fill light can all be used with modifiers such as an umbrella or a soft box. By modifying the light you can set the situation up as you wish. Using a light meter you can ensure that the lighting is not too harsh or too dim and you should be able to measure exactly the right F-stops that you will be using on your digital camera. An important point to remember; when setting up the studio the backdrop will affect the amount of light that hits your subject. Black backdrops will absorb the light and a white backdrop will reflect it. When creating your high key portrait lighting diagram it is worth including what modifiers you intend to use so that you are fully prepared for your shoot.
Using portrait diagrams online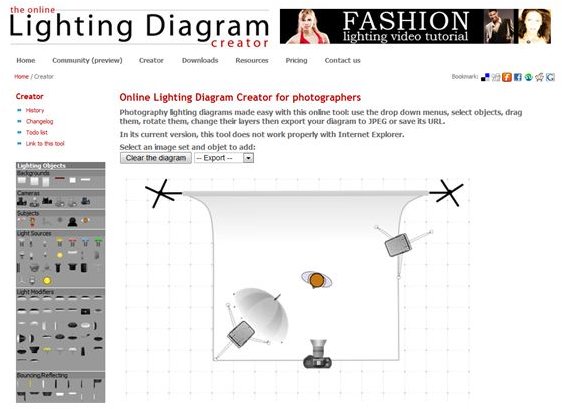 There are many free online lighting diagram creators a quick search and you should be able to find something that suits your needs. A good example is The Online Lighting Diagram Creator; this program will allow you to make your own diagrams online, then export them as a jpeg into a URL which you can bookmark. This is free of charge for those who are using it for non-commercial projects; but if you are using it for commercial purposes you need to donate a minimum of $10 (as of May 2011). If you are interested in looking at how other photographers set up their portrait lighting diagrams check out On Assignments; this blog has diagrams that photographers have set up and used so you can see the results of that particular set up. If you want to learn even more about studio lighting set ups, Strobist has excellent information and example lighting diagrams that could be really useful in your own photographic practice
References
Studio on a shoestring: Low Key Portrait Lighting Tutorial: https://www.studioonashoestring.com/30/low-key-portrait-lighting-tutorial/
Studio on a shoestring: High Key Portrait Lighting Tutorial: https://www.studioonashoestring.com/22/high-key-portrait-lighting-tutorial-2/
Lighting Diagrams Creator: https://www.lightingdiagrams.com/Creator
Strobist: Easy DIY Lighting Diagrams: https://strobist.blogspot.com/2006/10/easy-diy-lighting-diagrams.html
On assignments: Studio Lighting Set ups: https://onassignments.blogspot.com/
Images
All images copyright Zoe Van-de-Velde 2011