Newborn Photography Tips: How to Take Great Pictures of Babies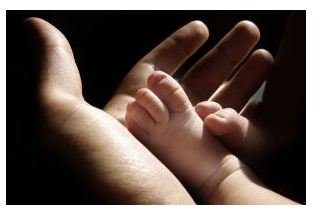 Anyone that has been in the home of parents with a newborn or checked social networking sites will known that newborn photography is some of the most popular consumer photo purposes around. Those are the years that most people want to document and cherish the most, but if it is not positioned correctly newborn photography is not the most attractive forms out there. Often times the model is not exactly cooperative, the lighting is less than perfect, and after you get a few pictures of a curled up infant sleeping you will want to try something new for variety. Here are a few tips for those who want some great newborn photography.
White Balance
White balance is going to be especially important in the cases of newborn photography, mainly because of the different skin tones of newborn infants and the usually white and pastel backgrounds that infants have around them. This does not necessarily mean that you will have to use a perfectly correct white balance, but that you may want to balance against the skin tone of the child to lighten it up, especially if it has a lot of red in the skin tone. If you want to have a nice realistic portrait of your infant then you will want to use a clean white, or reflect a daylight balance with a 5600K color temperature.
Still Image
One advantage of newborn photography is that it is easy to get a still subject, which is almost impossible for older infants in photography. You will be able to take a lot of different shots for the still newborn so that you can select the exact position and exposure that you want, and also allow more detail with a lower ISO and slow shutter speed. You may even want to employ a stable tripod and treat it like a more studio setting, except if you are still in the hospital you are going to have to compete with the florescent lights.
Macrofocus
A macro lens will allow you to capture photos that are very close up to their subject. This will allow for an incredible amount of detail of the object, especially like the wrinkles and skin characteristics. Since much of the character of newborn photography is the details of their face and limbs, which will be captured with special beauty with a macro lens. You can position the camera very close to the subject and create images that dial into specific parts of the infant, rather than a whole portrait. This situation will be great for capturing the squinting of their eyes, the wrinkles in their arms, and the curl of their lips.
Styalize
Infant photography is not a form of photojournalism, and instead is a way of celebrating the infant's appearance. The reality is that newborns are not always the most attractive subjects, so you need to accommodate for their appearance. This usually means that you want a heavy lighting on them when you can control it, meaning that creating a "halo effect" with the backlight is acceptable. You may also want to try some airbrushing or defocus during photo editing, and black and white remains a classic part of infant photography.
References
Source: Author's own experience.
Image credit: stock.xchng - Nexus (stock photo by ugaldew)
This post is part of the series: Photography Tips and Tricks
Articles with tips for different types of photography.