Find the Best Photo Album Creator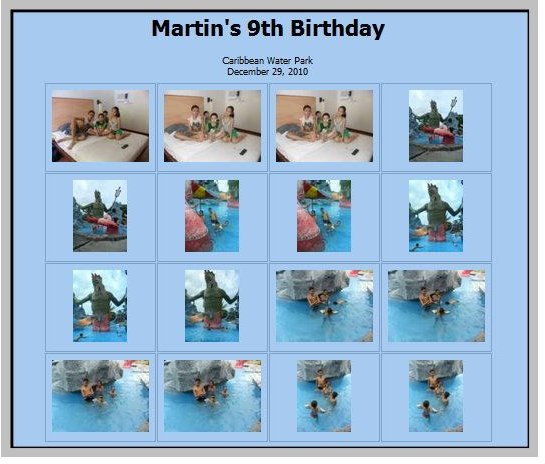 Introduction
There are plenty of photo album creator software out there, but the best for you depends on your needs. The best photo album creator for those who just wants basic features with no cost is Web Album Creator. It is free and does not require technical knowledge to set up a photo album. The best one for people who want a professional looking image gallery is AlbumCreator. It has a range of features that can serve beginners, as well as professionals. For those people who want to have fun while creating fun photo albums, ComicLife is the best choice. It provides different ways to present photo albums that are far from traditional online photo albums. For those who are fond of storing and sharing photos online, then Flickr and Picasa Web Albums are just the right free online services for you. There's one for everybody.
Web Album Generator
Web Album Generator, or WAG, has been hailed on TV programs and magazine articles as one of the easiest photo album creators available. Add to that the fact that it is totally free and it is one of the best choices for a photo album creator out there. No registration is required. All you need to do is to download the software and you are good to go. We are usually told that we get what we paid for but this free software performs like some of paid applications. Its features include automatic thumbnail creation, multi-language support, drag and drop controls, photo rotation, resampling and resizing and an output that abides by web standards. These features can be used with no HTML knowledge required, which means even people who are not well versed in creating web pages can easily produce online photo albums that look great.
FirmTools AlbumCreator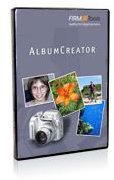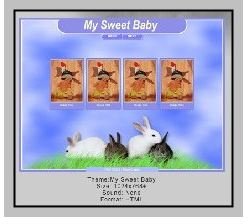 For the added visual appeal, AlbumCreator lets users create photo albums using HTML and Flash. Customizing image galleries is made easy by an intuitive user interface, photo enhancements and the ability to create unique designs. Using Flash or HTML-only themes to create photo galleries is quite easy to do with AlbumCreator, and for those who are a little more concerned with how the actual photos look, this software includes basic photo editing options like red eye removal, rotation, flipping and cropping. Users can make their galleries look personal or professional, depending on their purpose for publishing their online photo albums. This software comes in 3 versions which are Lite ($14.95), Basic ($24.95) and Pro (39.95). Each version is priced differently and contains a different set of features.
ComicLife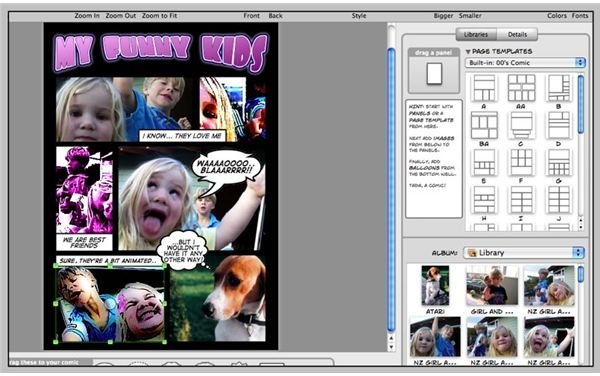 ComicLife is one of the best photo album creators available, not just because of the available features, but also because of the overall vision of this software which is to have fun with pictures. ComicLife lets users create photo albums that are different than the usual online photo gallery. It offers different ways for the user to present their photos like standard photo albums and comics. It even lets users take photos via a webcam right from within the software itself and use these photos in their photo albums. This provides endless fun in the whole photo album creation process. It comes in 2 paid versions: Standard, which is $24.95 and Deluxe which is $29.95. For the title of best photo album creator, ComicLife is definitely a contender.
Picasa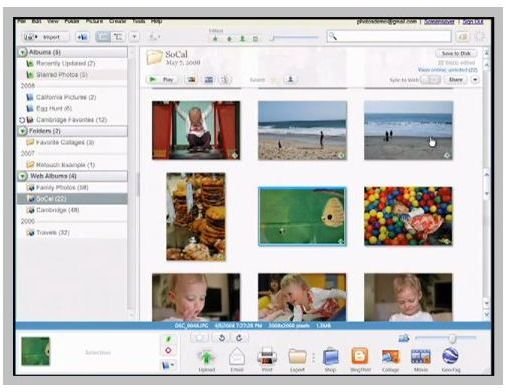 The Picasa Web Albums service works best with the Picasa desktop application. From the application, you can modify and edit photos with several tools that range from basic crop, resize and rotate tools to more sophisticated effects tools. You can organize all the photos in your computer with minimal effort. This makes it easier for you to edit photos and choose which ones to upload to your web albums. Sharing photos through beautiful web albums is easy and efficient. Aside from editing, uploading and sharing photos, you can also create slideshows and photo collages using the desktop application. Printing and ordering different products based on your photos are also easy tasks with Picasa. The only problem with the service is that it has a storage limit of 1GB. That is enough for casual users, but for people who constantly upload large numbers of photos, that storage limit may not be enough.
Flickr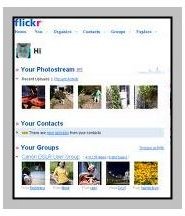 Flickr is the most popular photo sharing service out there, and that is because it has one of the cleanest and most intuitive user interface among all photo sharing service available. It is quite popular among professional photographers and graphic artists since the service optimizes uploaded images, automatically making them look better just by having them uploaded. The community built around Flickr is also one of the main draws for people to sign up for the service, aside from its other features like multiple sharing options, photo album gallery, batch organization, geotagging, sets, collections and its API that makes it easy for developers and web site administrators to incorporate Flickr photos into web pages. Users can also create and order prints, cards, photo books and calendars based on their photos. Viewing photos on Flickr organized in sets may not be the most visually stunning experience available, but it is definitely one of the most efficient tools in sharing, creating digital photo albums and publishing photos on the web.
References
https://www.ornj.net/webalbum/
https://albumcreator.firmtools.com/
https://plasq.com/products/comiclife/win